In good repair
As an independent marine engine repair specialist, Goltens offers ship owners and OEMs an all-inclusive worldwide service.
Today, it has grown into a group of companies with approximately 13,000 people in 21 strategically chosen locations around the globe. Headquartered operationally in Dubai in the Middle East and financially in New Jersey in the US, its core business involves providing specialised repair, maintenance and reconditioning services and the trading of engineering components for the worldwide shipping and offshore marine as well as industrial plant and power station industries.
Since the company's establishment in 1940, it has rapidly earned a reputation for quality services that reduce costly downtime, providing around the clock support to its customers. Paul Friedberg, president of Goltens Worldwide Services and responsible for Goltens operationally, outlines the activities the business is involved in: "We mainly specialise in the repair and reconditioning of 2/4/slow-medium speed engines, which are used in the largest ocean going vessels, such as tankers, container ships and bulk carriers. We recondition mechanical, fuel and electrical components, alongside everything else that is associated with the engine room of a ship. We are also highly involved in the emergency repair business. Responsiveness and fast mobilisation are important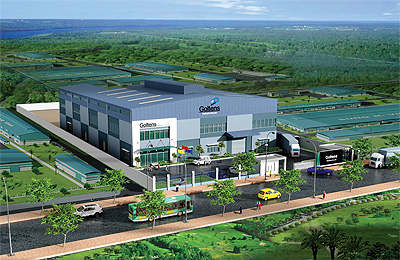 factors for our clients when dealing with breakdowns that are often at sea."
Goltens Middle East's vast knowledge and experience in the marine industry places it in a strong position in a highly competitive industry. Paul explains what sets the company apart from the opposition in the market place: "With a powerful brand name, we're recognised not only for the speed of our service, but for our international network. We are the only independent diesel engine repair specialised business with a worldwide network of companies. We normally compete with local competitors at each location and this is what makes Goltens unique, being able to offer our clients a true worldwide service. The client is able to utilise any of our well spread locations wherever they may need help. We are results orientated with a strong sense of dedication, and are highly skilled at providing technically innovative solutions. Being part of a company that ensures superior quality and leading technology is something we're very proud of."
Goltens Dubai has recently completed two large projects for CGG Veritas, the world's leading international pure-play geophysical company, involving a 12-week turnkey installation and fabrication job for a seismic new build and a main engine and steel repair for its Orion seismic vessel. Paul elaborates: "With the new building project, we actually built the whole vessel from scratch. CGG Veritas has special shallow water vessels with all the latest equipment onboard, one of which we built in three months at our facility in Dubai. It's not the normal type of job that we undergo, we have only built five vessels all together in the last five years, but it is something we find very interesting." Goltens Dubai's project management, comprehensive installation and fabrication capabilities ensured the turnkey success on CGG Veritas' new build.
Currently the company is undergoing extensive expansion plans with a new, state-of-the-art marine repair facility on the reclaimed peninsula accommodating Dubai Maritime City (DMC). Paul explains further: "We are still in the planning stages and the construction work is planned to start in the second quarter of 2009. DMC will be a purpose built marine environment with one part as a dedicated marine city, which will accommodate repair companies, equipment manufacturers, suppliers and shipbuilders. We're going to build a 15,000 square metres workshop facility with 2000 square metres of office facilities, which is twice the size of our current premises. We plan to have up to 800 people there, so it will provide tremendous growth opportunities for Goltens over the next five. It will be a state of the art facility with the latest machinery, which we can use to develop further into other segments of the industry. The construction period will be approximately one year and we will finish in the middle of 2010."
Despite the economic crisis, Goltens realises the importance of maintaining a high level of service to its customers. Although, in general, consumers will be more cautious with their money, the company has recognised that there will still be a demand for maintenance and repair. "On one hand charter rates are decreasing, but on the other, there are huge capacity increases in the world fleet due to the large new building programmes in Asia and this fleet requires upkeep. So overall, we don't look at the crisis as negative, I think the customers will spend more carefully, but they will continue spending in order to maintain the ships they have," he comments.
Discussing the future of the business, Paul concludes: "We will take the opportunity to expand globally, and have already just set up an office in Greece and are building a brand new workshop in Vietnam which will be completed in April 2009. We're also building two new smaller facilities in India and in Saudi Arabia.
"Our plan is to develop our network even more and grow further into areas where we need to strengthen our identity, such as South America, Africa and the Oceania region, so from three to five years from now we will have close to 30 stations worldwide. We have almost tripled our size in the last five years and I can see us doubling again in the next five years through more expansions and diversification acquisitions."
Goltens Middle East
Services Vessel engine repairs