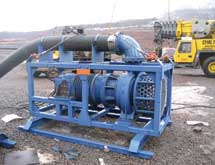 Meeting the needs of clients in the power and mining industries has long been at the center of GPM Inc.'s operations. The Duluth, Minn.-based company has supplied pumps and seals to customers since 1978 and it began manufacturing its own line of slurry pumps in 1986.
"Our founder, Pete Gemuenden Sr., saw a need on the market for a submersible slurry pump which wasn't being addressed," says CEO Doug Olsen. "The pumps that were out there were not reliable, so [Gemuenden] made changes to address these issues and created a product that would last."
The company manufactures the Eliminator submersible slurry pump, which it distributes primarily throughout North America as well as regionally distributing other industrial products. GPM's Eliminator line of slurry pumps is used in a wide variety of applications from slurry removal from sumps to dewatering and river dredging, while its horizontal pumps are primarily utilized in slurry process applications.
In addition to its work as a distributor and OEM, GPM also offers maintenance on its products. "We've seen growth in our product line and in service work in the past few years," Olsen says. "We see the industry having fewer service people at plants and asking us to be more of a service arm to them as well as an OEM."
In response to its growth, GPM is working to triple its capacity by adding manufacturing, warehousing and service space. The company opened a new machining center in 2010 and plans to open a new manufacturing plant this year in Duluth. Since its inception, GPM has expanded its main facility four times and grown to a staff of 45 employees operating in four states.
GPM is also undergoing significant structural changes while still remaining family owned and retaining the vision of its founder. The company was founded with a three-pronged philosophy: to provide service and equipment through commissioned sales, become a distributor for various products and manufacture a needed product. "We're working to retain the positive aspects of our roots as a family owned company while becoming a company with a broader engineering and distribution group," Olsen says. "We are setting the company up for future growth as we expand to address the needs of our customers and channel partners."
Adding Value
GPM's background as a distributor and equipment installer has given it a unique perspective when it comes to knowing what its customers want. "Everything we've done has been to address the needs of our customers – we don't create a product and try to find a place for it; we create a product to meet the needs of our customer," Olsen says.
The company can configure its existing product line to the needs of its customers. For example, GPM says it can adapt a submersible slurry pump to work as a horizontal configuration for use in areas of plants that may be prone to flooding.
GPM also continues to look at ways to improve the performance of its products. "As we address customer needs, the product will be slightly different than it is today," he adds.
GPM's adaptability to customers and its product quality have earned it repeat business and a positive reputation. "What we try to do is offer value-added solutions – we are not the cheapest price and don't plan to be, because we sell the best product and solution for the customer's needs," he adds.
One of GPM's steel mill customers realized a savings of $158,000 per year in reduced maintenance costs by using a GPM Eliminator pump, and others have saved greater amounts, Olsen says.
Community Investments
In addition to its long-standing relationships with customers, GPM maintains strong ties to its channel partners and outside community. Long-standing partnerships, such as its 30-plus-year history with Toshiba and Flowserve, have helped the company grow to become what it is today.
GPM team members also routinely give back to the community through opportunities such as internships to local students and training programs in conjunction with local colleges.
"We're excited about further developing these relationships and giving back through training, as we believe that fits our mission of investing in people," Olsen adds. "With our direct internal team and our extended partnership team, our primary driver is to help people succeed."