A complete package
Established in 1935, Granzow A/S is one of Denmark's leading specialists in compressors, pneumatics and automation.
Focusing on the pharmaceutical and oil and gas markets, the company supplies high quality industrial products, such as screw compressors, compressed air treatment, energy-friendly controls and container solutions, in areas where security and safety are priority. Consistently offering state-of-the-art solutions to customers, it recently developed its newest product, the instrument air compressor (screw compressor) and dryer package (heatless dryer) for offshore industry.
"We are currently building platforms for the offshore industry and from last year through to the present we have been doing the same for FPSOs, which supply to other ships and sometimes need a lot of air from large compressors; nitrogen generators are used to fill up the tanks for the oil but there must be a gas with no oxygen in. The nitrogen generators use a lot of compressed air to the ISO 8757 3-1 quality standard so the instrument air compressor and dryer package is equipped to compress air up to 300 kW at minus 40 degrees Celsius. The control of these systems can be complicated because demand for air in the nitrogen generators varies from 100 per cent load to ten per cent load, which means the machines must be controlled in the correct way to prevent unnecessary consumption," says Torben Mortensen, consultant compressors and export project manager. There are already orders for the utilisation of the instrument air compressor and dryer package for projects in Vietnam and Singapore; the company also has a strong interest in India.
Offering Denmark's most complete line of compressors SO, with 13 models and 31 variants, Granzow A/S can find a solution to the most complex of requests. The oil free screw compressor SO series, designed to produce oil-free compressed air at a level not seen before, came on to the market recently. Operating at much higher speeds than its oil-injected counterparts, the BOGE oil-free screws special airend and cooling concept provide the highest levels of safety and maximum efficiency, making the product ideally suited for sensitive areas.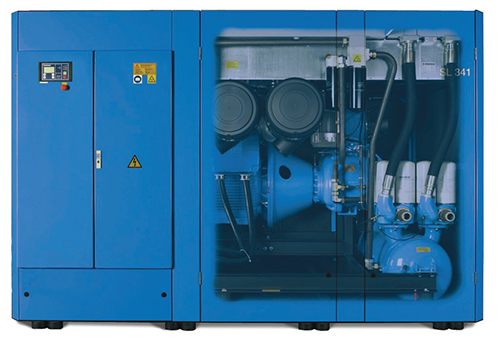 With more than 75 years in the business Granzow A/S has developed a strong reputation and scored highly in a 2012 customer satisfaction survey; 99 per cent of customers said they are satisfied with the service they received and 73 per cent said they are very satisfied. The company's flexibility to requests around the globe, its 24/7 dedicated service and its department for documentation give it a competitive edge. "The building of the compressors is one integral part of our role, the other is to fulfil the demand for documentation," states Torben. "This is complicated because each consulting expert has their own way of describing quality electrical demands and we have to read all of them; on top of that, we must comply to third parties such as ATEX, DNV and Lloyds and ensure the equipment we produce will fulfil all requirements. The documentation can be up to 400-500 words that need to be understood so this service is an integral part of our company; it is costly and time consuming, but without it we cannot meet demands in the oil and gas industry."
Costs for documentation can be up to £20,000, emphasising the importance of adhering to the stringent regulations of the oil and gas industry and requests of the customer. Prior to production Granzow A/S creates an unconditional release note as equipment cannot be amended once production begins, the company also has a meeting to confirm all parties are satisfied with the equipment. "By the time we are running the machinery and having our equipment validated by the Factory Acceptance Test there should be only minor issues, such as wires that need to be rebuilt, to deal with. It is too expensive by that point to change the main equipment, which is why it is so important that everyone reaches an agreement," says Torben.
A recent project for the company was with Ecco Sko A/S in Bredebro, Denmark, which involved replacing an outdated 40kW compressor solution with more energy efficient equipment. Granzow A/S upgraded the used technology with a 18.5 kW Boge compressor type SF 24-2 and a Boge capacity controlled absorption, type DA29 with dew point, which will save Ecco Sko A/S 67,000 kW annually. "We have seen a change in the past 12 months concerning energy efficiency in the pharmaceutical and oil and gas industries. Saving kW consumption will be a continued focus from now on," says Torben. Granzow also designed, created and developed several custom built solutions for pumping stations to Danish power plant specialist Burmeister & Wain Scandinavian Contractor A/S (BWSC).
Looking to the future, Granzow A/S has strategic plans to be among the leading suppliers in the compressor, vacuum/pump and automation market and to further develop its reputation for high quality, competent and cost-effective solutions. It also aims to continue providing customers with a reliable option that will contribute to the profitable growth of their company.
Granzow A/S
Services: Equipment for compressed air, vacuum pumps and automation products