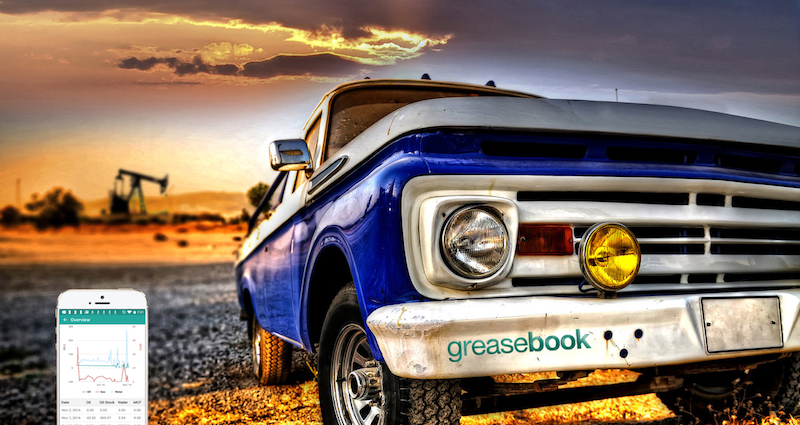 GreaseBook is modernizing the oil and gas industry with a new app for operators.
Oklahoma City-based entrepreneur Greg Archbald believes he has invented the easiest, slickest and most cost-effective oil and gas production solution the industry has ever seen.
Say hello to GreaseBook – an app for oil and gas operators that's taking the industry by storm. Designed for small to mid-sized independent operations, this turn-key oil field management software streamlines communication between operators and pumpers and eliminates the need for time-consuming paperwork.
Named after an old industry term for grease-covered notebooks carried by well pumpers, GreaseBook is propelling oil and gas operators into the 21st Century through smart technology that is surprisingly easy to use.
"Even a 70-year-old pumper who is not tech savvy can use it," Archbald says. "You download it to your smartphone, tablet or laptop and it only takes 6 to 8 minutes to train the pumper."
Every day, pumpers drive their pickup trucks from well to well – checking the oil and gas pumps and taking down measurements. In the past, they would record these measurements onto slips of paper.
"And the way that they would get the information back to their operator is through the handwritten notes and Excel sheets," adds Archbald. "But the problem with paper and Excel reports is that many times not only are the numbers incorrect, but these reports also arrive late to the operator. Operators end up spending more time organizing and massaging the production info then they do actually reviewing it – that's not an effective use of anyone's time."
The app allows pumpers to enter all their required information directly into the app, as well as take a photos of oil or service tickets with their smartphones. With much of the paperwork streamlined, the pumpers are now able to spend their time doing what they do best – tending the oil and gas wells.
Because oil fields often lack internet coverage, data can be entered into GreaseBook even when the device is offline – and then uploaded when the pumper has coverage again.
Since GreaseBook assembles all the necessary information into one place, it gives operators one easily accessible platform to monitor and measure their business. From well history to run tickets and graphs, the app gives them full transparency of the oilfield and enhables them to hold their pumper accountable.
"It's a centralized place that allows everyone – operators, pumpers, engineers, admins and investors – to work from," Archbald says.
Low Overhead
Whether operating a few dozen or a few thousand wells, GreaseBook offers operators zero ramp-up time, no upfront costs, no contracts and a money back guarantee. Companies pay a monthly fee based on how many wells they operate.
"We have both publicly traded companies down to operators who manage only a handful of wells that are leveraging GreaseBook as their centralized reporting system," Archbald says.
Many customers that have switched over to the GreaseBook gave Archbald a variety of reasons: they're tired of poor customer service, their systems are outdated and overcomplicated, they are sick and tired of being nickeled and dimed by their software provider.
When they switch over, GreaseBook imports all their data – such as the lifespan of wells – into its database.
Another advantage of this oil field management software is that it helps operators streamline their business. Oil and gas operators' business cycles are often determined by the price of oil. If the price per barrel increases, they may hire more staff and expand. If it decreases, they often downsize their workforce and lose valuable human capital in the process.
"Size and scale for oil and gas operators has become a liability," Archbald says. "Simple apps enable these companies to automate tasks that once required a lot of people. Basically, an operator can now 'rent' a technology platform like GreaseBook to build a very scaleable business for this particular market, enabling these companies to grow big and profit without the bloat of a giant organization behind them."
Founded in 2009, GreaseBook is celebrating its 10th anniversary this year. Although the app has been available for the last decade, it is constantly evolving.
When he founded GreaseBook, Archbald's mission was to offer the industry a turnkey, intelligent and completely new type of oil and gas operating system that would allow them to scale their operations systematically. He believes GreaseBook has accomplished its mission – and that it's transforming the economic performance of the oil patch.