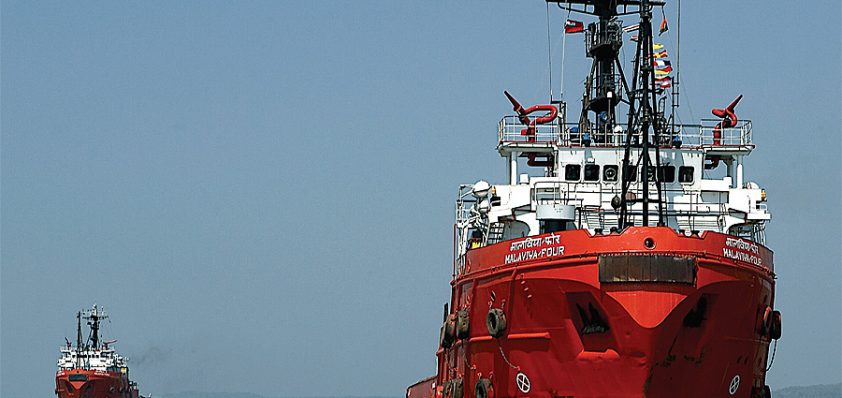 Totally integrated
Great Offshore commenced operations in 1983 as the offshore division of the Great Eastern Shipping Company, and has become India's pre-eminent provider of integrated offshore oilfield services.
Under the visionary leadership of vice chairman and managing director Mr. Vijay Sheth, the company has responded to the opportunities available in India's upstream offshore sector, and is also operating in oilfield environments beyond India.
Great Offshore's range of services can be divided into five main areas. The first sector is exploratory drilling, including work-over, vertical and directional drilling. The business has two offshore rigs currently in service – one jackup 350-foot water depth rig, and one floating drill barge with a 600-foot operating water depth, with a fifth generation self-propelled jackup rig on order, due for
delivery in 2009. Great Offshore also has a marine logistics sector, operating a fleet of supply vessels, including anchor handling tugs, anchor handling tug/supply vessels and platform supply vessels. These vessels are deployed to charterers providing a range of services including rig towing and positioning, supply services, standby duties, emergency response and firefighting.
The company has three specialised vessels in the fleet including the multi-role support vessel Malaviya Thirty Six, which is equipped with saturation diving facilities, a helideck and DP2 dynamic positioning. The two further specialised vessels, Malaviya Twenty Five and Malaviya Twenty Seven are helideck equipped firefighting support and supply vessels – a design created by the company. In addition to the offshore fleet, the organisation runs a successful port and terminal services unit, providing a fleet of 11 harbour tugs that are deployed at various ports in India.
Finally, the company has run its own marine engineering services division specialising in undertaking lump-sum turnkey offshore construction projects – both brownfield and greenfield. The company operates dedicated marine assets in this area, including Gal Constructor, an accommodation/hook-up barge.
Focusing on what makes Great Offshore India's main integrated offshore service provider, a spokesperson comments: "We cover a very broad range of the requirements within the sector, and this supports us in two ways: Firstly, it gives us an extraordinary amount of interlocked strength between departments, as we fully understand the innate requirements of every operator and subcontractor within an oilfield situation. This allows us to market the company as a single point resource to our clients, providing, for instance, the rig, support vessels, engineering and construction services in support of an oil-field development project.
"Secondly, we have long-term experience within this industry, with 25 years of involvement with many of the major operators in the sector," the spokesperson continues. "The way this company is run from a human resource perspective is highly adaptive, and is a major positive towards our continued success. We employ a style of management attuned to individual empowerment and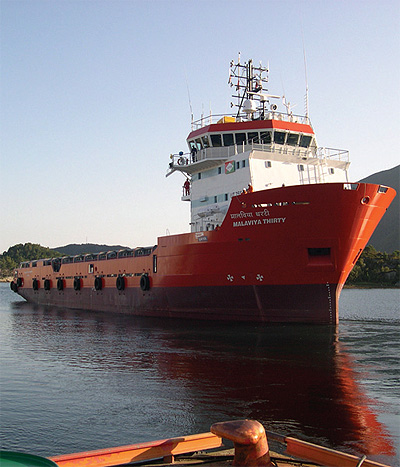 ensuring that departments have smooth and free co-operative capabilities, giving rise to collaborations that bring enhanced perspectives on engineering and technical issues that may arise."
Through the pioneering endeavours of Mr. Vijay Sheth, Great Offshore has in many ways paved the way for oilfield exploration in India. The company spokesperson is keen to highlight the very strong condition of the Indian market: "India has around five per cent of the world's entire sedimentary base, of which approximately 23 per cent has been properly explored. Statistics emerging from the director general of Hydrocarbons suggest around 500 wells will be developed over the next four years. And significant discoveries are being made – ONGC, Reliance and GSPC have all made significant discoveries recently, for example. The Indian government runs a programme called NELP – the National Exploration Licensing Programme, which is now in its seventh round."
Since 2002 the business has successfully operated in the North Sea – the first Indian offshore service provider to do so. Operations are also well established in the Middle East and the Far East.
Every aspect of the company's business is carried out with a fundamental commitment to safety and quality, and the company is certified to ISO 9001 and ISO 14001, and has comprehensive training and skills enhancement programs for its staff.
The company is also at the technological and technical forefront across its divisions, and has a continuous assessment and upgrade programme, wherein assets are regularly reviewed and upgraded where necessary. The open management business process allows a fluid communication of ideas and techniques between departments and disciplines.
"Great Offshore is focused on the future, and we will continue to explore growth opportunities through both organic and inorganic strategies" concludes the spokesperson. "Over the last ten years, we have developed from 16 to 40 vessels, which underlines the rapidity of our growth."
Great Offshore
Services: Offshore exploration and production support activities