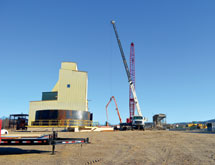 For many, January 2013 means the start of a new year, but for Great Plains Sand, it will represent the start of a new business. COO Brian Gilbertson explains that in January, the company will open its first plant in Jordan, Minn., beginning its role as a provider of frac sand for oil and gas firms.
Gilbertson explains that the company's conception goes back to 2010, when several private investors with ties to North Dakota's oil and gas industry saw an opportunity for a frac sand operation. After learning of a mine that had been used up until the 1980s, they reviewed core studies to determine if there was a significant amount of frac sand.
After determining that the sand was of a high quality, the investors incorporated Great Plains Sand and sought to obtain funding and the proper permits. "That took a total of about 18 months," Gilbertson says. "We received our permit to go ahead at the end of October."
Today, Great Plains Sand employs a staff of six full-time workers who spend the majority of their time constructing its new sand processing facility in Jordan. In January, Great Plains Sand will be essentially ready to operate. It will begin serving customers in April 2013, following Minnesota's spring thaw.
Great Plains Sand has not had its attention focused completely on the plant, though. Instead, it is working to develop contracts with customers, including major and independent oil and gas firms.
Overcoming Misconceptions
Great Plains Sands has encountered its share of challenges as it has moved forward, which has included criticism of frac mining. This is particularly true in the states of Minnesota and Wisconsin, Gilbertson says.
"There's a lot of opposition being organized and a lot of misconceptions of frac sand mining," he says. "We work very hard to listen to and address the concerns of our neighbors and local government agencies."
However, this site was formerly an active mine, according to Gilbertson, noting that Great Plains Sand operates in an industrial area. "We're taking a piece of ground that has been used for this purpose in the past," he adds.
Additionally, Great Plains Sands has a plan to restore the land after it has exhausted the resources. "As we complete every phase of the mining, we have to reclaim the areas that we're done [with]," he says. "We have to prepare the ground for a new purpose once mining is complete."
Plans to Grow
Great Plains Sand currently employs a modestly sized staff, but it will grow, Gilbertson says. "The word has gotten [out about] a new operation opening in Jordan," he says.
By April 2013, the company expects to have a full crew of 30 to 35 workers, ideally hiring as many employees local to the area as possible as possible. Additionally, Great Plains Sand hopes to hire U.S. military veterans.
Gilbertson, who served in the U.S. Air Force from 1986 to 1995, strongly believes in supporting those who served in the armed forces. "I worked in satellite operations systems through the first Gulf War," he says.
He notes that he has found the transition to Great Plains Sand's business exciting, and predicts a strong future for it. "America's bid to become energy independent should maintain a strong demand for our product," he declares.
After the company begins operations in April, it will focus on establishing relationships with the oil and gas community. "We've got a very efficient business model," he asserts. "We're well funded and supported by a group of investors who understand the industry."