Green new world
Relying on more than 40 years of experience, Greenalia Group has recently undertaken one of Europe's most important renewable energy projects, with regards to its sheer size and capacity, as well as the technology it will make use of. The Spanish company, known for its track record in sustainable energy generation, is currently developing the Curtis-Teixeiro biomass plant located in the Galician region of the Iberian country.
"We are investing 135m euros in the construction of this revolutionary site where we are incorporating the latest technological and safety novelties," Project Manager, Manuel Bueno says. "With its capacity of 50 MW, it will be the second largest in Spain and will contribute to hitting the target set by the PANER (National Action Plan for Renewable Energies) to double the installed capacity for electricity generation by biomass plants to 1350 MW by 2020. On a continental scale, the operation of the Curtis-Teixeiro plant will also support the EU's objective to mitigate climate change by generating more energy from renewable sources.
"As a company, we are convinced that an economic model based on clean and renewable energy is not only necessary, but, above all, possible," Manuel insists. "To put it more metaphorically, we are working to transform the current energy model by introducing energy alternatives that do not mortgage people's future."
Over the years, Greenalia has specialised in three renewable energy generation methods, these being wind, photovoltaic, and biomass. In each of the areas, the company is vertically-integrated, from the origin of the raw material to the production of electrical energy. It is divided into three business divisions, whose expertise has put Greenalia at the forefront of the forestry industry.
"Through Greenfalia Forest – the main forests operator in Spain – we purchase forest raw material, biomass and wood, and supplies of forest products to produce electrical energy, biofuels, or paper pulp," Manuel points out. "Then, Greenalia Logistics is the company in charge of our logistics activities. Having control over this area allows the group to be more competitive, when it comes to the commercialisation of our products outside our domestic market. Finally, of course, we have Greenalia Biomass, under which we run the Curtis-Teixeiro plant project."
Biomass benefits
Biomass has been at the heart of Greenalia's activities for over four decades now, with the company capitalising on the fact that Spain is in the top three EU countries by forest area. "As all of our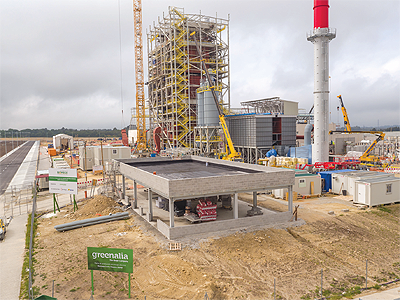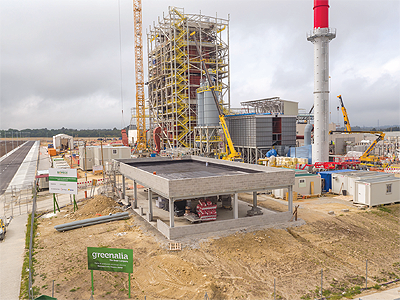 biomass projects take place in the main forest production areas of the Iberian Peninsula, we are able to obtain our resources at a very competitive price," Manuel notes.
"We currently manage circa 600,000t of wood per year for our clients, which generates waste wood that meets about 35 per cent of the Curtis-Teixeiro plant's needs. Biomass is one of the most important sources of renewable energy in the whole of Europe, also playing a key role in achieving the EU's renewable energy targets. In addition, we should not forget that biomass helps to keep forests clean and in good condition, reducing the risk of fires breaking out. It also creates jobs and boosts economic growth in rural areas," he reviews the benefits that biomass offers.
Advanced plant & equipment
Going back to the Curtis-Teixeiro plant, it has become the first biomass project funded through a project finance framework, thus making Greenalia the first SME to issue a green bond in Europe. Manuel elaborates: "The project's funding obtained the highest E1 rating by the evaluation agency Standard & Poor's and Curtis-Teixeiro was named 'Best European Biomass Project' at the IJGlobal Awards in 2018. These accolades are especially important, because, even though Greenalia is still a medium-sized business, investors have demonstrated great confidence in us and our ability to deliver the project."
As it stands, the construction work at the Curtis-Teixeiro plant has already been 85 per cent completed, with the final phase due to finish in September. According to Greenalia's plans, the facility should then be fully operational in Q1 2020. "We have made sure to equip the plant with the most advanced biomass technology available," Manuel reveals. "To us, it was paramount to select the best suppliers. As a result, we are utilising Finish technology, which has an excellent reputation as being the most efficient in the market. Furthermore, it is worth mentioning that Curtis-Teixeiro is a dry refrigeration plant, which means that it consumes very little water and does not produce spills."
Future plan
Sharing his views on the future, Manuel does not conceal his ambition that one day 100 per cent of the energy people consume will be coming from renewable sources. "Green energies are here to stay, as the current energy model has clearly become obsolete. Greenalia wants to participate in the creation of a new reality where technology comes first and where renewable sources are the intelligent decision, both from economic and environmental points of view. We can see that renewable energy is achieving parity in price and network performance and can contribute significantly to network stability, as new technologies have made it as competitive as fossil fuel-generated energy.
"On a company level, Greenalia is aiming at becoming one of the most important organisations in Spain in terms of renewable energy within the next five years. We have designed a strategic plan that will allow us to become a key player in the sector and a reference point for PLCs for our performance and business development. Aptly, the plan is called #1-5-100, because we are looking to be generating one GW in five years and have an EBITDA of 100 million euros," Manuel wraps up.
Greenalia Group
Services: Renewable energy generation