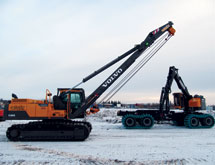 Grizzly Equipment isn't a rental shop for homeowners looking for a wood chipper or stump grinder. A division of Surerus Construction & Development, Grizzly Equipment is an equipment rental company based in Fort St. John, British Columbia, that rents heavy equipment and pipeline tools.
"We aren't your typical rental store; we rent large, specialized equipment," General Manager Anthony Bing says. "We have an inventory of between 250 and 350 pieces of machinery, and we've added more than 30 machines in the last six months. Our rental fleet starts where the typical rental store ends."
Ensuring Excellence
The company's portfolio includes everything from cranes and excavators to graders and dozers. Grizzly's product line represents some of the finest heavy equipment manufacturers in the world, including Caterpillar, Komatsu, John Deere, Volvo, New Holland, Tesmec, Bobcat, Link-Belt and Grove.
Grizzly Equipment's customer base includes the oil and gas industry, mining, forestry and civil infrastructure companies. The area around Fort St. John has a great deal of energy, mining and forestry activity going on, and all of the industries are intertwined in different ways.
"For example, there is a mining component to oil and gas activity, and the logging industry can clear areas for mining and drilling, as well as do re-vegetation work after a project is done," Bing says. "No matter who we are working with, they expect us to deliver what we say, when we say. We have shown that we can deliver quality equipment within tight deadlines, day in and day out."
One of the company's greatest concerns is ensuring that its equipment is ready and able to go as much as possible. Typically, the machines Grizzly rents to clients are worth approximately $500,000. The smallest machines the company rents out are worth around $250,000.
Because these machines are so valuable, Grizzly must employ stringent contract arrangements with all of its clients. This is due to the fact that it is trusting clients with an expensive machine for what can be an extended period of time. Each client needs to demonstrate that they can operate the machine safely and return it with a detailed history of how it was used.
"We require that we must have working knowledge of every piece of equipment's condition," Bing says.
"We do pre- and post-rental inspection on our machines, and clients must provide us with details on what they've used machines for so we can keep track of wear and tear," he adds. "Machines can be gone for up to a year, and keeping track of everything can be cumbersome, but the clients are the ones who reap the benefits of our working knowledge of our machinery."
Proving Ground
One aspect of Grizzly Equipment's operations that is both a blessing and a challenge is the nature of its status as a division of Surerus Construction & Development. Surerus is a major pipeline company, which on the one hand means there is opportunity for Grizzly's machines to find homes on Surerus' jobs. But on the other hand, it also means Grizzly has to disprove any skeptics who are hesitant about renting equipment from a division of a competitor.
"One way we deal with that is through a guarantee that we will never take a machine back from any client in order for it to be used on a job for our pipeline company," Bing says.
"Clients can trust us when we promise that they will receive the best quality piece of equipment on time from us without hesitation, irrespective of what the pipeline company is doing," he adds.
In addition, Surerus has grown into a large pipeline company, so there aren't a huge number of companies competing with Surerus for large pipeline projects. That means Grizzly is mostly renting to companies that don't bid on the same jobs as Surerus.
Alignment with suppliers is another critical aspect of Grizzly's operations. Bing says the company works hard to ensure that relationships with manufacturers like Volvo, Link-Belt and Caterpillar are all strong.
"Our relationship with Volvo has developed really well, and they have a great service center here that is working with us to develop their brand," Bing says.
"Overall, we have good buying power and can be aggressive with our rental prices because we work with many manufacturers and get good pricing from them," he continues.
As Grizzly Equipment attempts to peer into the future, it sees local elections in April and the movement of proposed capital projects in the region as important to development of future opportunities. Many projects in sectors such as hydropower, oil pipelines, liquefied natural gas, mining, roadwork and forestry may or may not go forward in the coming years. Whether or not these proposed projects proceed, Grizzly Equipment will have decisions to make that will largely affect its chances for future success.
"We have great relationships within all of the industries we serve, but we are dependent on the government to approve projects and regulate safety and environmental protocols," Bing says. "But we expect that the next few years will see explosive growth in hydro and [liquefied natural gas] work around here, which should be good for us because we are so different than a typical rental house."