Laying the foundations
Part of the Grinaker-LTA group, Ground Engineering has been a leading force in the geotechnical contracting and engineering industry for more than 25 years.
The company provides the civil engineering, building and mining industries with a full range of geotechnical engineering services from site investigations, to all types of piling, ground improvement, lateral support, basement construction and environmental services. Its in-house site investigation division works with its design team to produce economical designs that ensure the company can offer solutions that are best suited to each specific client requirement.
Grinaker-LTA was formed in 2000, as the result of a merger between Grinaker and LTA. Both companies can be traced back to the early 1900s in South Africa, when Grinaker and James Thompson Limited, (one of the companies that later became LTA), were both formed. LTA was established in 1965 and both companies expanded their product and service offerings over the years, offering all manner of construction support work. Today backed by this global group, Ground Engineering operates as a geotechnical contracting business. The core part of the business is piling, and it also offers lateral support, various forms of foundation grouting for dams and other structures, and it also carries out geotechnical investigations.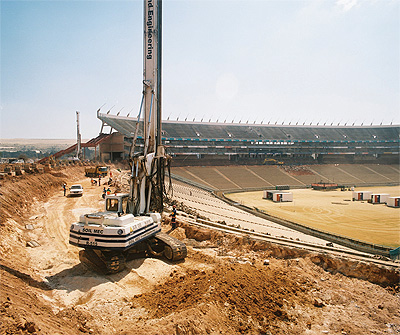 The company always aims to ensure that its investigations are as comprehensive as possible. Ground Engineering's general manager, Ken Jones, elaborates: "We try to provide our clients with a one-stop shop solution, whereby we offer very detailed geotechnical investigations. This involves travelling to the client's site to carry out tests, usually involving the drilling of boreholes to investigate the geology of the site.
Our team of geologists will then produce a geological report that is passed on to our geotechnical foundation design team, which designs a foundation solution for the client. Using the geologists' report, the design team can find the best economical foundation solution for that particular site, and once that has been agreed upon we can go in and install the foundation solution."
Ken goes on to describe some of the company's current projects: "At the moment we are working in joint venture on a major dam foundation-grouting contract for Eskom, which is a government power utility company. We've also just been awarded a lateral support contract for Sasol in Secunda as well as undertaking a large part of the upgrading of the roads around Gauteng together with our internal divisions, Grinaker-LTA Earthworks Engineering and Grinaker-LTA Civil Engineering, to provide piling and lateral support. Finally a major recent project was the piling and lateral support work we provided for Soccer City, which is the stadium to be used for the final of the FIFA 2010 World Cup in South Africa."
The company's successful year has been down to the hard work of its employees to maintain its high quality standards and to strengthen its reputation in the industry. Ken explains: "Our quality systems are some of the best – we are ISO 9001 certified and we also have five-star safety ratings from NOSA. Maintaining our strong safety and quality policies is vital to the business, and our team works hard to uphold these values. We have very good people here, the new employees joining the business are very ambitious and creative, and I believe that holds us in good stead for the future."
Not content with the current full order books, Ken and the team are now looking at potential projects for the future. "We are currently investigating quite a few mining opportunities," he explains. "In terms of building work it's rather quiet at the moment but although a lot of our work is in the building sector, in terms of foundations planning for office blocks, hotels and residential, there's always work in this area, so I still see a lot of opportunities in the coming months. There is a lot of competition in the industry at the moment as there are fewer projects around, so we have to really be ahead of the game to win the contracts. Whatever appears in the future, our strategy will be to target those bigger jobs – not just in South Africa but across the entire southern African region."
While business is challenging across all sectors at the moment, and Ground Engineering is finding fewer tender opportunities than there have been in the past, the company is still continuing to grow and Ken is optimistic about the company's future: "The margins are certainly getting tighter at the moment, but we foresee business picking up towards the second half of this year. Our key objective for the future is to grow our market share. To do this we will have to become more efficient in the South African market, whilst also looking at new markets, and finally there's a major focus on operational efficiency within the business. In this way we hope we can improve and expand the business to take it into the future."
Ground Engineering
Services: Geotechnical contracting