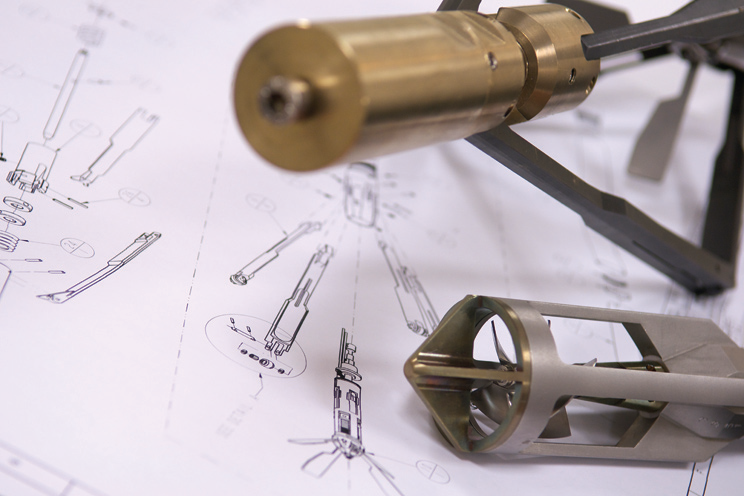 Guardian Global Technologies
Blasting forward
Guardian Global Technologies began operations in 1996, becoming Guardian in 2003 on acquiring a unique manufacturing facility near Bridgend, South Wales.
Since its inception the business has focused on creating advanced perforating and production logging equipment for the oil and gas sector. Guardian's in-house manufacturing capability has been crucial in evolving the company's research, development, and manufacturing of what it terms 'Ballistic Delivery Systems'. The quality reputation of its brand has gained the company users worldwide and it has subsequently established sales and service centres in the US, UAE, and China to accommodate growing markets.
Until 2011, Guardian developed and manufactured a range of individual tools used in oil well perforating and either sold or rented these to international, regional and national service companies. Amongst others, the product range included equipment required for delivering perforating guns into the well, putting them on depth, rotating them, anchoring them and dropping them off – essentially anything required to ensure the explosives are directed where an operator needs them.
However, as CEO Iain Maxted describes, that approach underwent a significant strategic change about 18 months ago. "We realised we had most of the components needed to provide an end-to-end solution for our clients. This would give them a single system, with complete interoperability, from the cable head to the detonator interface. In the intervening period we have been developing the remaining equipment such as gamma-CCL for depth correlation, a head tension unit and a select fire switch so that instead of a client having two, three, or four
suppliers of equipment for a single ballistics operation, with all the compatibility problems and myriad surface equipment that entails, everything needed for ballistics and perforating deployment could be sourced from one supplier. One control system, one set of surface equipment, one software interface, one telemetry system, consistent training, fewer spares, simpler equipment configuration – the benefits are almost endless."
This is a market first in the ballistics arena. Until Guardian adopted its new strategy no perforating equipment manufacturer had offered a complete packaged solution for end users but instead relied on selling individual components of a toolstring. "In terms of supplying the large and small independent service companies with one solution, nobody had ever done it," Iain says. "It was definitely a eureka moment." There were considerable technical and engineering challenges faced in creating the portfolio of equipment, not least of which is that all the products have to be able to withstand effectively being strapped to a downhole bomb. Often the simplest ideas are the best however, and as a result of this simple idea Guardian has been able to coin the term 'Ballistics Delivery System' as its own.
Guardian is certain to benefit from its first mover status in this area. After several months of planning, design and development, the company brought its new idea and range to the market in early 2012. "Since we rolled out the concept, two of the four major service companies have decided to standardise on our ballistics delivery ystem as their standard perforating platform," says Iain. "The other two majors also source significant equipment from us, so essentially all four major service providers are deploying the Guardian Ballistics Delivery System for their clients. First mover status has been a considerable advantage because establishing a track record with safety critical items such as perforating equipment means that the barrier to entry for other systems will be higher."
The UAE, US, and China sales and service centres are recent additions to the company's infrastructure and a result of its growing international success. The Dongying City office opened in January 2012 with the Jebel Ali office quickly following in February and finally the Louisiana office in May. 2012 has definitely been an exciting time for the company. Although Guardian's products are exported to 46 different countries around the world, these three locations represent the areas of strongest growth opportunity. Many of Guardian's clients are small, independent service companies that want local support and help so the decision was made in 2010 to establish a network of branch offices to provide this customer service. Currently each provides sales support but will be developed to offer technical support as well over the coming months. Future offices are planned for South America and the Far East and these should be operational within the next 12 months.
This initiative will be important for Guardian's future international expansion. Iain elaborates: "It means clients are more likely to buy in the international arena because they can easily contact someone in their time zone who can support them in deploying the equipment. A lot of what we make is quite technical and whilst not excessively challenging to use once trained, that training is vital to the long-term reliability and safe deployment of the products. Comprehensive training and support over the product lifecycle is integral to our business model because we offer a very comprehensive product range covering a vast range of applications so often clients need support in selecting the right products for the job. Without that support clients can encounter problems so we put enormous emphasis on technical documentation and support with a dedicated Training and Commissioning team. The international offices are essential to support that team's activities as well as providing direct pre- and post-sales support to clients."
Guardian's CEO goes on to give his outlook on where the new international offices and range of complete solutions will lead Guardian in the coming years: "Since 2008 we have grown at 40 to 50 per cent year on year. In common with much of the industry, this growth rate has slowed a little in 2012 but we still see huge growth in 2013 and 2014 with a more than doubling of turnover. North America is looking particularly good for us because of the shale gas, whilst the emerging China region also holds huge potential. Over the next four to five years our vision is to consolidate a position as the preferred supplier of Ballistics Delivery Systems to all four major service suppliers, and a broad range of national and regional service companies worldwide. Our ultimate goal would be to take the Ballisitcs Delivery Systems range of tools from the niche applications that they have today into the mainstream of perforating technology. There's still some way to travel on that path, but based on the progress we have seen in the last few years we are confident that we are on the right road and we believe we are making excellent progress."
Guardian Global Technologies
Products: Well perforation tools