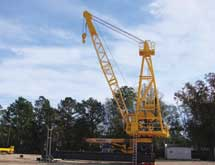 Gulf Crane Services (GCS) opened for business in 1982 when Charles Bollinger Jr. saw a need for a first-rate crane services company – as the name suggests – in the Gulf of Mexico. His employer had served that need, but when his employer shut down, Bollinger wanted to keep serving those clients. "He saw a need and met it, simple as that," says Brandon Bollinger, president of the company and Charles' son. "My dad founded this company on a basic principle: Do things others don't do, notice things others don't notice, and think about things others don't think about. That is how we operate, and we don't have to go after business – clients come to us because of our reputation."
It was Charles Bollinger Jr.'s philosophy that gave the company its start, but the Covington, La.-based operation grew as the result of Charles and Brandon Bollinger's continued focus on meeting the needs of customers. Brandon started with the GCS when he was about 10 – his first job was to sweep the floors. He has since worked in all aspects of the business, and was named president in 2008.
About seven years ago, Bollinger explains, the company had 30 to 40 employees. Since he became president, however, the company has grown to have 130 people by responding to clients' needs. Its facilities can build repair, rebuild, overhaul, paint, machine, fabricate and weld cranes, but it also offers hydraulic repair, OEM or custom hydraulic hose and tube manufacturing, component repairs and testing cranes. GCS offers these services at its own site and clients' locations – on or offshore.
The company also has become a dealer for many brands – such as MTU Detroit Diesel, Deutz, Thern and Chesterhoist – and is a service center for EBI and Gunnebo Johnson. GCS will start producing seven models of its own crane in 2011.
"We are involved in all aspects of crane lifting and hoisting," Brandon Bollinger explains. "In the last five years, we've seen 10 to 12 percent growth. We've grown with the independents in the Gulf of Mexico and work with most of the major players. I would say we have up to 40 percent of the Gulf market."
Doing What's Right
Experience and service enable GCS to respond to customers' needs, which has allowed the company to grow its business, Bollinger explains. Not only does GCS "exceed ISO 9001 standards in all of our work," he says, but it also is API-approved to train crane operators and riggers, and to perform inspections. Bollinger notes GCS has been an API-2C certified crane company for 10 years.
Not only does GCS have the experience and certifications necessary for its work, it also performs its tasks safely. The company has received the Louisiana Workers' Compensation Corp.'s Safest 70 Award in 2007, 2008 and 2009 (the 2010 awards have yet to be announced).
"It is important to keep our people safe, but also, you have to be safe to work in the oilfield," he says. "We take pride in doing our work right. We don't cut corners and we never lower our standards."
Bollinger adds that much of the company's success is due to its employees, and the operation's "heavy emphasis on training." He estimates GCS spends more than $250,000 in training each year, and although some of that comes from grants, that amount is much more than many other companies spend.
"You can't just go to a major oil company and start working for them," he stresses. "You have to have a good safety record in place, you have to have the right insurance, and you have to know what you're doing. To do this type of work well, you can't just provide on-the-job training. It makes a big difference to our customers when we get to the rigs and our guys know what they're doing.
'Getting Into Things'
Going forward, GCS will continue to grow its business by "getting into things – when we see a need, we will meet it," Bollinger says.
The company has already parlayed its experience to work on projects in Mexico and China, but it's forming new partnerships to do more work overseas. GCS will begin working in Singapore next year, Bollinger says, but it also has plans to go into Brazil; Dubai; United Arab Emirates; Angola; and Nigeria.
"We stand behind everything we do," Bollinger says. "Character and integrity is a big part of our business, and that goes a long way with our customers, so we've been able to keep expanding. We strive to be the best – we are not about being second."
GCS will continue to reinvest its profits back into the business to expand its operations, he says. It spent more than $1 million in 2010 to build its new crane fabrication facility and yard, and in 2011, it will expand further to grow along with its clients.
"When people know and believe in the company, they do what it takes to succeed, and our people are great in helping us expand to meet customers' needs,"
he says. "We will continue to do what's right. We are Christians and believe God has blessed us, and that is a very big part of where our character comes from. We will not bend on what we believe in, and that will keep our company strong."