Gulf Drilling International Ltd (GDI)
A class apart
With a vision to become a world-class drilling service provider and a mission to provide safe, efficient and innovative drilling services, Gulf Drilling International (GDI) was established in May 2004 as the first onshore and offshore oil and gas drilling company in Qatar.
Formed as a joint venture between Qatar Petroleum (QP), a state-owned oil and gas corporation and its technical partner, Japan Drilling Co. Ltd. (JDC), share capital was initially valued at $103.2 million. In 2008, QP transferred its 70 per cent ownership in GDI to Gulf International Services (Q.S.C.), a publically listed shareholding company owned 30 per cent by QP and 70 per cent by the public.
"In recent years, the cyclical nature of the oil and gas industry has been most evident," states Ibrahim J. Al-Othman, Chief Executive Officer of GDI. "The economic downturn, that by 2009 was in full force, resulted in a lower demand for drilling services, excess rig supply and lower day rates. By 2010, approximately 30 per cent of the jack-up rigs in the region were without work, which led to intense price competition amongst drilling contractors scrambling to find work.
"While GDI was impacted by these events and its 2010 and 2011 earnings did suffer, its business model, which emphasises high rig utilisation and a disciplined financial and operational mindset, allowed the company to weather this storm and prepare for the opportunities spawned by such conditions."
Over the last two years, GDI has undertaken two separate business expansions, valued cumulatively at US$875 million that are designed to grow GDI's rig fleet from nine to sixteen, while making it younger and more technically capable in anticipation of an industry recovery that is already underway. In contrast to its modest beginnings in 2004, when it had just a single jack-up rig, by 2015, its fleet will consist of eight jack-up rigs, six land rigs and two jack-up accommodation barges.
"The major driver for these business expansions has been the desire to grow and expand GDI's market share in Qatar," Mr. Al-Othman continues. "As the national drilling contractor of Qatar, GDI currently holds a 45 per cent share of the offshore market and a 100 per cent share of the onshore market. Its target is to hold at least 50 per cent of the offshore market while maintaining its exclusive onshore position, which will be achieved by 2015 when all of the new rigs are delivered. In addition to generating significantly more revenue, we will have five ultra modern 'cyber' offshore rigs in our fleet that are capable of working in the most challenging fields of Qatar, and the average age of the company's rigs will have been reduced from 21.2 years in 2012 to 15.9 years in 2015."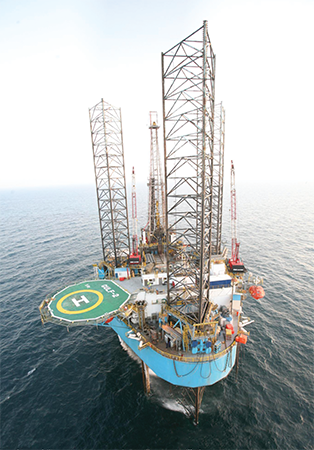 As an advocate for excellence, GDI aims to achieve its goals through a combination of working safely and efficiently, promoting state-of-the-art, cost effective technology, by continuously improving its own performance and always adding value to every task it undertakes. Performing its work with integrity, creativity, teamwork and respect for diversity, GDI's workforce is growing as fast as its rig count with 830 employees now on board compared just 100 when it started in 2004.
One of the keys to GDI's successful growth has been its improved drilling performance. In November 2011, GDI was presented with a performance award from a client, Qatar-Shell, in recognition of the excellent performance achieved by its Al Khor jack-up drilling rig. At Shell, all drilling rigs operating globally are benchmarked using metrics that include HSSE, operational performance and people. There is a clear focus on pro-active measures, which have historically been shown to improve the overall performance of a rig. Since starting its contract with Shell in March of 2010, the Al Khor's performance rating has climbed from the 'bottom quartile' of the global Shell fleet to the exclusive 'top quartile' club by the end of quarter three, 2011 and since then has continued to stay at this level.
Another of the company's strong points is its ability to offer clients tailor made solutions for their work programmes in exchange for long-term contracts. A recent investment illustrates the way GDI's business model operates. In January of 2012, two land rigs were ordered for delivery later this year after conducting nearly twelve months of detailed discussions with both the client and interested vendors to source the most cost effective and suitable solution for the client. The client had certain specific requirements that GDI was able to meet. The client in turn was able to offer GDI a long-term contract for these services at rates that could justify its investment.
Established with an aim of contributing to the social sector of Qatar by creating good job opportunities for Qatari nationals, thus encouraging the growth of the country's economy in this sector, GDI has managed to successfully develop a five-year strategic nationalisation plan. This plan is expected to satisfy the dual objectives of introducing fresh Qatari graduates into the company's work force and providing, at an early stage, a competitive market for qualified nationals.
"Going forward, the next three years will be a very busy time for GDI as we bring the new rigs into operation," Mr. Al-Othman states. "With the near doubling of our rig count over a period of five years, the company will become the dominant drilling rig service provider in Qatar and the second largest offshore rig owner in the GCC region. At the same time, we will have also diversified into the accommodation jack-up business and are hopeful of becoming the pioneer provider of lift boat services to the offshore market in Qatar."
Another major milestone that is fast approaching for GDI is its ten-year anniversary. In 2014, GDI will be ten years old. This is important to the business because it will allow GDI to be seriously considered for international operations. "GDI owes a lot to its parent companies for having provided it with the opportunity and support to stand on its own feet," Mr. Al-Othman enthuses. "Broadening our client base to include multinational oil companies has also laid the foundation for world class performance, top quality HSE practices, strong partnerships and a focus on excellence. GDI is truly grateful to all its benefactors for the help it has received to achieve its goals. In return, GDI is committed to delivering quality services with the help of a strong labour force. Respect for social, environmental and cultural diversity is another important element that is firmly embedded in the company's commitment to society, its stakeholders, its employees and, of course, the State of Qatar."
Gulf Drilling International Ltd (GDI)
Services: Drilling service provider