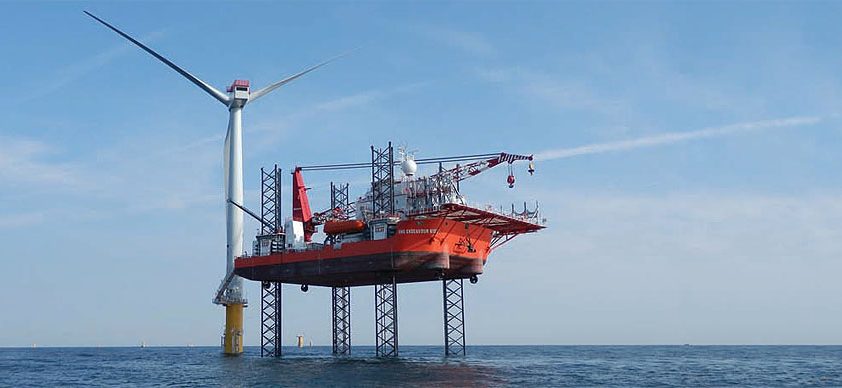 Gulf Marine Services (GMS)
Asset management
An owner and operator of self propelled elevated support barges and AHTS vessels that each serve the global oil, gas and renewables sectors, Gulf Marine Services (GMS) was first established in Abu Dhabi in 1977.
The largest privately owned marine service company in the UAE, the business today focuses on offshore accommodation, well maintenance, project management, construction and installation
activities.
Owned by private equity group Gulf Capital since 2007, GMS is also recognised as the largest elevated support vessel operator in the Middle East, currently boasting a fleet of eight modern, self propelled jack-up barges and two offshore support and anchor handling vessels. Constructing and maintaining its vessels from its site in Mussaffah, the company also has an extensive new build and replacement programme that involves the construction of Gusto NG2500X DPII ESV's.
"The last two years has been a particularly buoyant time, not only for GMS, but for the oil and gas market as a whole," states the company's chief executive officer, Duncan Anderson. "Today all of the company's assets can be found undertaking mid-to-long term charters, with its larger Gusto designed barges having worked almost continuously since delivery.
"In addition to this GMS has completed the construction of its new E Class barges, which are now operating in waters around the UK and in the Southern North Sea, while it is also due to deliver another of its K Class assets to carry out long term work in the Arabian Gulf in the summer of 2012."
The Arabian Gulf, the Mediterranean region and the North Sea remain the company's primary areas of operation at present, however, with its plans to expand into areas including Western Africa and South East Asia, it is more imperative than ever that GMS continues to utilise the qualities and strengths that have contributed to 45 years of success.
"Having its own shipyard where it is able to build its jack-up barges provides the company with various advantages as it relates to the cost and quality controls involved when building these assets," Duncan continues. "GMS' fleet of offshore assets boast commonality of class between the types of vessel, allowing for a comprehensive and bespoke training package to be put in place. This, in tandem with the company's detailed knowledge, creates numerous advantages by enhancing safe operational ability and minimising down time. Over the past five years GMS' operational down time has been virtually nil and it possesses one of the best safety records in the industry."
One of the recent undertakings carried out by one of the company's assets involved the vessel GMS Endurance and its work on behalf of British Gas Tunisia: "What the Endurance has done in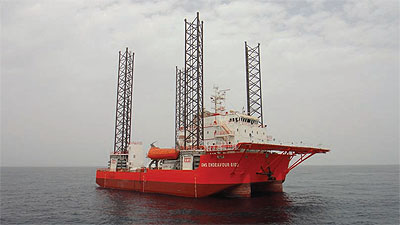 recent months is provide accommodation support for the Miskar platform shutdown, which is a key gas field for British Gas Tunisia, supplying the majority of the country's energy needs at a time of important political change," Duncan says. "The vessel then subsequently sailed under its own power to Amsterdam to mobilise for a project with ConocoPhillips.
"This journey provides first-hand proof of the flexibility of the company's new design of its assets, in that it required no tug assistance for such a long voyage. Furthermore, it can re-position itself in harsh weather environments at low costs with a greater reduction in re-positioning time achieved, something that GMS knows for a fact that it clients have been increasingly demanding. In the end, both the project and the mobilisation of GMS Endurance were completed six weeks faster than initially anticipated, which is simply an incredible achievement."
In the near future, GMS will also see its vessel, the Endeavour, complete a successful project on behalf of Scira on the Sheringham Shoal, having installed more than 50 per cent of the wind turbines now found in one of the largest windfarms in the world. Meanwhile, it will continue to strive to attain long term well service contracts in all areas of the world.
"Primarily an oil service company, which has gone on to develop extensive experience of working in the fledging renewables business, GMS will continue to focus on the services it provides its oil and gas customers going forward," Duncan enthuses. "The company will continue to provide accommodation and offshore maintenance support, boosted by the support of assets that it will go on to build, develop and evolve to better handle the effects of the arduous environmental conditions in which they operate.
"An avid listener when it comes to its clients and their needs, GMS prides itself on knowing what these companies want. What it then does is adapt its own assets in its yard to meet these specific requirements, meaning that it is able to help in keeping any project it undertakes on budget and on schedule. It is traits and characteristics like this that have helped make GMS what it is today and will help it grow financially in the years ahead."
Gulf Marine Services (GMS)
Services: Offshore contractor