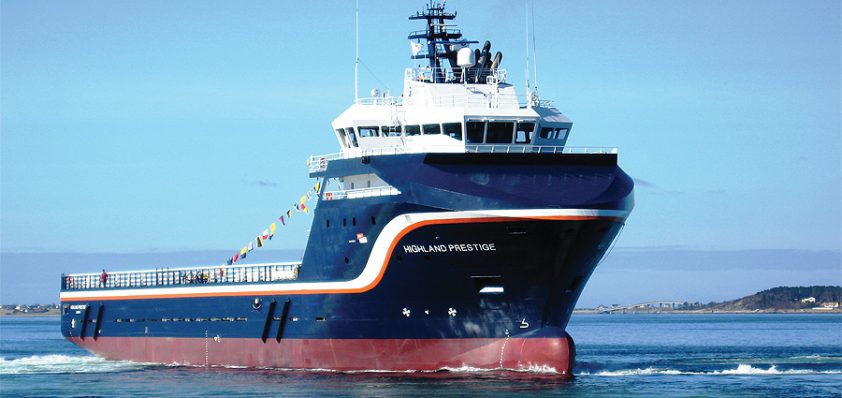 Vessel mania
Gulf Offshore Norge AS is a subsidiary of GulfMark Offshore, a platform and supply vessel owner and manager that provides international marine services to customers in the exploration and production sectors of the offshore oil and gas industry.
Gulf Offshore Norge, which is based in Sandnes, Norway, operates in the North Sea sector with its sister company, Gulf Offshore North Sea supporting the construction, positioning and ongoing operation of offshore drilling rigs and platforms.
Gulf Offshore Norge was originally established as Sea Truck in 1976, initially operating a number of PSVs, supplying quality and technologically advanced equipment to the oil and natural gas companies operating in the North Sea. In 2001 GulfMark Offshore acquired Sea Truck for around $60 million, renaming the business Gulf Offshore Norge. The acquisition added valuable vessels to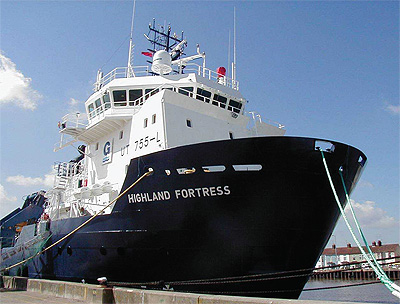 the GulfMark portfolio, and served to strengthen GulfMarks position in the North Sea.
The company operates as part of GulfMark Offshore, one of the world's leading international offshore marine services companies. Through its subsidiaries, including Gulf Offshore Norge, GulfMark Offshore provides marine services to oil and gas customers, with its extensive fleet of vessels transporting drilling materials, supplies and personnel to offshore facilities, and moving and positioning drilling structures. The company's key area of operations is the North Sea sector, although it also carries out operations in Southeast Asia, Brazil, West Africa, and India.
In the North Sea sector, the company's largest operating area, GulfMark Offshore operates offshore Norway, Denmark, the Netherlands, the UK, Ireland and the Norwegian Sea. The nature of operations in these areas, including harsh weather, erratic sea conditions and long cruise times means that demands on the company's vessels are extreme. GulfMark's North Sea operations are oriented towards supply vessels supporting exploration, production platform and field development operations. From Gulf Offshore Norge's office at Sandnes, the vessels service most main clients in the North Sea.
GulfMark North Sea fleet consists of platform supply vessels (PSVs), anchor handling, towing and supply vessels (AHTS), and speciality vessels (SpV). GulfMark Offshore's PSV fleet serves drilling and production facilities, and supports construction and maintenance work. The vessels are characterised by their large cargo handling capacities, and are capable of transporting fuel, water, drilling fluids, equipment and provisions. The company's large PSVs, reaching lengths of up to 90 meters, are particularly suited for operating with concentrations of offshore facilities due to their deck capacities.
GulfMark operates a number of powerful AHTS vessels, with up to 25,000 BHP vessels in the North Sea Sector. These ships, which include the Highland Courage and Highland Valour, are used for towing mobile drilling rigs and equipment to various locations, and for setting anchors for drilling rigs. Furthermore, when not performing their primary roles, the company's AHTS vessels are used for transporting offshore supplies. In addition to these two vessel types, the company operates a number of speciality vessels in the North Sea. These specialist ships are used for specific customer requirements, including supporting FPSOs, ROV operations and diving tasks.
Operating as part of the GulfMark Offshore group of companies allows Gulf Offshore Norge to benefit from the organisation's significant investment capabilities, and fleet expansion plans. The company believes that updating its fleet with the latest vessels is essential to remain as competitive, and as efficient as possible. For example, the current GulfMark North Sea fleet has an average age of less than ten years due to a constant new build programme, which ensures that more efficient ships, with greater carrying capacity and capabilities are continuously introduced.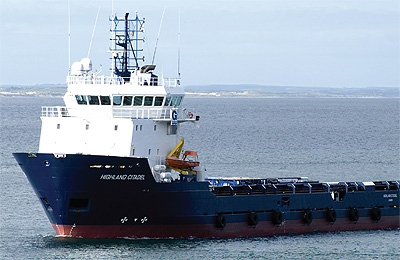 Since the turn of the century GulfMark Offshore has implemented a considerable new build programme, with the total fleet level increasing from 47 vessels to 58 vessels in the five-year period between 2000 and 2005. This level is likely to continue across the company, with renewal plans for the South East Asian fleet, and plans to strengthen the company's position in Brazil, Africa and the Mediterranean.
Gulf Offshore Norge carefully considers its effects, and influence on the environment in which it operates. As one of the leading offshore marine service companies, GulfMark Offshore consistently emphasises the importance of health, safety and care for the environment, particularly so in the Norwegian waters in which Gulf Offshore Norge operates. For example, there is currently a nitrous oxide tax levied on ship-owners operating in Norway, with a charge for every kilo emitted.
In September Gulfmark Offshore will take delivery of the second of a number of vessels, built by Aker Yards, and designed to conform to the recent 'clean design' vessel classifications. The North Promise, which is of the latest Aker PSV09 design represents the latest in 'clean design' technology, providing far improved economics for clients. The vessel features a double-skinned hull, with no oil tanks in contact with the outer hull, together with diesel-electric propulsion systems and streamlined hull design, which offers lower fuel consumption and nitrous oxide emissions. Furthermore, the company has ordered two additional vessels, which will join the GulfMark fleet in 2009 and 2010.
These continued plans to expand, both in terms of operations and fleet size, coupled with the favourable market conditions in the North Sea, mean that the future looks bright for Gulf Offshore Norge. Throughout 2005 and 2006 the demand for offshore marine services in the North Sea sector rose in conjunction with the increased offshore drilling, production and rig movement activities, and this trend looks set to continue. With the backing of GulfMark Offshore providing the latest operational equipment, and the company's exceptional maritime history, Gulf Offshore Norge looks set to ride the crest of a wave for many years to come.
Gulf Offshore Norge AS
Industry Offshore marine services