Leading oil space player
The Gulf Petrochem Group is a market leader in the oil sector. It aims to be an integrated multinational energy organisation, by driving international growth and worldwide development projects. The group's head office is located in the Hamriyah Free Zone in Sharjah, United Arab Emirates, with a global presence at several locations in the Indian sub continent, South East Asia, Africa, Europe and South America.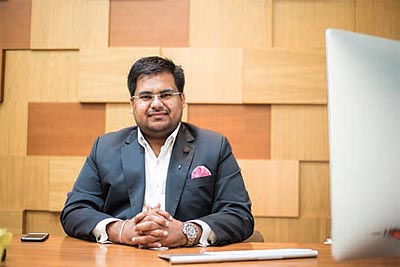 It all began in the early 1990's, when two brothers Ashok Goel and Sudhir Goyel started trading petrochemical products in Delhi and Gujarat in India. In 1998, the pair expanded the business activities into the United Arab Emirates and Gulf Petrochem was founded. In a short space of time the group commissioned a refinery and now established itself into four business units; refining & manufacturing, trading, storage terminals and shipping & logistics, under the Gulf Petrochem Group.
In October 2016 the company announced that it was providing physical bunker supplies to the port of Antwerp. The deal was set up to give its global customers a better choice of marine fuel products such as RMG 380 and LSGO. It uses two freight carriers, the Valsinni and the Chardonnay chartered from the Gulf Petrochem Group's barge partner, Dari BV. At the time of the development Gulf Petrochem Group said in a press release: "Entering the Antwerp market only serves to reaffirm the group's commitment to grow the business off the back of a very successful start in Rotterdam. Further to this, our latest expansion now allows us to supply our customers with consistently high quality products and customer service to match with a fully-fledged, first class ARA service. Our operations in Antwerp will be handled from our established office in Rotterdam which also undertakes worldwide back-to-back bunker and cargo trading, as well as housing the group's West Africa desk supplying the Ports of Tema and Takoradi respectively."
It is also playing a major role in supplying India's IPOL brand of lubricants to the United Arab Emirates. After some strategic negotiations the company agreed on a five-year deal with two companies, NGC Energy and the National Gas Company SAOG. Operations started in 2016, with all partners in agreement on targets of 100 MT per month of lubricant volumes. The Gulf Petrochem Group Director, Prerit Goel said in a press release: "This partnership seems like a natural step for all concerned and will only serve to enhance the availability of quality products on the market in the UAE and Oman. We believe there is a huge market in the region for IPOL, which is specifically tailored for industries, and in partnering with National Gas Company SAOG and NGC Energy, we have secured business with trusted firms who share our ambition and drive."
Nalin Chandna, General Manager of National Gas Company SAOG said in the same press release: "Since we signed the agreement in September 2015, we have been working together to put all the
necessary infrastructure in place, in order to meet our expected demand levels when operations begin. In this time we have seen similarities in the way we both work and believe our partnership can only be fruitful for all concerned. IPOL is a quality product, which suits the market in the UAE, and Oman and we are delighted to be able to distribute the product there."
A combination of these and many other deals indicates that the company is heading in the right direction. It is currently worth US $3.2 billion thanks to its abilities to make good business decisions and build partnerships within the oil sector.
The success of the company is further highlighted by its values and beliefs that growth comes with community accountability. As part of its corporate social responsibility the ASPAM foundation (set up by the Gulf Petrochem Group) is making a difference to the lives of the underprivileged. Most recently it opened the Smt. Reshma Devi Goyal Eye and Dental Care Centre in Hishar, a 12 bed hospital and operation theatre. The out patient department (OPD) has already provided services for 20,816 eye care patients, 6108 dental care patients and a total of 3219 eye surgeries and 107 gynae deliveries as of February 2017.
Over the coming months the Gulf Petrochem Group will focus on further development and expansion and seek to increase its investments into new products to intensify its service offering. The company is set to grow considerably with the US $50 million expansion of the group's Fujairah terminal, due for completion in March 2017. The group is also in the process of setting up a new refinery in Tanzania and open new trading offices in London, Lagos and Kuala Lumpur to increase global presence of the brand even further.
Gulf Petrochem Group
Services: Refining, manufacturing, shipping, trading and storing oil products