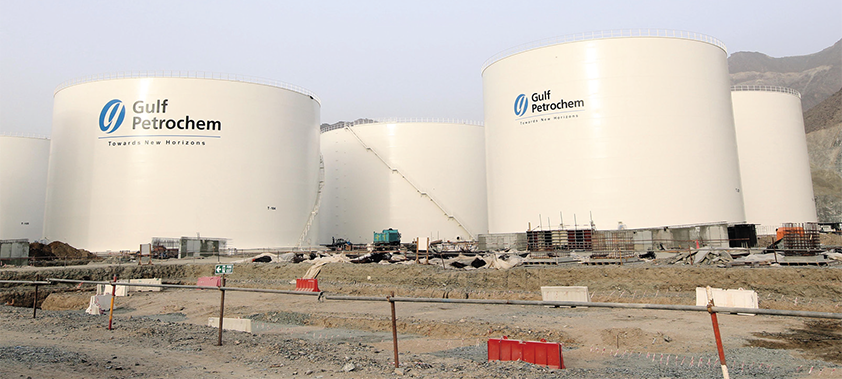 Gulf Petrochem Group – Fujairah Terminal
Towards new horizons
Encompassing many essential elements of the oil and gas supply chain, Gulf Petrochem Group is a leading player in oil space.
More than a decade since its inception in 1998, Gulf Petrochem is now a $550 million company, with an ambition to become a $1 billion organisation by 2014. The Group was founded by Mr Ashok Goel and Mr Sudhir Goyel, who first moved into the United Arab Emirates (UAE) in the early 1990's in order to exploit the potential of exporting petroleum products all over the world.
Following this vision, Gulf Petrochem established its headquarters in Hamriyah-Sharjah in the UAE and within just a few years of commissioning a refinery in the area had firmly established itself into six strategic business units – oil trading and bunkering, oil refining, grease manufacturing, oil storage terminals, bitumen manufacturing, and shipping and logistics. The company also maintains refining and storage facilities elsewhere in the country, and trading offices in Dubai, Singapore, Mumbai, and Geneva.
"The UAE has a strategic advantage in terms of its location and hence it has become one of the most desired locations for major oil players. This fact has also benefited Gulf Petrochem having its headquarters as well as facilities here. Fujairah is the third largest bunkering centre in the world, and this is one of the reasons why we will initiate a new storage terminal here in the upcoming months. Our offices have been consciously set up in the key locations of the growing markets. Integrity between our business activities in all these areas, and our headquarters, has boosted our overall performance," describes Mr. Sanjeev Sisauia (SS), group chief executive.
Given its operational base, many of Gulf Petrochem's key clients are based in the Middle East, but the company also operates in Africa, Singapore, India, and South East Asia, and has now entered the European and Russian markets. This has been achieved through various subsidiaries such as Gulf Petrochem PTE Ltd in Singapore, which is a gateway to the Far East for the business. Gulf Petrochem (I) Pvt Ltd has entered India's bunkering industry as a physical supplier at Gujarat Ports, whilst Gulf Petrochem SA in Geneva has initiated business in Europe.
"Our core strength lies in petroleum and petroleum related products, specifically fuel oil, base oil, bitumen, naphtha, and grease, and over the years we have expanded into various verticals of oil. The strategic business units we currently operate all support one another in making Gulf Petrochem a well integrated conglomerate. We are established into the midstream and downstream oil sector through our own refineries, storage facilities, shipping and logistics, and global trading offices. The company also owns three vessels designed to handle base oil, fuel oil, and bitumen, each with a capacity of 5000 to 6000 MT, which together with barges and storage terminals supports the trading and bunkering activities," highlights SS.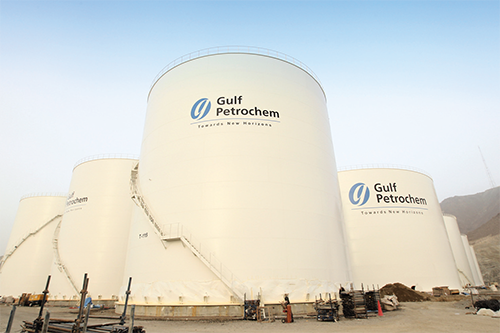 By far, Gulf Petrochem's biggest project at present is the commissioning of a new 412,000 cubic metre barrel (cbm) capacity state-of-the-art automated terminal at the Port of Fujairah. At a cost of $130 million, this development will comprise of fuel oil, gas oil and cutterstock, and offer export and import services alongside advanced heating and blending facilities.
Based upon its expertise in tank terminal projects, Mott MacDonald in the UK has been selected as the engineering and project management consultant for the project. The Fujairah Oil Terminal is now in an advanced stage of construction, with the tanks and foundations ranging from 12,500 to 38,800 cbm having been completed by Topaz Engineering. The piping, and electrical and instrumentation works are expected to be completed by October 2012, alongside the associated civil works.
SS elaborates on what this facility will mean to the business: "The upcoming inauguration of the Fujairah Oil Terminal will be an important step in realising our expansion drive as it will significantly expand our capacity and enable the company to cater to a much broader customer base in the region. Crucially, it has also exposure to the third largest bunker market in the world. As the company's biggest project, the terminal will enhance Gulf Petrochem's brand image in trading and leasing."
Gulf Petrochem also has plans to develop an oil terminal at Port Klang in Malaysia and is in active talks with West ports for leasing land. This will consist of 150,000 cbm capacity for edible oil, base oil and other petroleum products. Subsidiary, Gulf Petrochem India, is growing by initially developing 318,000 cbm capacity liquid bulk cargo storage tank farm at APM Terminals for fuel oil, gas oil, base oil, edible oil, bitumen, and RPO. Closer to its headquarters, Gulf Petrochem is keen to introduce pipeline connectivity to the main harbour in Hamriyah, UAE, and covering other major ports such as Khor-fakkan and Jebel Ali for physical bunker supplies.
Despite the scope of such major investments, Gulf Petrochem is carefully planning each step based on market conditions: "Market volatility and the changes in the economy across the globe are key concerns for the oil companies, especially for operations like Gulf Petrochem which is in a rapid expansion stage. Synergy is achieved by integrating our storage terminal facilities in UAE, India, Singapore, Tanzania, Switzerland, and Malaysia," adds SS.
"With each milestone achieved, Gulf Petrochem is rightly moving towards becoming one of the leading global major oil players. For continuous growth and success, the company has plans to move up the value chain by adding more and more terminals, refining and manufacturing units, and trading offices worldwide with close synergies amongst all locations and business areas."
Gulf Petrochem Group – Fujairah Terminal
Services: Storage, refining and trading of petroleum products