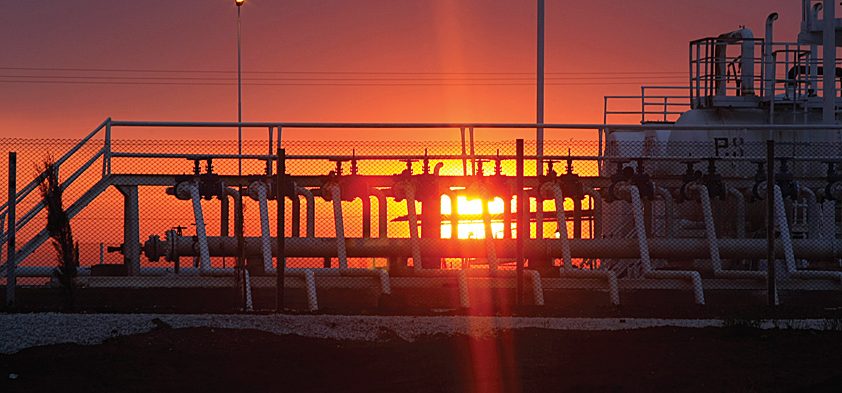 Added value
Gulfsands Petroleum Plc is an independent oil and gas company focusing on exploration and production activities within the Middle East and North African regions.
The company's portfolio includes oil exploration and development projects currently underway in Syria, business development activities in Iraq, exploration activities in Tunisia and oil and gas
production from a collection of properties in the offshore Gulf of Mexico. "We are currently producing around 11,500 barrels of oil equivalent net each day, with production primarily coming from our Syrian assets. We have no debt and substantial cash flow, which we will be drawing upon to fund an active programme of exploration and development drilling in Syria over the next 12 months," explains Ric Malcolm, CEO, as means of an introduction.
In terms of the strengths of the business, particularly looking at its competition in this geographical sector, Ric comments: "Our focus on the Middle East and North African region began in 2001 and was confirmed in 2003, when we gained a working interest in Block 26 in Syria. Since then we have become operator with 50 per cent and built up a strong technical team with an impressive track record. We intend to continue to grow our business in Syria and into other areas of the Middle East and North Africa, our goal being to build value for shareholders. This may mean buying or selling assets at some time in the future in order to generate additional value."
Gulfsands' current Syrian operations are focused in Block 26 in the north east corner of the country. "Eight new blocks were released in Syria earlier in the year with bids closing on the 8th of December, so there is potential to pick up new exploration acreage through that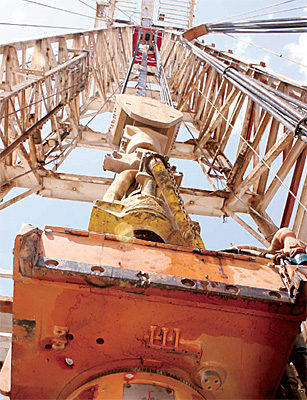 licensing round," explains Ric. To date, Gulfsands has drilled seven exploration wells in Block 26 resulting in two commercial oil discoveries. The first, Khurbet East, was discovered in mid-2007 with the second field, Yousefieh, discovered the following year. Both fields are currently operating using early production facilities. Gulfsands recently awarded Saipem the contract to build a central production facility (CPF), which is due to be completed in October 2012 with an estimated capacity of 33,000 barrels of oil a day, up from the 21,000 boepd currently being produced through the early production facilities (EPFs).
Describing other developments within the company's portfolio, Ric says: "We began activities in Tunisia earlier this year with the drilling of one offshore well (operated by ADX Energy) with a 30 per cent participating interest. Whilst drilling this well, we encountered a gas column of over 20 metres. In January we will begin drilling an onshore well in Tunisia with a 40 per cent interest. In the event it is a commercial discovery we would have the option to become operator which would enable us to gain an initial foothold in this region."
Gulfsands is also pursuing possible opportunities in Iraq. One such opportunity is the Maysan gas project for which a memorandum of understanding was signed with the Iraq Government in 2005. "The proposed project is essentially designed to take gas that is currently being flared in the Maysan region and commercialise it by extracting any liquids for local use and then sending the dry gas as a fuel to a newly built power plant to provide electricity to the people of the Maysan region," says Ric. "That proposal is still on the table and we are hoping to make progress with the project in due course. We are continuing to look at other opportunities with Iraq as well, as the country has enormous potential. There are around 50 oil and gas fields that have been discovered, but as yet are undeveloped. We continue to seek niche opportunities where our capabilities can deliver added value. Although there are currently many challenges, we believe that in time Iraq will be the focus of the Middle East in terms of activity."
Turning his attention to the future progress of the company, in line with its business strategy, Ric concludes: "We're going to continue to focus on the Middle East and North Africa region. Although we primarily intend to grow the company through organically generated growth, we will consider acquisitions of assets or even companies if we believe these can add value to the business and fulfil our criteria of being compelling opportunities that fit within our core strategy. We have some aggressive growth objectives going forwards in relation to expanding our business. Our financial strategy for achieving these aspirations remains the same, to maintain discipline and headroom in order to continue to fund our exploration activity from cash flow, and maintain resources required to take on other opportunities if and when they should arise."
Gulfsands Petroleum Plc
Services: Oil and gas exploration and production