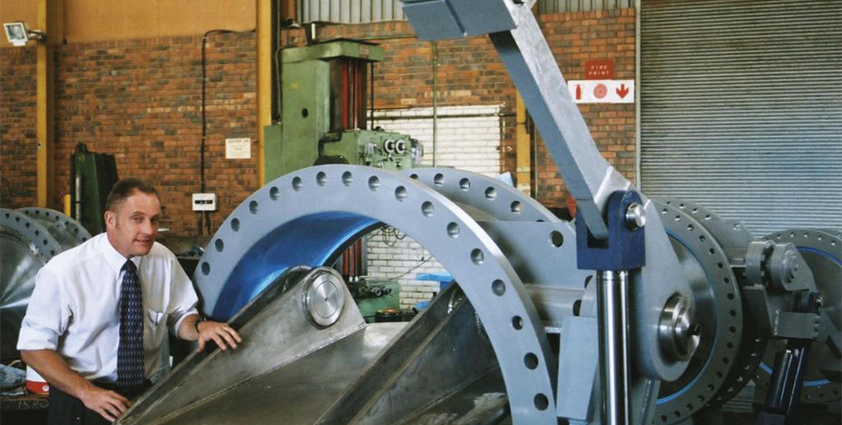 The heart of valves
Gunric Valves is a leader in the manufacture of high performance valves, offering a comprehensive range of elastomer, PTFE and metal-seating valves to companies operating in a variety of industries.
The company believes that meeting the needs of the valve industry requires superior product quality matched with service excellence, and therefore it aims to consistently manufacture products that are correctly designed and sized to any desired specifications, backed by efficient and flexible after-sales service worldwide.
Based in Johannesburg, South Africa, Gunric is a member of the South African Valve and Actuator Manufacturers Association (Savama), as well as being certified according to the European Pressure Equipment Directive 97/23 Module H by Moody International and accredited by TUV Rheinland to use the CE 0035 monogram on its valves. The company also operates a quality system according to ISO9001, Environmental System to ISO14001 and H+Safety Systems to BSI-OHSAS 18001. As one might expect from a company whose products are used in dangerous and demanding environments, all its valves undergo stringent quality tests before leaving the premises. They are engineered for strength and durability, and can endure arduous conditions and operate under extreme pressures and temperatures.
In addition, the company continuously practices an aggressive research and development (R&D) programme in order to enhance the quality of its products. As part of its design procedure, finite element stress analysis is carried out to ensure material suitability and strength.
The valves are certified Fire Safe in accordance with API 607, API 6FA and API standard 598 and have been successfully tested for durability with cycles in excess of 250,000.
Gunric's computer designs and drafting stations are interlinked with CNC machines by means of a CAD/CAM system, which ensures that all components are machined to close tolerance and are interchangeable. The efforts of the design and R&D departments form the foundation to guarantee low maintenance costs.
Since 1989 Gunric has been at the forefront of triple eccentric butterfly valve design. Today, these high quality valves are effectively used in the water, oil, process, mining, power generation, petrochemical, gas, sugar and steel refinery industries worldwide.
Gunric's valves are classified under three areas – process valves, check valves and waterworks valves. Its process valves, or 'triple eccentric high performance butterfly valves' incorporate tri-centric sealing geometry. The laminated stainless steel or solid metal seal of the Gunric butterfly valve provides bubble tight shut-off within a wide range of temperatures and pressures. The seal is held in position by a bolt-on retaining ring and, together with the seat ring, is easily replaceable.
Due to the high technological nature of the different seal configurations and materials of construction, most media and applications can be accommodated. Design is in accordance with ANSI B16.34, and the valve design is suitable for low and high-pressure steam applications.
The company's range of tilting disc check valves features eccentric shafts and metal-to-metal sealing, which ensures tight shut off and the efficient handling of a wide range of media. These are manufactured for installation in horizontal or vertical pipelines, and are fitted with lever arm and counter weight as standard.
The waterworks valves are high performance butterfly valves, and in this range a comprehensive range of elastomer, PTFE and metal-seated valves are available, which are manufactured to comply with international specifications and standards. Elastomer-seal valves operate on a double-off set principle, and metal and PTFE-seated valves operate on the tri-centric design principle.
One area where Gunric excels is in problem solving and supplying clients with 'made for purpose' valves. Its products programme allows a lot of flexibility to accommodate 'one off' designs. Furthermore, its design skills can accommodate laying lengths to all recognised standards, and in addition it has a full range of designs with laying lengths according to ANSI BI6.10 to replace existing gate valves.
Gunric's valves are manufactured from a wide range of materials, from cast iron to exotic stainless steel alloys as well as materials compatible with NACE MR0175.
Gunric's unique combination of practical expertise, cutting edge technology and commitment to product and service excellence ensures that every aspect of its operation is of the highest possible standard. Represented globally to ensure efficient after-sales service and technical support on all its products, Gunric believes in working with clients rather than for them, in order to ensure that each individual specific need is met on time, every time.
Gunric Valves
Products Valves