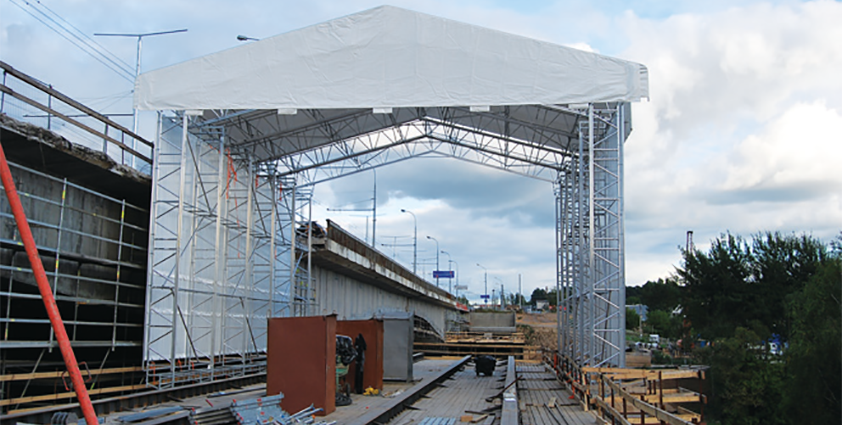 Solid platform
With a focus on safety sat firmly at the centre of the company philosophy, HAKI is a leading expert in the provision of heavy industry scaffolding, temporary roofs and buildings.
As an international business partner it works alongside clients to provide a complete scaffolding system and all the necessary related products and accessories, contributing to overall operations by ensuring the highest level of safety, cost efficiency and the least possible impact on the environment. HAKI has been an established name in the market for over 53 years, having started as a small blacksmith company in the 1950s. Its generations of experience is internationally recognised in the building and construction, infrastructure, processing, shipyard and offshore industries. The organisation headquarters and production plant are located in Sibbhult in Sweden and the business operates as part of Midway Holding AB.
Bernard Podlinski, sales and export director of HAKI, explains the company's main operations and the factors that differentiate it from competition: "We specialise in steel and aluminium scaffolding and all the contributing products to comprehensive scaffold structures. Our provision is specially designed for use in harsh industries for offshore platforms, shipyards and refineries as well as for the conventional building market that may require more heavy-duty weather protection systems or hoists for construction sites. Our main strengths lie in the fact that we have been operating for a long time and have a history of quality delivery that has made us the Rolls Royce of scaffolding suppliers. Our system can be likened to lego for adults, because it is so simple and yet so clever. Our motto is that we may not be the most beautiful in the market but we are the most attractive option."
The HAKI range of scaffolding includes HAKI Universal, Ram, Stair Tower, Tripod, Lattice Beam and Safety. All products are able to work in conjunction with each other and meet all stringent European regulations, directives and standards. For example, HAKI Universal is a modular form of scaffolding for all types  of applications, from basic to complex. It is suited to highly advanced constructions such as offshore installations and refineries, while it is highly flexible with respect to bay size and load class, making it compatible with HAKI Ram and earlier HAKI generations of products. The accompanying accessories programme includes a range of brackets, ladders, stairs and components for suspended scaffolding. Moreover, the Universal components can be used in the erection of stair towers, mobile towers, sign towers, stages, stands and other temporary constructions that can also be used in HAKITEC weather protection.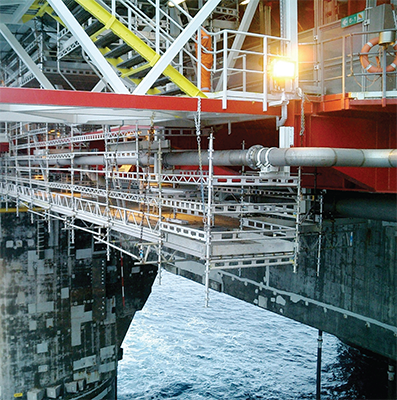 The company's simple and safe erection credentials are aided mainly by its patented spring locking catch technology. Primarily designed for manual locking, it can be easily moved to a distinct locked or unlocked position, and carries no risk of any part moving or jamming as a result of painting, blasting or corrosion. HAKI's identification system also aids construction by clearly colour coding and labelling horizontal and diagonal pieces with their modular dimensions for easy assembly. The product range can be produced in galvanised steel for long-term surface protection, and aluminium for minimum weight.
HAKI supplies its portfolio to a number of international markets for a varying range of needs, as Bernard notes: "We operate everywhere across the globe; oil platforms in Norway, weather protection in the US, shipyards in the Middle East, construction scaffolding in the UK – you name it, we can do it. Dubai Drydock is one of our biggest customers though we can also name projects for the Tiltra Group in Lithuania, the Swedish Malmö city tunnel contract and the University of Karlstad."
The organisation has recently gained a contract with StatoilHydro on the Aker Stord shipyard in Norway, which is bringing in modules for process and auxiliary equipment for use on the Kristin gas field platform just off the coast of Trøndelag. The HAKITEC 750 system is being used to cover the platform and it consists of a gable roof on wheels with a span of 18 metres and two fixed pen roofs with eight metre spans. Such lucrative and specialised locations are a mainstay for HAKI's operations.
During the economic recession, the company went through a slight downturn in business, which affected operations, though this experience was no different to any of its competitors and now the industry is back on the rise. In order to overcome any challenges the last two years has thrown at it, HAKI has put a great deal of effort into the development of new scaffolding parts, training of staff and different advertisement strategies, with the aim of putting the company on the map. In the last few months HAKI has launched two new products for the weather protection portfolio, the HAKITEC 450 lattice beam for use with HAKI Trak sheeting and HAKITEC sheeting with keder beading.
The improved HAKITEC 450 lattice beam was designed to be combined with the popular HAKI Trak sheeting product. The beams are installed with pockets on the verticals to ease the fitting of stiffening ledger beams and diagonal braces, while the upper tube has holes to speed up the fixing of track saddle clamps. The combination of lattice beams in the wall and Trak sheeting gives a smooth and quick solution for plain shelter, and the availability of HAKITEC sheeting with keder beading offers a cost-effective solution. In addition, weight reduction in scaffolding has been a key focus area for the R&D team and a new form of highly intensive special steel has been developed to operate at the same strength but with a reduced weight of up to 40 per cent. This is also being applied to aluminium products so that clients can still benefit from a choice of material.
Bernard outlines his vision for HAKI's future: "We have created an international sales team to identify and explore potential markets for expansion. The focus will start in Europe and move on to the rest of the world, and I anticipate that our turnover will double from half a million Swedish Krone in the next five years. We hope to move into more niche markets such as those within heavy industry and oil and gas, and I believe we will achieve our goals through the fact that we remain at the cutting edge of the industry as a result of our continuous development and innovative approach."
HAKI AB
Services: Scaffolding