Access all areas
Established in 1956 by the Olsson brothers, HAKI is a well-known access systems supplier, leading the way in pro-active technology within the global access systems market.
This is supported by continual product development, active improvements of the organisation and personnel skills in production, and high competence in sales and support staff.
HAKI caters for the construction and offshore industries across the world and works for all the main oil operators and contractors throughout the UK, Scandinavia and mainland Europe. Haki is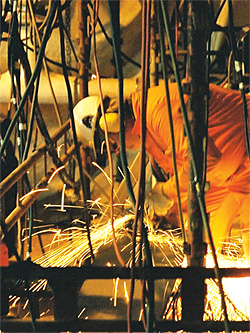 headquartered in Sibbhult, Sweden and has subsidiaries in Norway, Denmark, the UK, France, Lithuania and the Ukraine, as well as agents in many other countries.
Working as an international business partner, HAKI provides complete scaffolding systems, which include all the necessary related products and accessories. This helps the business to contribute to its customers' operations by ensuring that they are conducted with the highest level of safety, cost efficiency and create the least possible environmental impact.
A scaffolding system from HAKI is a place of work. Therefore, safety, ergonomics and demands for a better work environment always serve as strict guidelines when the company develops new products. HAKI's products have an outstanding quality and safety assurance record. Furthermore, the company boasts a fully traceable system, which tracks any errors that may have occurred at any point from steelwork to production. HAKI, though, has not yet used this system as the company enjoys a zero accident record.
HAKI combines quality and high-end technology with a commitment to provide full satisfaction to its customers. Its lightweight steel scaffolding, which accounts for a significant percentage of its turnover, can be suspended and connected anywhere and in any direction, providing outstanding flexibility. In addition, HAKI's hoists comprise a full product range offering everything from scaffolding hoists capable of carrying 60 kg to personnel hoists for up to 15 persons.
HAKI's mast climbing work platforms are ideal for working on heights up to 200 metres on tasks such as bricklaying, industrial installations and electrical work. They are designed for easy usage and boast inter-changeable components for single or twin mast erection. The company also offers a complete range of platform extension and other accessories for special work applications.
Complimenting HAKI's product range even further is the HAKITEC weather protection system, which protects construction sites and makes the work carried out both comfortable and safe all year round. The systems have a simple yet functional design that can be adapted to all types of buildings, ships, outdoor construction sites or other needs.
Due to their excellent reputation within the marketplace, HAKI's products and services are continuously sought after for use on all sorts of construction and offshore projects. A project, which the company is currently working on, is the development of an office block in Paddington by PC Harrington. HAKI has supplied a 60 metre high stair tower, which was assembled at the same pace as
one of the cores for the internal lift and stair shaft.
This was a complex job due to the challenges of securing the HAKI stair tower to the core at regular intervals below the slipform, whilst retaining access to the top of the slipform, which meant that eight metres of the stair tower could never be tied into the main structure.
Additional support to the top eight metres of the tower was provided by securing HAKI aluminium beams to the outside of it, which were continually moved up with the progress of the slipform shutter in a leap frog movement. The HAKI stair tower is quick to erect, easy to handle and provides a cost effective solution, which ensured smooth running of the overall project.
Looking to the future, the company has plans to extend its export market with its next target being Australia. Here, the organisation intends to bring its whole range of products and services from buildings to process industries. Aside from its plans to move into new markets, HAKI is currently seeking potential distributors who are in the marketing business anywhere in the world. With the outstanding level of high quality products the company has to offer, HAKI believes it will be able to achieve this in the next few years.
Bernard Podlinski, export and trading director at HAKI, comments on the company's key strengths: "Inherent safety, flexibility, time and cost savings together with product support all figure highly on the list of HAKI advantages. If these factors are important for new-build projects they are even more significant for the vast amount of day-to-day maintenance, which is particularly vital to the onshore and petrochemical industries. The consequent effects of the use of HAKI equipment, as compared with the traditional alternative, are significant improvements in efficiency leading directly to reduction in operating costs – and the end result of that being increased profitability."
HAKI AB
Industry: Scaffolding, weather protection, platforms and hoists