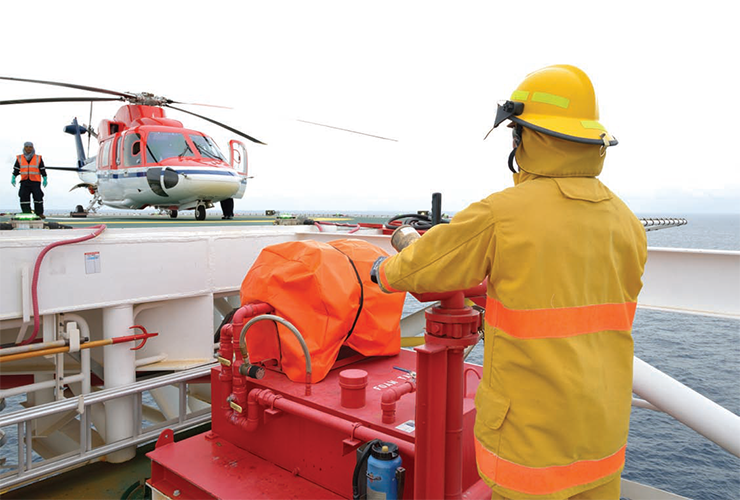 Hydraulic pressure regulator ventilation
Hale Hamilton has a long history dating back to 1947, when Douglas Hamilton originally founded the company.
Since that time it has been involved in the design and manufacture of high pressure (500 bar gas and 690 bar hydraulic) valves and package systems, with around 60 per cent of its output represented by custom tailored solutions. The company remained in the Hamilton family until February 2006, until being acquired by Circor International Inc. Commenting on the company's position today, industrial sales director Ian Davies says: "Circor International is an $800 million+ NYSE organisation based out of Burlington, Massachusetts. As a business it prides itself on acquiring and developing strong international valve and valve package brand companies. The biggest element of its business today is the energy sector, where the company is very strong in upstream, midstream and downstream valve and valve packages. From a Hale Hamilton perspective, we are a $30 million organisation."
Hale Hamilton's Industrial business is divided into two areas; Energy (Oil & Gas) and Industrial Gas. The Energy/Oil & Gas part of the business covers power generation, high pressure hydraulic applications and high pressure gases applications within a broad base of projects, working with majors including GE, Siemens and Turbomach, where the company primarily supplies bespoke valve solutions for use within turbine packages. Within the oil and gas area, the business supplies a number of leading names including Divex based in the Aberdeen, Controls & Electrical of Singapore, Bauer Compressors as well as Occidental, Petronas and National Oilwell Varco. Its series of valves, regulators and packaged systems are used within breathing air applications, wellhead controls, blowout preventers, subsea valve actuation, and a host of other applications. The company is also active within seismic testing where it provides high-pressure/high flow regulators and stop valves.
Within its Industrial Gas sector, Hale Hamilton manufactures a wide range of valves, manifolds and packaged systems used within high pressure cylinder filling, pressure reduction systems and hydrogen trailer valves (all being TPED tested). Included within this sector is a broad range of valves for use within high pressure industrial and medical oxygen systems, all of which carry independent adiabatic shock tests to ensure their safe use in 400 bar oxygen applications.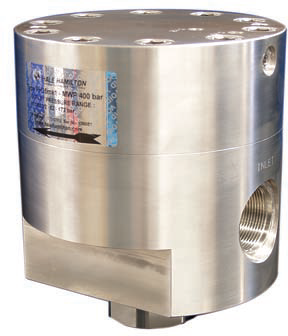 Recently Hale Hamilton released its new generation of hydraulic pressure regulator, the Series 2835. This highly reliable new generation of regulator features ergonomic, compact design and excellent pressure control. While the company has produced hydraulic pressure regulators for many years, the Series 2835 has been developed to meet the requirements of clients and end-users, as Ian explains: "This is not a totally new product, but a development of our existing, proven range; this is technology that we have used for some years. What the Series 2835 represents is an enhanced product, which includes features that are the result of us talking directly to our customers; OEM's, EPCs and end-users and taking their feedback to address the issues they had previously faced."
The Series 2835 has been created with a number of features that make it the right choice for use in systems requiring accurate pressure control, integrated, adjustable accurate spill control, low operating torques (which are delivered by the inclusion of an easy grip control knob and sealed for life bearing) all of which contribute to a very reliable service over an extended period involving pressures up to 690 barg/10,000psig.
A large sensing piston provides highly accurate pressure control for applications less than ten barg. The adjustable liquid spill valve allows excess control pressure to be spilled back to tank at pre-determined set pressure. Hard metallic components produced to a high standard of accuracy ensure the long life of the product. The versatile regulator is produced with eight outlet pressure ranges. It is available with NPT, BSPP and SAE connections, in two, three or four port variants. Alternative body and sealing materials are available upon request to meet the requirements of NACE or low temperature applications. Furthermore, a 15,000 psig variant is planned for 2014 giving the series an even wider range of application options.
As well as its series of hydraulic pressure regulators Hale Hamilton is proud to manufacture a range of spring and dome loaded gas pressure regulators, as well as complete skidded valve packages for breathing gas applications. These products are designed with customer requirements in mind and often solutions are tailored to a client's exact needs, as Ian elaborates: "Around 60 per cent of what we do is based on tailoring the product to suit the customers' application, particularly the gasses side of the business, where we work very closely with our customers on packaging the product onto skids and into manifolds, often streamlining the customers' processes to give them a better and more reliable product. In short, we deliver a package to suit the customers' exacting needs."
Hale Hamilton is based in Uxbridge, UK, where the majority of its products are designed and manufactured. Circor has a strong design and manufacture base in India, which Hale Hamilton is keen to capitalise on over the coming years. The company has a mission to become the major supplier to the international oil and gas sector within the next three to five years. Part of its strategy will be to increase its footprint within North and South America, the Middle East and Asia.
To support its mission Hale Hamilton gives the quality of its manufactured products the highest priority. The majority of its vital components are produced in-house in the company's on-site machining facility.
All of the company's breathing air equipment is assembled and tested in clean rooms under ultra-clean conditions, with component products being adiabatic shock tested for safe us within high pressure oxygen systems by either CTE in France and BAM in Germany.
As the company moves into 2014 and beyond it will rely on its strong engineering expertise to ensure that the brand is strengthened by the highest quality products possible. At present Hale Hamilton has a 15 strong design engineering team who are all experts in high-pressure valve design. It runs a strong apprenticeship programme, investing in training new generations of engineers and valve experts and brings in high-level graduate engineers every year. This, in conjunction with its strong product portfolio and dedicated quality assurance programme makes Hale Hamilton an industry leader in high-pressure valve technology.
In closing, Davies goes on to say: "At Hale Hamilton we pride ourselves on supplying our customer with solutions which ease their processes and efficiency."
Hale Hamilton
Services: High pressure valves and packaged systems