Halliburton Middle East and North Africa (MENA)
Unlocking potential
Founded in 1919, today the name Halliburton is recognised across the globe for its work within the energy sector. Operating in 70 countries and employing some 50,000 people, it is one of the world's largest providers of products and services to the upstream oil and gas industry. Halliburton boasts dual headquarters, one located in Houston and the other in Dubai. The latter falls within the region overseen by Halliburton Middle East and North Africa (MENA). "Halliburton has been active within the Middle East and North Africa region for more than 75 years," states Colby Fuser, Vice President of Business Development.
Halliburton's global focus is divided into three areas, unconventionals, deepwater and mature fields, the latter proving to be a particularly promising growth driver, and one that the company is well-positioned to lead. "Mature fields account for more than 70 per cent of the world's oil and gas production," Colby continues. "The recovery potential from these fields is enormous and with approximately 80 per cent of mature fields located within the Middle East and North Africa region it is a major focus for Halliburton. Our mission is simple and that is to unlock the economic potential of these assets through extended production and improved recovery, while at the same time focusing on bringing our experience with unconventional projects to the region."
Throughout its almost 90 years of existence Halliburton has remained steadfast in its belief that its unrivalled competitive advantage stems from having the right people in place to develop ground-breaking technologies and bring innovative solutions to market. The same ethos exists within Halliburton MENA, where its continued success is credited to the knowledge of its employees, along with its proven record of successful collaboration with its customers' own geology, reservoir, completion and drilling teams.
At the same time, Halliburton continues to develop more efficient and economical ways to produce hydrocarbons and breathe new life into mature fields through the modernisation of its facilities, identifying bypassed pay zones and providing well recovery services, including intervention and conformance.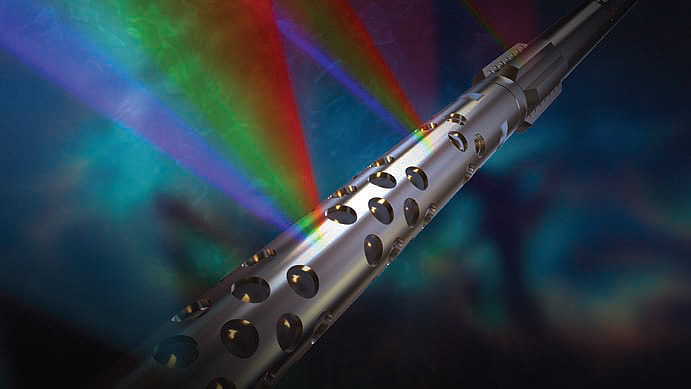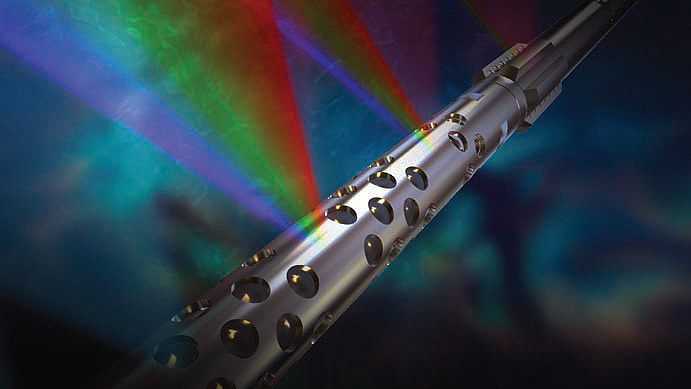 Halliburton's commitment towards innovation is exemplified in some of its recent service based and technological introductions. These include its UpLift® Mature Fields Service, a collaborative approach that identifies and delivers the right combination of well intervention and fieldcentric solutions to help operators optimise well production and improve asset recovery. Meanwhile, its ACX™ Acoustic Conformance Xaminer® Service helps operators to identify and pinpoint costly wellbore leaks through the analysing of sound waves that describe flow patterns in the formation and casing.
"Additionally," Colby goes on, "we have launched the EquiFlow® Autonomous Inflow Control device, which utilises innovative and dynamic fluid technology in order to differentiate between fluids to maximise oil production, and Halliburton's SPECTRUMSM real-time coiled tubing services combine intervention and diagnostic services to help operators monitor and optimise job performance in real-time."
Few businesses thrive in new geographic locations unless they are able to adapt andovercome the unique challenges they face. Fortunately, Halliburton is well versed in this department. "Due to the need for long horizontal drilling in the region, and the unique challenges this presents, we have also introduced two of our directional drilling services," Colby says. "The Geo-Pilot Duro Rotary Steerable System increases drilling efficiency with higher rate of penetration and provides accurate well placement, along with reducing formation damage, while our Endure Motor Technology enhances motor reliability by preventing chunking, allowing for longer drilling runs and reduced non-productive time."
Equally as important is the company's ability to offer integrated project management services tailored to its clients' needs. "Our Consulting and Project Management (CPM) business is not only unique to the industry, but also allows for innovative technologies to be applied at very low risk," Colby enthuses. "CPM allows us to bring together solutions that incorporate all of our robust product service lines and today we have integrated project management activities in countries including Kuwait, Saudi Arabia, Iraq and Algeria, and in each case we have shown improved efficiencies, better HSE statistics and/ or a reduction in costs."
Halliburton's readiness to introduce technology and services like the aforementioned has brought it countless contracts throughout the region. In January 2017, it was announced that Halliburton MENA had signed a contract with Shell Iraq Petroleum Development to provide drilling services for sustained production at its Majnoon Oil Field in Southern Iraq. Having provided drilling services on this project for the preceding six years, the company has now been tasked with mobilising three rigs to drill up to 30 development wells and carry out work over activities over the next two years.
Halliburton MENA has also identified enhanced oil recovery (EOR) as being extremely important for the future growth of the industry within the region. "The oilfield services provider that understands EOR will prove to be a winner in this market," Colby says. "Halliburton has introduced customised chemistry that is particularly beneficial in the field of EOR and our local teams are working with operators in multiple countries to improve the recovery process by integrating capabilities across our product service lines."
While market conditions have contributed to changes in the landscape of the industry in recent years, Halliburton's focus on delivering optimum solutions for its customers' needs remains undiminished. "We are at our best when we collaborate and engineer solutions that maximise asset value for our customers," Colby concludes. "Our principal focus in the Middle East and North Africa is on mature fields, which requires strong project management and dedicated intervention focus. We believe that the ever-increasing demand for project management to optimise the mature fields and the untapped unconventionals will enable continued leadership and expansion."
Halliburton Middle East and North Africa (MENA)
Services: Oil field services