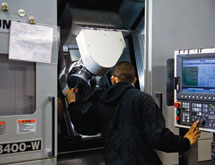 Hamilton Machine/ValTek Industries
A manufacturing company known for producing high-quality well fracturing products for more than 30 years is entering a new phase of its operations. Hamilton Machine, an Odessa, Texas-based machine shop founded in 1979, established the ValTek Industries brand in 2010 to market its products beyond its longstanding customer base of OEMs in the oil and gas industry.
"As the oil and gas industry has grown we've wanted to shift from being known just as a machine shop to being known as a major brand, and are taking our products directly to the end-user," Executive Director Jay Whitlow says.
Hamilton Machine/ValTek produces fluid ends, valves, seats, pump extendables, valve pullers and other well fracturing machine parts at its 100,000- square-foot manufacturing facility in Odessa. The company says it regularly invests in improving the manufacturing operation, including a recent $1.5 million robotic equipment upgrade to its machine shop.
The equipment upgrade will allow the company to more efficiently produce fluid ends, which the company says are its specialty. Hamilton Machine/ValTek produces three- and five-pronged styles of fluid ends.
The company is expanding its capabilities to include producing power ends for fracturing machines. Hamilton Machine/ValTek recently launched a machine shop for power ends, with plans to produce its first full fracturing pumps in September 2012.
Products are marketed to oil and gas producers in the United States and Canada including those operating in the Marcellus and Niobrara shales. Promotional plans for 2012 include serving as a sponsor for the Developing Unconventional Gas (DUG) conference series presented by Hart Energy. Hamilton Machine/ValTek will be on hand for conferences in Calgary, San Antonio and Pittsburgh in June, October and November, respectively.
Building Strength
One of Hamilton Machine/ValTek's greatest strengths is its ability to adapt its products to meet customers' needs. A recent example is its work with Basic Energy Services in the Niobrara Shale. Hamilton Machine/ValTek re-engineered the fluid ends it provides to Basic Energy to prevent them from cracking after regular use, saving the oil and gas producer money in the long run.
"We adapted our product to what Basic Energy was up against in the Shale, making fluid ends with them and for them," the company says.
Fluid ends produced by the company average in excess of 150 hours of service, while the average life span for similar components is 100 hours, Whitlow notes.
Innovation and the ability to adjust products to customer specifications are high points of pride for the company. "If we don't customize what we are doing, we will fossilize," he adds. "We can't just sit back and say, 'we've made a dent in the industry, let's ride it out' – we want to make the next dent."
Whitlow credits Hamilton Machine/ValTek's staff for the company's ability to make products that last. Staff members are encouraged to learn new skills and find new niches within the company, Whitlow says.
"Everybody here, whether they sweep the floor, work on CNC lathes or sit in an office and help with marketing or human relations, is encouraged to grow," he adds. "We want people to basically work their way out of a job and train people below them to take their job to they can move on to the next one."
'A Real Impact'
Hamilton Machine/ValTek's priorities go beyond serving its customers and developing its staff. Whitlow's main responsibility within Hamilton Machine/ValTek is serving as executive director for the Jordan 7 "Frac A Well, Build A Well" project, an outreach of the company to provide clean water in the African nations of Chad and the Sudan.
Since 2009, the company has donated 2 percent of its profits and collected donations to build fresh water wells in Africa. In addition, the company produces hand pumps and other equipment that is sent to Africa as part of the program.
"This is a way for our company to make a direct and very real impact in people's lives," Whitlow says. EMI