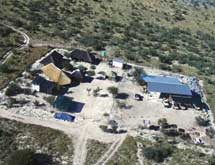 In the last 40 years, Botswana has maintained one of the fastest growth rates in per capita income in the world, according to the International Monetary Fund (IMF). The mining industry contributes about 40 percent of the country's GDP, and while that market has traditionally focused on diamonds, one company sees more potential in Botswana's copper.
Hana Mining Ltd. is a Vancouver-based mining company that was established in 2000. In 2004, the company acquired the assets of the Ghanzi Copper-Silver Project in Botswana and formed a joint venture to develop the property with three Namibian prospectors. In 2007, Hana Mining agreed to acquire controlling interest in the Ghanzi project, and its five license blocks are located over a widespread strata-bound sediment-hosted copper mineralization with many exploration targets.
"Our company was launched in 2000 after our founder spent a lot of time in Africa," Vice President of Corporate Development Patrick Donnelly explains. "He previously was the CEO of another mining company in Africa, and he spent about four years traveling all over the world looking for new projects."
Ultimately, the company found the Ghanzi project to be the most attractive area to develop. Located in northwestern Botswana, the Ghanzi project lies within the Late Proterozoic Damaran rift sequence of the Pan African Mobile Belt. These same rocks contain the world-class deposits of the Zambian Copper Belt, which contains approximately 30 percent of the world's copper reserves, according to Hana Mining.
"There are a number of reasons why we like the Ghanzi project," Donnelly says. "Copper is a good commodity to be in, and in terms of quantity, Ghanzi has a lot. Additionally, Botswana is a country with good mining jurisdiction. The government is known for having little corruption, it is well organized and it is supportive of our industry.
"The country is politically stable with a straight-forward legal system," he adds. "Botswana is the largest exporter of raw diamonds, and with its extensive mining history, the laws are straightforward and it has an efficient permitting system. We're also trying to hire as many local people as possible."
'A Good Place'
The Ghanzi Copper Project is located in the center of the Kalahari Copper Belt in northwestern Botswana. The property covers just more than 2,100 square kilometers and contains sediment-hosted copper-silver deposits with a demonstrated cumulative strike length of 64 kilometers – a favorable geology that extends an estimated strike length of 600 kilometers. Hana Mining has found that the Banana Zone of the Ghanzi Project has an indicated mineral resource of 762 million pounds of copper and 16 million ounces of silver from 37.4 million tonnes at a grade of 0.93 percent copper and 13.4 grams per tonne (g/t) of silver.
"We have two things going on right now," Donnelly explains. "One is that we are conducting an updated resource estimate. We're also doing a preliminary economic assessment (PEA), where we estimate the initial economics of the project, as well as the operating costs and production rates. The PEA will be out in the second quarter of 2012."
With the Ghanzi Project's size, as well as Botswana's stable business environment and experienced people, Hana Mining is confident it will enter production in the next three to four years.
"This project is in a very stable mining jurisdiction – they have no opposition to our project and Botswana is one of the best mining jurisdictions in the world," Donnelly says. "We also have a very large land package, and we've only scratched the surface of the potential here. It is important that we are mining for the right commodity. The copper prices are good and there aren't a lot of copper companies out there, so we're in a good place."