Hannover Milieu- en Veiligheidstechniek (HMVT)
Removal men
HMVT, which translates in English to 'Hannover Environmental and Safety Technology', is a Netherlands-based environmental firm that provides innovative solutions for soil remediation projects and water/air treatment challenges.
These include the implementation of complex in-situ soil and groundwater remediation projects, contaminated for example with (chlorinated) hydrocarbons under a city or under a (petro)chemical plant, as well as purification of process air and the implementation of temporary water or air treatment units during industrial plant maintenance. "Our main markets are industrial and petrochemical as well as industries such as launderettes that use chlorinated solvents, but mainly we work for clients on complex projects in the petrochemical industry," says Ted Vendrig, project manager of HMVT.
As one of the top five leading in-situ remediators in the Netherlands and Belgium, HMVT works for a broad variety of clients and was one of the earliest established companies of its kind in the Netherlands. Formally established in 1990 as a daughter company to Hannover Insurance and the sister firm of Hannover Umwelt Technik (HUT), HMVT gained independence in 1994. Following this, the company has seen steady growth in terms of expertise, projects, personnel and applied remediation techniques, as well as increased experience in the purification of water and air currents.
Viewing Belgium as a strategic location for expansion, the company began operations in the Belgian market in the 1990s, resulting in the establishment of an office in Brecht in 2004 under the subsidiary firm HMVT/WeGroSan. Over recent years, business has extended beyond the Dutch and Belgian markets, with particular interest in France, Germany and England. In 2001, HMVT became a subsidiary of Oranjewoud; this strategic move enabled the company to remain self-reliant and retain the core attributes that have ensured consistent growth and increasing recognition since its inception.
Today, HMVT offers services to a wide range of clean up operations and has worked on complex challenges for many major petrochemical companies. An example of its proven ability to remove large product volumes was its involvement in a large, complex multi-phase project at an industrial site in Anderlecht, Belgium, which has a huge soil and groundwater pollution present. Caused by several spills over many years, the pollution was a mixture of chlorinated, aromatic and other hydrocarbons, which required HMVT/WeGroSan to extract and treat as much of the pollutants from the subsurface as possible via a system of 53 multi-phase extraction wells. Operating a range of extraction and treatment systems, HMVT/ WeGroSan undertook this service for a fixed price per month from 2007 to 2010, which resulted in the extraction of many thousands of kilo's of pollution each month.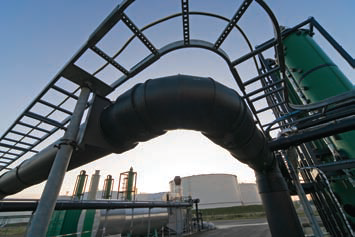 The core reasons behind HMVT's competitiveness in the field of soil remediation, water purification and air treatment include its practical approach to projects and the innovative ideas it develops in the face of environmental demands. "Our no nonsense approach and our knowledge of situations, as well as our ability to provide different techniques dependant on each project are the key strengths of our business," says Ted. "We strive to fully understand each situation, considering that each contaminant is different, and the soil can be different meaning, all of our clients are viewed on an individual basis."
One key service offered by HMVT is the management and aftercare of risk hotspots, in which the company continually assesses accident areas to ensure there are no long-term effects from hazardous spills. To do this, HMVT installs sensors into trouble spots and monitors the area remotely through specialised software. "Regulations are becoming less strict and pollution is only being treated if there is a risk to humans or the ecological system. This has resulted in a decreasing amount of soil remediation projects for us. Acknowledging this, we have been looking into new opportunities such as emission control," says Ted.
With air quality increasingly under threat from the emission of NOx, particulate matter and various chemical substances, HMVT helps companies to treat their process vapours through offering advice and/or managing a wide range of air purification techniques. One such technology is the pulsed corona, the result of collaboration between HMVT and the Technical University of Eindhoven (TUE); also referred to as cold plasma technology, it makes use of high voltage in extremely brief pulses to form a cold plasma field. The high-energetic pulses then release highly efficient electrons that in turn clean a wide range of vapours.
The company designs and builds a large array of installations for applications related to emission control and boasts experience in purification systems such as biological air conditioning, air washing, incinerator and mobile and pilot installations. Specialised in temporary air purification plants, its installations are used in industries such as petrochemical and pharmaceutical, complying with all stringent safety requirements, including ATEX. "Most of our techniques can be utilised under ATEX conditions," says Ted. "We are continually improving our emission control services technology; in co-operation with Reym, for the petrochemical industry we can clean large storage tanks in a safe way with use of emission reduction measures that helps the client to achieve the permit conditions. Non-entry and Zero emission is the target. We are now searching for opportunities to offer this service to ships."
Dedicated to innovation, the company works on enhancing its technology and service offering in-house, while also remaining watchful for opportunities to work with similar companies to bring new developments into the market. For example, in October 2012, HMVT launched a joint venture with US firm TRS, HMVTRS, which will enable the two companies to bring the electrical resistance heating (ERH) remediation process to the European market. ERH is a relatively simple idea involving electrodes being placed into the soil and electricity passing through the electrodes, which then heats the ground to the boiling point of water and thus evaporating any contaminants.
The company entered into another strategic co-operation in August 2012 with ServiGarlin, an Equador based progressive environmental consultancy that specialises in soil surveys and the execution of soil remediation projects. HMVT will provide ServiGarlin with the practical execution of future projects and specific environmental knowledge.
Over the coming years the company is looking into opportunities for industrial process water treatments and is also keen to develop a foothold in target areas such as England, France and Germany. To do this, HMVT will be looking to develop strong partnerships, as Ted concludes: "If we can find partners with a strong client base we can allow them to use our knowledge; there are opportunities out there for us, but we need to gain recognition and awareness from our potential clients. It is a stepping stone."
Hannover Milieu- en Veiligheidstechniek (HMVT)
Services: In-situ remediation, process water and air treatment