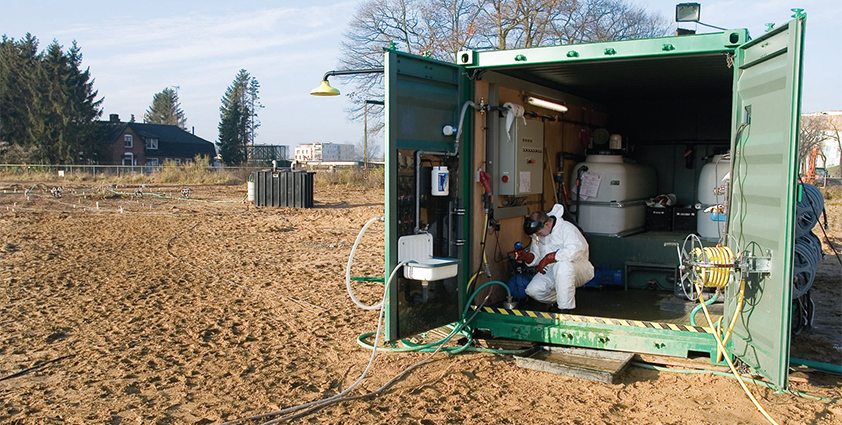 Hannover Milieu- en Veiligheidstechniek (HMVT)
The clean team
HMVT, which translates in English to 'Hannover Environment and Safety Technology', is a Netherlands-based hazardous waste remediation business that provides services to a wide range of industries including the oil and gas sector.
It is currently one of the top five leading in-situ remediators in the Netherlands and Belgium, where it provides most of its services. HMVT was one of the earliest established companies of its kind in The Netherlands.
The business began formally in 1990 as a daughter company of Hannover Insurance and was a sister company of the German business Hannover Umwelttechnik (HUT), providing in-situ soil remediation techniques and technology. HUT was proving the success of in-situ methods, as opposed to excavation systems that were then more common in the Netherlands. So HMVT was created to export these techniques. The company was spun off from Hannover Insurance in 1994 but retained its name because of brand recognition. The company gained increasing recognition throughout the 1990s and over the last ten years has come to the forefront of Dutch pollution management.
Marco van den Brand, business manager of HMVT, explains that the strength of his company lays in its creative approach to all of its projects: "We are always looking at the needs of our clients. Sometimes we even advise them to do no remedial works and in that way we keep our customers happy. Our work is always tailormade and we can be very innovative; whether in small details or big projects, we are thinking outside of the box and seeing other possibilities."
Though it began as a soil remediation company, HMVT today offers its services to many different types of clean up operations and has worked with many major and well-known petrochemical companies. Marco explains why these companies have come to HMVT for solutions: "We have proved that we are very good in the removal of large product volumes. If there is pure oil floating at the top of the water table, we have a lot of experience in removing that kind of pollution. One example of this is the removal of 1500 cubic metres of free-floating product at a major project in Antwerp, Belgium to client and environmental satisfaction."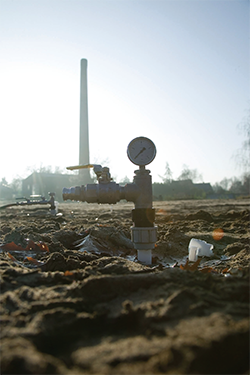 To achieve the best possible results, the company uses a variety of techniques and technologies that range from the traditional to the innovative. Marco: "We are not bound to one or two single techniques, but we can offer a broad range of techniques depending on the local situation. The technologies we use vary from extractive to biological, chemical and thermal techniques. Often the success of an in-situ soil remediation is the result of combining techniques and – especially – the input of a lot of practical experience. In all cases HMVT can also install custom constructed purification plants assembled from a wide range of individual components, allowing it to construct units best suited to the situation. Sometimes conventional soil excavation is the best solution to problem areas and HMVT is able to offer this too."
The company offers more than just remediation process, however. One of its key services is the management and aftercare of risk hotspots, in which HMVT undertakes the continual assessment of accident areas to ensure that there are no hazardous long-term effects. Part of this is the use of 'Smart Sanitation', where the company installs sensors into trouble spots allowing them to be monitored remotely through specialised software. Should problems return, HMVT can apply further measures to control and minimise risks.
As a guarantee of its good service to clients, HMVT has qualified for a number of industry certifications including the essential ISO9001 that displays the company's dedication to efficient and well-run business management. Other qualifications include ISO14001 for environmental protection, VCA 2004 for safety management, BRL 7000 for its performance of in-situ remediation in The Netherlands, and railway industry-specific certificates for its work on areas of risk around rail tracks. All treatment units are CE-qualified.
HMVT is a company dedicated to improving environmental quality and a major part of its business philosophy is to look its own environmental impact. To ensure that sustainability and carbon neutrality are at the core of its activities, HMVT has developed an in-house carbon calculator to guide the choices it makes. Marco elaborates: "Sometimes you have projects where there's only a little bit of pollution that costs a lot of energy and money to remove. You burn more fuel than you remove. So the company, a few years ago, developed a carbon model specifically for our work. If more carbon is produced than removed from the surface then it is necessary to ask yourself, is this still environmentally friendly?"
He adds: "In our opinion it's good to remove large and really extreme hotspots but there are also locations where it is polluted but doesn't harm anybody. In that case it costs more energy to remove than the risk it poses. In that situation our philosophy is that we should leave it but monitor it."
However, its carbon plan is also used to determine which techniques are deployed for clean up operations and also the future development of the company. It is looking to invest in renewable sources of energy to power its own buildings and remedial equipment, replacing equipment with energy efficient alternatives, using energy stored in soil to part or fully power the clean up operation, and always opting for natural solutions over manufactured chemical ones. Recently a decision was made to sponsor the Dutch charity Trees for Travel, which undertakes reforestation projects in Malaysia as well as preventing soil erosion and supporting local communities. HMVT has already neutralised its footprint for 2009.
The future of the company is focused both on this eco-friendly development and on market expansion, both geographical as well as services. Being already very successful within its two current markets of The Netherlands and Belgium, HMVT is looking to promote its services further afield. Marco explains: "I see growing demand for a business like ours in countries such as England, France and Germany, and across western Europe in general. In two years time I would like to have multiple offices in the Netherlands, Belgium, France and Germany. Beside soil remediation we will also grow further in process water and vapour treatment. For instance at the moment we are finalizing the development of the Pulsed Corona Air Treatment Technology together with the University of Eindhoven. With this eco-friendly, innovative air treatment technology we will also enter the market for (industrial) vapour and smell treatment. We have for instance very good results on treatment of traffic air (NOx, fine dust) and Stable vapours (H2S, NH3)." With its established legacy of high quality environmental remediation, HMVT looks certain to succeed.
Hannover Milieu- en Veiligheidstechniek (HMVT)
Services: In-situ remediation