Process driven
A mere two years after being newly founded, HANSA HEAVY LIFT is already a market leader in the specialist transportation of heavy-lift, project and break-bulk cargoes.
It has expanded its services around the globe, opening offices in Singapore and Houston, Texas and its headquarters in Hamburg. "We have a wealth of experience within the shipping industry and through our global office network, we are able to partner every organisation and serve their global sealift operations. Our executive team has more than 20 years of experience in the logistic and maritime industry," explains Joerg Roehl, chief commercial officer at HANSA HEAVY LIFT.
In June 2011 HANSA HEAVY LIFT, wholly owned of the international investment enterprise Oaktree Capital Management, had 17 ships with an average age of less than two years; the company now has a fleet of 22, five of which are 19,100 GRT with a teu capacity of 1100, six are of 20,000 GRT with a teu capacity of 974, and six of 12,744 GRT with a teu capacity of 673. "We own and operate these 22 multi-purpose heavy-lift vessels, which makes us one of the largest providers in the world of these highly-equipped ships," says Joerg.
The fleet, both in size and capabilities, is impressive. With an average age of two years, the vessels correspond to the newest operational and equipment standards and, by virtue of their flexibility, can offer customised solutions to clients. To offer solutions to even the heaviest of cargo, HANSA HEAVY LIFT has onboard crane harnesses that have a combined lift capacity of 1400 tonnes, making the loading and discharging of cargoes around the world simple; solutions can be offered to even the bulkiest and oversized cargo holders with the fleet's box shaped stowage spaces that have hatch openings of up to 86 metres. In an article with ITJ, former chief executive officer Roger Iliffe said: "Our ships give us more flexibility, for instance when we move heavy-lift cargo into regions where we can't come out with bigger cargoes, we can then take a mix of cargo on board and don't have to ballast the vessel back."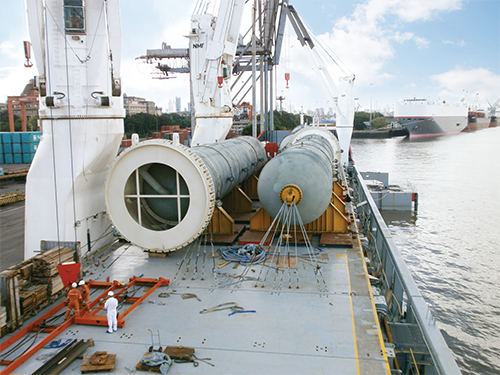 HANSA HEAVY LIFT prides itself on being a process-driven company that works internally to ensure its fleet, engineering, and services are all of a high standard. "One of our biggest strengths is our process-driven orientation. We consistently stick to our standards and have zero tolerance for failure; it is extremely important to us that we are compliant and all of our staff are well trained in order to take on client requirements, especially in the oil and gas industry where compliance and quality levels are particularly stringent. We focus heavily on our engineering team, which makes up a huge number of our staff figure, because we pride ourselves on being an engineering company as much as we are a shipping company. Our experts in cargo management provide for the comprehensive planning and exact implementation of a transport project. Cargo superintendents control and monitor the loading and discharging operations from the starting point until the port of destination to ensure a smooth operation," highlights Joerg.
The oil and gas industry is an area that the business is concentrating on, particularly in Brazil and the Middle East where there is major potential for its services. A recently completed technically demanding project in Chile has further proven HANSA HEAVY LIFT's prowess at offering solutions to the most complex of demands. The project, for the Minas Invierno coal project in Punta Lackwater, Chile, involved the precise loading, shipping and unloading of a Sandvik linear shiploader with two shiploading systems. The transportation of the 450 tonne pieces and two towers, weighing in at 235 tonnes each, required careful planning and execution, giving HANSA HEAVY LIFT the opportunity to show that in just two years, with its modern and well-equipped vessels, it can provide high quality service to customers worldwide.
Following the completion of the heaviest lift in Mumbai in October 2012, HANSA HEAVY LIFT further extended its global presence with a new agent in India. The safe loading of five reactors, two weighing in at 930 tonnes, and three at 360 tonnes, by the company's engineering team set a new record at the Indian port. With the project a success, the company expanded in January 2013 to become exclusively represented in India by the Allcargo Logistics Ltd agency. "Our focus is on Europe and Asia, but with ample opportunities arising in Karachi and Mozambique, as well as the whole area of Africa in general, to us it is a matter of being present around the globe and offering the best services to the oil and gas markets," says Joerg. Stretching its long arms to the other side of the globe, it has also announced Berndt R. Olsen as the new senior advisor of HANSA HEAVY LIFT in Perth. HANSA HEAVY LIFT is confident that Western Australia has the potential for growth and is keen to develop its presence in the area.
With international offices and the support of a competent and professional network of agents worldwide, the company is aware of regional customs and can therefore concentrate its efforts on the implementation of individual wishes. Its expert crew offers co-operation with clients in a close, confidential manner from the start, ensuring the highest level of reliability and transparency. The services offered are commercial management, transport engineering and cargo and materials management, chartering and operations and ship management. With every part of a project operated internally, HANSA HEAVY LIFT is confident in the high level of quality it can offer its customers.
Having enjoyed a successful first two years, the company is looking to acquire more ships and take on more projects in the oil and gas industry. "We aim to develop our fleet to approximately 30 vessels and to continue being a reliable option for clients in the oil and gas industry through our transporting expertise and engineering capabilities," says Joerg. "We are investigating all options, including the possibility of newbuild vessels, and have a very strong financial background, giving us the capability to work on these ample opportunities as they arise." Following its stratospheric rise in becoming a market leader and the seemingly vast potential for future projects in sight, the success of HANSA HEAVY LIFT is sure to be far from fleeting.
HANSA HEAVY LIFT
Services: Specialist transportation