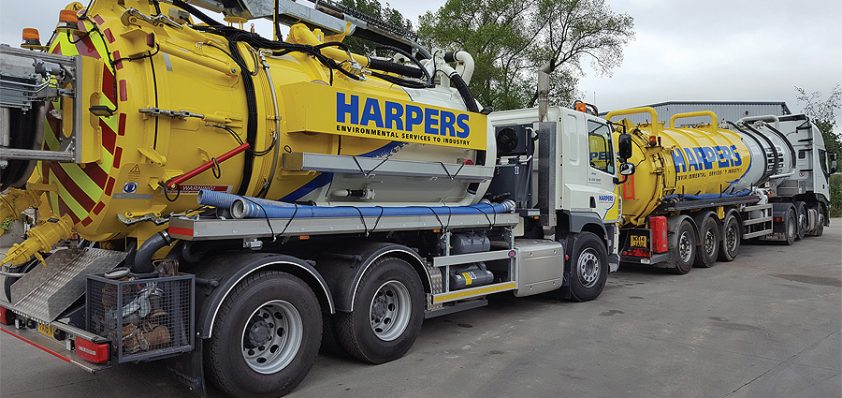 First-class service
An award-winning and UKAS ISO accredited business, Harpers Environmental has developed a solid reputation as a leader in the field of industrial services and waste management over the last 65 years. Offering a first-class service, the company focuses on delivering safe, innovative and value adding solutions to its diverse customer base. With patent pending equipment and known for the level of quality it provides throughout each project, Harpers' team regularly works with many blue chip and high profile organisations in industries such as construction, food, utilities, water, oil and gas and demolition.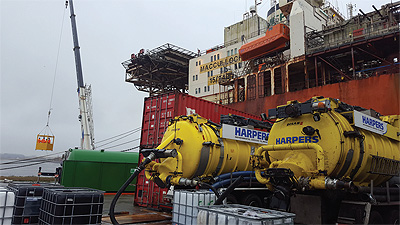 Delivering often high risk and complex projects involving industrial services, waste removal and waste disposal, Harpers delivers world-class environmental services while also creating efficiencies that reduces cost in a safe environment. Harpers also strives to provide solutions in a manner that respects people and safety in a hard working and enterprising environment, which thus ensures excellence in reputation for both Harpers and its customers.
Thanks to long-term expertise and an evergrowing comprehensive vehicle fleet and high performance equipment, the company is able to provide a tailored approach to business. Able to source the most appropriate cleaning and decontamination methods for each job, the company also produces comprehensive method statements and risk assessments, complete tests for contaminants and obtains work permits. Moreover, the environmentally friendly Harpers ensures waste is reduced, re-used and recycled whenever possible.
Within the company's broad vehicle fleet are high pressure jetting units, rigid vacuum tankers, articulated tankers, jetting tankers, DISAB vacuum units, jet-vac tankers, recycling tankers, KSA dewatering tankers; CCTV units, skip vehicles and rapid response vehicles. These are used for specific services including dewatering and sludge treatment, DISAB vacuum services, UHP water jetting, NORM (naturally occurring radioactive material), tank cleaning and waste management to name but a few.
"We have got the largest fleet of working DISABS in the UK; a DISAB is a specialist piece of equipment that we use to suck out everything from contaminated diesel and contaminated NORM liquids and sludges from ships and oil rigs when they are floated to shore. These DISABs use fast moving air flow via very powerful fans that bring up the liquid; in fact they can suck heavy material such as thick sludge well over 100 metres and over significant depth up a six inch pipe, so it has a huge amount of power. There aren't hundreds of them in the country, however they are an exceptional piece of kit and Harpers have the expertise and largest fleet in the UK to offer this service. It is about having the reach and ability to scale up and take on the requests from these major companies; we have high performance tankers with liquid rings, vacuum pumps, DISABs and expert crews that are confined space and breathing apparatus trained and able to go all over the country to take on complex projects," explains Chris Perry, Managing Director at Harpers Environmental.
"Complementing our range of equipment further is the addition of seven new tankers that we have added to our portfolio over recent months. These include specialist ADR, lightweight stainless steel and aluminum tankers."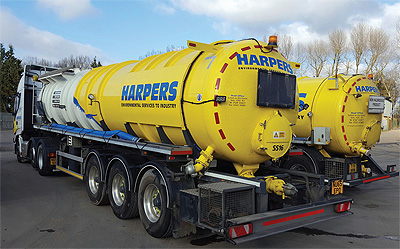 Headquartered in York, the company also has a large presence in Teesside where it provides services to customers throughout the UK and further afield. "When working with customers in the petrochem industry we are able to offer confidence to customers thanks to our high standards and level of accreditation; we are not only UKAS ISO 9001, 14001, 18001 accredited, but also have CHAS, Safe Contractor, SSIP, Achilles, Builders Profile, UK Spill Members, Safety Council and the Water Jetting Association under our belts. We also have the O license for more than 60 vehicles with an international license, so we are able to go abroad with our specialist vehicles if required," says Chris.
"Key to our success are the standards, processes and procedures we have in place; the waste industry is hugely legislature driven and there are a lot of standards and laws in place to comply with. Harpers can do this and has a very good record for health and safety as well as with the EA (Environmental Agency); it is clear that customers appreciate this as when we put forward tenders we can easily demonstrate how we have previously met standards and how we can look after their reputation and meet their requirements. Having been in the business for more than 65 years we have proven experience on the projects we have worked on before and when it comes to high risk contracts, this is important," he adds.
Recent projects for the company include supporting the decommissioning process of the Middlesbrough. Other oil and gas related projects that Harpers has recently been involved in include NORM, tank cleaning and ultra-high 40,000 psi jetting. "Harpers is one of the first businesses in the UK to develop a full NORM capability and supervisory team; it can be potentially dangerous, but from a regulatory perspective it is complex, which means training and processes are more involved. NORM is a new area for us for which we have got approximately 100 employees. For the range of projects we are involved in, we have the UHP jetting, which we can do in confined spaces; we are also involved in high risk processes and procedures in complex places for well-known companies that have reputations they want to protect. When you work with Harpers you are working with a company that can not only protect a PLC's reputation through the high standards we have obtained, but also wants to maintain its own high standards," comments Chris.
Having grown by 25 per cent over the last three years, Harpers Environmental has become stronger and leaner since the challenging recession and anticipates stronger growth over the coming years. Although it is possible that there may be less waste to take away as companies continue to design facilities to not create waste it is clearly noted that the legislation for waste disposal has significantly increased. Harpers Environmental can rely on its impeccable reputation as customers seek out partners with proven skills, a focus on H&S and extensive knowledge of legislation to move materials safely and dispose of it in a compliant, efficient and cost-effective fashion.
"With the HSE issuing record fines, the implications of adhering to legislation is huge and reputations need to be maintained. Because of this, I anticipate continued growth as the market consolidates and we continue to become a bigger player in the market," Chris concludes.
Harpers Environmental
Services: Industrial services and waste management