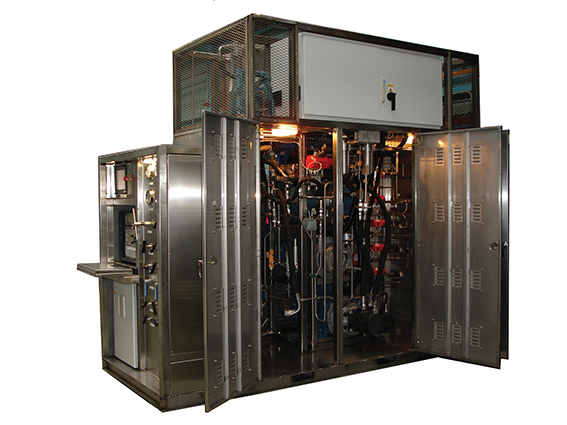 The pressure is on
Haskel Europe Ltd is an international manufacturer of products that generate high pressures up to 130,000psi, and the safe management of liquids and gases at such pressures including bespoke designed pressure testing products.
These products are marketed to multiple industries including the oil and gas, aerospace, defence and power sectors. These are marketed under two brand names, Haskel and BuTech, and cover a wide range of items including pumps, valves, chemical injection equipment, cleaning units, diaphragm compressors, tubing, boosters and bespoke designed testing equipment that are specialised for high pressure environments.
The company was established in 1950 and today has a number of offices and sites around the world. The European division's headquarters are in Sunderland, UK, where it carries out both office, engineering and manufacturing duties; further outlets are located in France and Spain, where design and engineering is carried out, and Aberdeen, which specialises in servicing the oil and gas sector.
Over the last year, Haskel expanded its portfolio through the parent group acquisition of diaphragm compressor manufacturer PPI. The integration of this new range of products into Haskel's offerings enables it to work with higher flow rates than previously possible, therefore allowing it not only to meet current customers' requirements at an even greater standard than before, but opens the door to market sectors the company may previously have not been involved with. The PPI diaphragm compressor particularly extends Haskel's already strong product portfolio for pressurising and moving specialty gases.
Another major investment by the company was the recent upgrading of its repairs centre to increase the facility's health and safety parameters; this includes the design of a newer, safer testing operation. There has also been a £250,000 investment into the inventory of its Aberdeen facility, so that local customers can benefit from increased volumes of high demand items, along with investment in the repairs and service capability.
During its 60-year existence the company has worked with clients throughout the industry to produce items tailored to their needs. These include all of the oil and gas producers as well as their supply chain; this wide array of clients mean Haskel products are operating throughout the world.
Managing director Stephen Learney explains Haskel's services further: "Almost everything we make for these companies is bespoke; starting when we act as a consultancy providing advice on the safe pressurisation and transfer of liquids and gases, we will design, engineer and manufacture to the end customer's specifications. Our products serve a wide range of regions including the extremes of West Africa, and the Arctic circle. They also have many applications, the most common of which is in the performance testing and certification of our customer's equipment."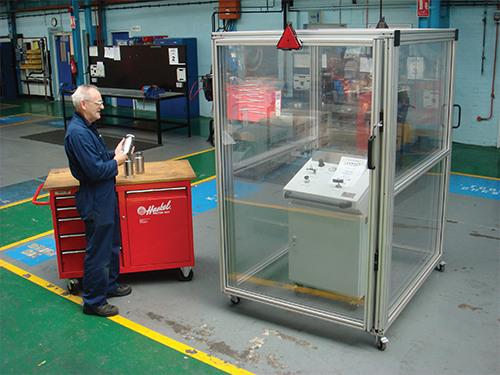 The company works with clients on small projects, such as the testing of single valves, as well as on huge projects involving multiple Christmas trees or chemical injection. Regardless of project size, a typical commission for Haskel will involve working with incredibly high pressures ranging anywhere between 6000 and 130,000 PSI in just about any liquid or gas medium.
An example of a large-scale project Haskel might undertake is work the company carried out for subsea trees. These pieces of equipment bear a massive array of pipes and valves and each one needs to be tested individually for its functionality. Haskel provided equipment that tested, certified and provided a full data report on the trees before switching to a secondary flushing mode after the evaluation period ended to clean the units.
Stephen discusses further the client collaboration process: "We begin with providing an advisory service. At the end of the day what a customer really wants is equipment that delivers a liquid or gas with a certain amount of pressure and at a certain flow rate. They may want the pressure to be variable because they are testing different components or they may want the flow to change, so we put in controls that allow them to switch from one medium or flow to another and record the consequences of those changes. After we've discussed how the client can achieve that, we offer the design service to create a product that will do all those jobs either as a single unit or as a series of connected units. Finally, we manufacture, assemble and test the product."
To ensure all of its items are of the highest possible quality, the company has its own in-house quality management system called Achieving Competitive Excellence (ACE) that uses a mixture of Lean manufacturing and statistical control tools to deliver consistent standards and continuous improvement. Haskel also has a number of accreditations to its name including the important ISO: 9001 and ISO: 14001 industry standards alongside OHSAS 18001, ATEX and GOST R certifications; the company is also self-certified according to Pressure Equipment Directive (PED) category two.
Haskel also offers a variety of post-assembly services. Stephen illustrates: "We test the product before shipping it to the customer, and we can ship it to just about any location in the world. We provide full service support, so if a customer wants a service and maintenance contract we are able to give them that. Our field service team are based around the UK but are more than capable of promptly getting on a plane and flying throughout the globe."
This year has seen the company faring better than in 2009, pulling away from the economic downturn that impacted the industry heavily. Though performance has not been as consistent as hoped for, with some months being weak and others strong, the year in general has been very promising with increased numbers of quotations and order rates that suggest bright prospects for the future.
Stephen explains what this means for the company's future: "In the immediate future we have got some planned investments that will improve our ability to service customers in Europe by shortening lead times and improve the level of service, whilst a new product range has been developed that is already being tendered for a major project in Algeria. For the long term, we will continue looking for new acquisitions and developing our business with emerging markets such as Africa and the former Soviet Union."
Haskel Europe
Products: Pressure testing equipment