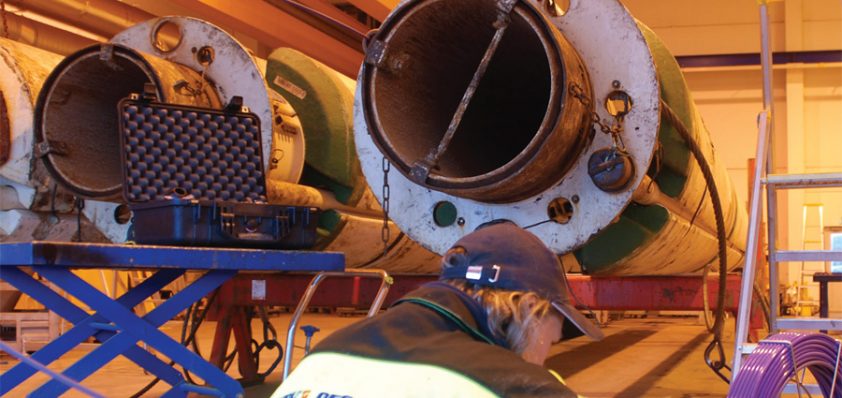 Lift off
Haug Offshore Services is a company offering logistical and technical services to the offshore oil and gas industry.
Based in Norway, it was originally established as a subsidiary of Erling Haug; today it consists of 38 employees and is under the ownership of Certex Norge. The company has worked with major names including Statoil, Saipem and Odfjell.
Managing director Ole Ersvik discusses in greater depth the company's history, highlighting how it has expanded over the years: "We started the company from within Erling Haug because it was interesting for us to provide logistical services, but as it turns out companies increasingly wanted us to do their logistics and lifting services. We began with five people in 1997 and today we have 38 people in offices located along the west coast of Norway."
Haug Offshore has a total of five offices; its headquarters are located in Kristainsund whilst additional branches are situated in Florø, Mongstad, Sandnessjøen and Hammerfest. The wide spread of these sites along Norway's western and northern coast has proved an advantage for the company, allowing it to supply services to many companies working in the North Sea. Coupled with Haug Offshore's combined logistical and technical capabilities, something that not many other companies offer, it has gained a good reputation and contracts with major operators.
"Some of our biggest customers include Odfjell Drilling, Italian contractor Saipem, Seadrill and other such drilling-related companies. However, we also work with service companies in the oil
industry such as FMC Technologies and Subsea 7," Ole explains.
One of Haug Offshore's major activities is in lifting, where it offers inspection and certification of lifting devices as well as its own loose lifting equipment, hand operated chain hoists, winches and cranes. It is able to undertake these projects offshore, and Statoil, through KCA Deutag and Odfjell Drilling, has been a major user of its services in this capacity. Though it does not undertake any lift engineering itself, the company nonetheless provides a comprehensive service by sending technical experts to oversee the entire operation.
The other major component of Haug Offshore's business is of course logistics, where it acts as a hub for numerous offshore companies that operate along the Norwegian coast and in the North Sea. Past contracts here have included Odfjell Drilling's Heidrun, Snorre A and Snorre B Visund platforms, Saipem's Scarabeo 5 rig, Njord A belonging to KCA Deutag and Sea Drill's West Alpha platform. As Ole explains, the company is currently working to improve its logistics services even further: "We are working on a system for our customers that will make foreign language data available to them. Because we work very closely with the client, this will help maintain efficient and high quality services."
There are two other types of business that Haug Offshore engages in: non-destructive testing (NDT) and analysis, and maintenance and modification. With NDT and inspection, the company seeks to help its clients meet the strict regulations related to health, safety and environmental (HSE) policies. All of its periodic inspections, lift and leak tests, visual inspecations, magnetic particle testing and alternating current field measurements (ACFM) are undertaken at one of its workshops before equipment is put out to sea.
In terms of maintenance and modification, there are equipment maintenance and preservation services, refurbishments or modifications for small structures, and repairs for subsea equipment such as slip joints and risers. With its own workshop for small projects and contracts with larger independent workshops, Haug Offshore has positioned itself as a one-stop shop for these services along the Norwegian coast.
From its foundation Haug Offshore had operated under the banner of Erling Haug, a Norwegian wholesaler and consultant specialising in lifts and anchors, inspection and certification. However, in 2006 Erling Haug was acquired by Certex Norway and became part of Certex International, a Swedish company specialising in cables and lifting equipment. This has been beneficial for Haug Offshore, allowing it to increase funding and associate itself with a more internationally recognised name.
With the market having been very positive for the company over the last few years, it is looking forward to continued success. Ole is confident with this prospect: "We feel that the market looks good and has been growing in a way that suggests it continue doing so. Norway has fared relatively well through the economic crisis compared to many other countries in Europe, and this will help us maintain good business."
He concludes: "The forecast looks good. We hope for growth until at least 2015, and are happy with what is currently happening in Norway and other Nordic countries. We look forward to what the future holds."
Haug Offshore Services
Services: Logistics, lifts and maintenance