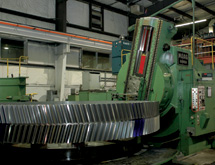 The motto "bigger is better" has never been truer at Havlik Gear than it is today. As a division of Havlik Machinery Inc., which has been around for 100 years, Havlik Gear has made great strides to diversify and increase its business over the last five years.
The company specializes in open gearing, special gearing, replacement gearing, bevel and worm gearing, gear units and gear grinding of all sizes. Its custom-made work serves the mining industry, both on the field and in the processing plant. It also manufacturers gear components for the metallurgical, chemical, rubber, cement, energy, steel and transportation industries.
In 2009, the Cambridge, Ontario-based company doubled its footprint so it could house a host of new equipment including large fix-axis boring mills, large horizontal CNC turning lathes, large vertical CNC turning lathes, and a large CNC gear grinder. With the newly doubled footprint, President John Havlik says the company also has doubled its sales.
"Our reasoning for purchasing the proper large capital equipment is that it would make the manufacturing of mining jobs more efficient, more accurate and allow us to do larger capacities," Havlik says. "We wanted to foster and take on more growth. We knew there was potential to increase our business if we did expand our capabilities."
Staying Competitive
The new machines allow Havlik Gear to respond to the major demands coming from the mining community, which is all about efficiency. Havlik Gear's clients are looking for suppliers who can do more parts in less time but still at a high quality.
"With this equipment we are more efficient," Havlik says. "We can do the parts in a more timely fashion which means we can decrease the price of the product. Like anything else it's all related to being more competitive. Quality is a very important part of manufacturing and delivering it in a timely fashion decreases their downtime when they are replacing parts. So if you're on time, the quality is high and price is reasonable, then you're already beating the competition."
Havlik Gear is taking this same business philosophy into South America. With the political atmosphere in many of the regions' countries being favorable to mining, Havlik says there is great profit potential on the continent. The company began moving into South America in 2009, starting with creating a Spanish website and hiring a marketing company to develop Havlik Gear's brand recognition in South America.
"The mining community is growing in South America so there is a demand for products related to gearing," according to Havlik.
"We've received some orders and completed them successfully and we just received another small order so it's coming along," Havlik continues. "It takes time to develop into a new continent and trying to persuade companies to use you as a supplier."
Whether in North America or South America, Havlik Gear's main concern is becoming more relevant to the industry. This year, it will follow up its 2009 equipment purchases with another major purchase. Havlik Gear is awaiting the arrival of a large horizontal boring mill machine that can handle 75 tons on the table and cut gears up to 12 meters in diameter.
"We're trying to diversify ourselves from the 20 companies in the world that can do large gears into being in a segment where there's only a handful of companies that can do this size of parts," Havlik says.
"We're basically doing things to keep up with the latest technology and allow us to serve the larger companies of the mining world," he adds.