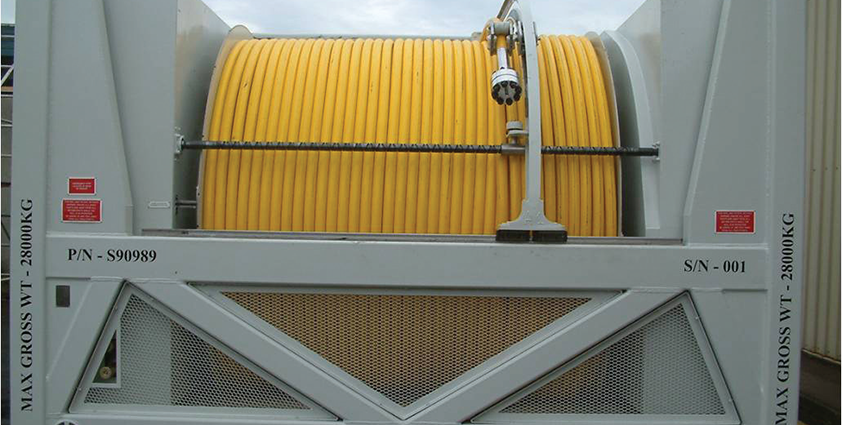 In total control
Boasting a well-earned reputation for delivering fast track design, manufacture and testing of topside and subsea production control systems, HCS Control Systems has been providing a variety of services to the onshore and offshore oil and gas industry on an international basis for 13 years.
It specialises in the design, manufacture, assembly and test of direct hydraulic production systems; installation and workover direct hydraulic systems; and direct hydraulic SSIV systems for the onshore and offshore oil and gas industry. The privately owned company has supplied systems to the Dutch, Norwegian, Angolan, South African, Indian, Libyan, and the UK North Sea sectors.
Total control systems form a prominent position in HCS Control Systems' product and service portfolio, and are designed to clients' specifications. Its units offer full remote control using dual redundant fibre optic links to Common Control Room (CCR) as well as Emergency Shut Down (ESD) capability from individual well selected items to all wells shutdown, full well monitoring capability, and display features and solenoid overrides on control valves.
HCS Control Systems also undertakes specialised welding services and has an extensive library of pre-qualified welding procedures to cover a range of materials and sizes for:
super duplex tubing
duplex to stainless
stainless 316L
6 Mo
Inconel 625
stainless to carbon
carbon manual GTAW
autogenous and wire feed
orbital plus SMAW
FCAW
This gives the business the ability to weld any products within the HCS Control Systems portfolio, as well as customers' equipment outside the HCS Control Systems range. This could include work to be carried out from within subsea structures – Xmas Trees and manifolds to subsea terminations on umbilical assemblies.
HCS Control Systems has further enhanced its reputation for delivering fast track design, manufacture and test of installation and workover control systems (IWOCS). The application of such is in subsea production and injection Xmas tree installation and test. The systems include hydraulic power units and well control panels, umbilical reels, ESD logic and remote panel requirements. The systems further include umbilical design and procurement. These umbilicals utilise surface to subsea direct hydraulic technology combined with thermoplastic/cable umbilical design for drilling and completion platforms or drilling vessels. Specific design, procurement, manufacture and test is undertaken on discreet system elements incorporating electrical, electronic, hydraulic, chemical, pneumatic and mechanical skill sets.
This extends to a wide range of sub-products including hydraulic control panels, pneumatic control panels, subsea termination units, topside termination units, HP test units, umbilical reels, umbilical sheave assemblies, hydraulic power units, chemical pumping units, and so forth.
HCS Control Systems' umbilical reelers comprise air driven umbilical reels, handling workover, THRT or landing string umbilicals at customer specified lengths of multiple line, hydraulic and chemical plus electrical power and signal outside diameter as required. There are lifting points and forklift pockets for ease of handling, as well as an automatic level wind umbilical management system with override intervention. Within the design, it's extremely important to safeguard the safety of all operators and support personnel.
The organisation's instrumentation packages encompass electronic SCADA systems, as well as electrical, hydraulic, chemical and pneumatic systems. Fluid cleanliness requirements, for example, are tested to national standards and activities in this field encompass the use of materials shown in HCS Control Systems' specialist welding services.
As part of the company's offshore services, HCS Control Systems offers a complete service that prevails from initial customer enquiry through to project completion and commissioning. This often takes place on a fast track basis utilising an experience, flexible and extremely competent workforce.
All of the firm's highly skilled engineers and technicians have achieved offshore survival certificates through RGIT in Aberdeen, as well as the required certificates for working oversees in locations such as the Dutch, Norwegian, Nigerian, Angolan, South and West Africa, Indian and Libyan sectors.
The adaptability, knowledge and flexibility of HCS Control Systems' workforce underpins all of the business' endeavours and successes. Coupled with close working relationships that have been forged with clients, this ensures customer care and support is maintained throughout the life of the project.
In terms of HCS Control Systems' other products, the business offers a wide range of specialised associated equipment and services, which are designed and manufactured in-house at modern facilities that are located in Glenrothes in Scotland. The company relocated to these larger premises in January 2009. Its specialised equipment includes industrial and EExd flushing and pressure testing units; hauser winches; storage baskets; caustic soda pumping units; ultra high pressure water jetting units; and all equipment designed and manufactured to clients' specifications.
With such a full complement of services and products, it's easy to see why HCS Control Systems has enjoyed success for over a decade and why it continues to be approached by oil and gas organisations, eager to enhance their efficiency both on and offshore.
HCS Control Systems Ltd
Services: Project management, system design, installation & commissioning