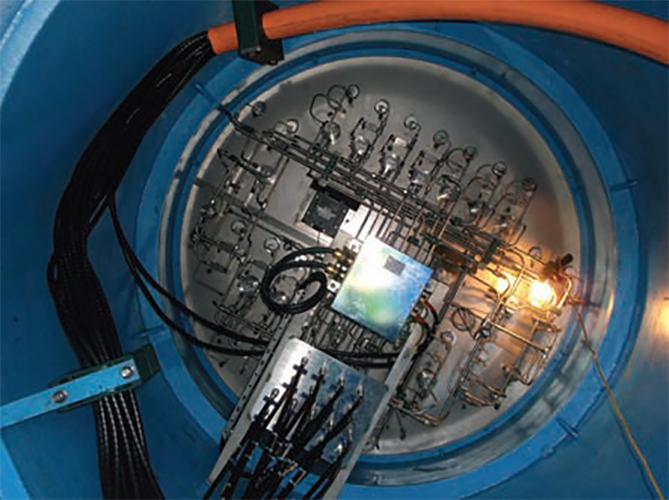 Total control
Founded in 1998, HCS Control Systems Ltd has nurtured an ambitious spirit and continually pushed to reach its goal of reaching the 'next level' within the subsea market.
One of the biggest milestones in its journey so far came in 2013, when the company underwent a management buyout (MBO) backed by private equity investments from Simmons Parallel Energy Fund & Maven Capital Partners, led by its CEO Brett Lestrange. As such, HCS exists today as a privately owned Scottish company, specialising in the design, in-house manufacture, assembly and test of equipment for the subsea industry worldwide.
The business was last profiled in European Oil & Gas Magazine during July 2014, when sales director, Colin Milne discussed the company's strong position in the market and desire to continue to strengthen its position. Since 2014 the business has indeed progressed positively with significant investment and the award of several new projects, as Colin elaborates: "Since July 2014 we have seen some solid progress within the company, this includes the upgrade of our headquarters in Glenrothes; the opening of our sales, services and storage facility in Aberdeen; and increasing head count by around 40 per cent since the MBO. Additionally we have been awarded some significant projects from our existing client base along with securing business from new customers. We have recently reported significant growth over the previous year – so things at HCS are progressing in the right direction."
During August 2014 the company was given a further boost when the Royal Bank of Scotland (RBS) agreed a £4.5 million financing package with HCS, which will aid it in targeting further growth from international clients. "This re-financing package will play an important part in driving forward our growth ambitions," says CEO Brett Lestrange. "As one of a small number of companies in the global subsea sector with the required knowledge and engineering skills to meet these increasing levels of customer demands, we are ideally placed to further develop our business and are delighted to be working with RBS to help make this happen."
Although the drop in the price of oil during the latter half of 2014 and beginning of 2015 has created a level of uncertainty within the oil and gas industry, there remains a strong demand in fuel consumption globally and the subsea sector is still the most buoyant sector on the market. As such, HCS is confident that it will be able to continue to deliver world-class services, while increasing its global footprint with clients old and new.
HCS specialises in the design, in-house manufacture, assembly and testing of equipment for clients throughout the subsea industry. Its comprehensive portfolio of products includes; umbilical reelers, available with pneumatic or hydraulic drive as well as the company's new high capacity electric drive reelers, which are suitable for the arctic conditions of Norway; and hydraulic power units and subsea modules, with systems that include direct hydraulic production systems, installation and work-over (IWOCS) systems and the complete range of topside equipment for the deployment and handling of umbilical systems. Furthermore, HCS provides specialist field and offshore services including a skilled workforce in general aftermaket services, hydraulic system maintenance, hydraulic system testing, special orbital welding as well as hydraulic installation, pipework bending and refurbishment from the company's new Rental Fleet Zone 1 testing and flushing services workshops.
The new testing and flushing workshops represent the latest line in the increasing service offering provided by HCS that will further expand the operational services on offer to clients, as Colin explains. "The test and flushing workshops have been designed to enable pressure testing, flushing, and fluid cleanliness services to be carried out safely in hazardous area environments. Furthermore the design these units draws upon its many years of operational experience with installing, testing and certifying hydraulic control systems. The workshops incorporate a blast wall partition segregating the pressure testing operations from the 'safe' operator cabin, in compliance with HSE GS4 and GRR 168/98 pressure directives. The design provides the optimum configuration to ensure the best quality fluids operations to be undertaken in any environment, and HCS presently has a fleet of these units available for rental and immediate deployment to anywhere in the world, along with a team of specialist hydraulic technicians as required."
Currently HCS is engaged in a prestigious contract with Aker Solutions to provide specialised instrument tubing welding for BP's Quad 204 project located west of Shetland in the UK. "HCS has provide a dedicated instrumentation and welding project team to Aker and covers manufacturing activities within our Glenrothes facility and on-site services for the subsea modules being fabricated at Rosyth," Colin details. "The project is progressing well with our teams of specialists onsite at Rosyth supporting our client."
With strong financial backing, an increasing service offering and a proven track-record coupled with ongoing and upcoming projects, HCS Control Systems has the needs of its clients within the subsea oil and gas market in hand. As such the company is set to position itself within the highest levels of the offshore sector as a proven and reliable partner both today and well into the future.
HCS Control Systems
Services: Turnkey subsea equipment solutions