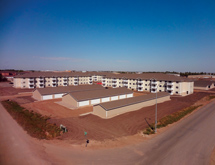 HDC Development Cos. LLC's owners and superintendents are not afraid of leaving their home base in St. Joseph, Minn., in pursuit of a project. "Other companies might travel within about a 100-mile radius or so; we go out 800 miles or even further," co-owner Jim Lemke says.
The construction management/general contracting company's willingness to travel has led it to communities in North Dakota and Montana in the Bakken Shale oilfields, where it has completed 1,100 apartment units in the last five years. "As the oil industry has grown, one of the greatest needs in North Dakota is for market-rate apartments for oil industry workers, so that's what we've been doing a lot of lately," Lemke says.
Oilfield-adjacent projects make up a significant number of the more than $100 million in projects HDC is currently building. "Our work in the Bakken Shale alone has doubled our sales," he adds. "We just moved into a larger facility in May 2012 and are hiring new people; if we continue at this pace, we're going to outgrow this facility."
The company's current projects in the Bakken Shale region include a 150-unit development in Minot, N.D.; 93 units in Williston, N.D.; 66 units in Sidney, Mont.; 93 units in Watford City, N.D.; and 36 units in both Tioga, N.D., and Stanley, N.D. The units in Tioga and Stanley will be located on the top floors of buildings with commercial spaces on their ground floors.
HDC develops and builds a variety of apartment sizes, ranging from one-bedroom to three-bedroom units. Although the single-bedroom units are typically the first to be rented, larger units are becoming more popular as oilfield workers are beginning to move their families to the region, Lemke says.
In addition to its work in the Bakken Shale, HDC Development is experienced in building senior-living and assisted-living facilities. "Our being involved in the oilfield on one hand and healthcare projects on the other has really carried us through the last years," he adds. "We've never had down years, everything has been growth."
The company's most recent senior-related project is a combination assisted-living, skilled-nursing and senior-living development in Bixby, Okla. This is the company's first project in Oklahoma, which is now the 12th state in which HDC is licensed. HDC also is working on similar projects in Minnesota, Iowa and Missouri.
Reputation Builders
Many of HDC's subcontractors and suppliers make the trip to its projects right alongside the company. "We have many contractors that follow us to our projects and like doing our work, and also have suppliers I can count on to be there for us," Lemke says. "These relationships come from having a good reputation; people know we will watch out for them and pay them on time and in full."
The company's positive reputation also extends to its clients and the communities in which it works. "We've been around for a long time, so there's a lot of people who come right to us," he adds. "I haven't needed to bid on a project in a year-and-a-half because of our repeat business."
The community of Minot, N.D., in particular has been a regular source of work for HDC. "We don't like to go into a community and leave on a bad note," Lemke says. "We believe the best advertisement we can have is word of mouth."
HDC Development typically becomes involved in a project at its very start. The company will often hire subcontractors, civil designers and architects on the behalf of its developer clients.
HDC's early involvement in projects helps it maintain project quality and keep costs low. "We have experienced superintendents who make sure we purchase the best materials at the best prices," Lemke adds. "We run a tight schedule that we set ourselves, so we get our projects done earlier than many other companies, and that's because we have good subcontractors and suppliers."
Although the company attempts to hire subcontractors from within the communities in which it works, the lack of available manpower in the Bakken region requires it to travel with its own tradespeople. This includes drywall, concrete, framing crews, mechanical, and electrical Lemke says.
Years of Hard Work
Since its inception in 1970, HDC has completed more than 4,000 senior housing units and numerous other development and housing projects. Lemke and co-owner Roger Holtberg took over the company in 2001, and remain deeply involved in its day-to-day operations. "We've worked a lot of hours including weekends to get where we are today," Lemke says.
Lemke, who turned 62 in December 2013, says he's entertained the thought of retiring, but his partner and the company's continued growth have ensured he'll stick around for at least the next few years. "When you work this hard to build a company to this size, you can't just walk away," he says.