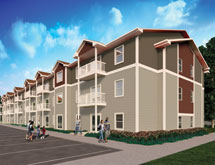 When energy industry workers are flooding a town in North Dakota and rents skyrocket to $1,500 – several times the town's normal rate – it is helpful to be able to build housing units quickly. That is just one of the specialties of HDC Development Cos.
Headquartered in St Joseph, Minn., many of the company's projects in the last four years have been in the Bakken shale boom towns of Minot, Tioga and Stanley, N.D. "Over the last four years, we did 790 units of market-rate apartments in the oil region," reports Jim Lemke, HDC's senior vice president and co-owner. But housing units need support.
"They're in need of housing and they're very prosperous, but over the years, they never really did any planning as far as expanding their infrastructure," Lemke points out. "Before they get housing, they need water and sewer. So the power and phone companies are really hustling right now. I've got a project I can't get gas to."
Although governments and companies are working hard to provide water, sewer and utilities, the increased usage causes complications. "If you're going to extend that sewer line, now you have to improve your facility for taking care of the sewage," Lemke notes. "So it's kind of a mad race, a circle – you improve one, but the other one needs to improve, also. Right now, anybody who is going to develop, you have to put in your own sewer and water. Food is a big thing – one little convenience gas station sold a million dollars' worth of pizzas last year."
BYO Crew
Manpower also is in short supply in the oil boom areas, so Lemke brings his own subcontractor crews. "I can't find crews out there who are big enough or fast enough," he maintains. His concrete crew has 35 to 40 workers. The framing crew is 18 to 19 people.
"You have to have the manpower to make the program work," Lemke emphasizes. He estimates his average project uses approximately 20 subcontractors. "It's nice when I can handpick my subcontractors, fit them into the budget, and I know what they can do. After I've done one or two projects with them, they know what they have to do, and they work together. That's what it takes to do a project like this."
Currently, HDC Development is building 144 apartment units in Minot. "We started in April and will be done Nov. 1," Lemke promises. "There are four 36-unit buildings, all for one developer, with 144 garages spread out over nine to 10 acres. Last year, we did 297 units in Minot. One project was 156 units, the other was 141 units across the city from each other, plus an additional 26 units in Tioga."
Time is Savings
HDC Development builds its projects quickly to achieve cost savings. "Those 141 units we started, the owners can't believe we will build it and be done in November," Lemke says. "The owners' investors are just ecstatic about it." If Lemke finishes an apartment project on a Thursday or Friday, by Monday the buildings are 100 percent full, he says. "They've got waiting lists," he points out. "That's all profit at that point. The investors are very happy about it. It's good for them and us."
The economics of building apartments are limited. "You can only charge so much per unit to make the project work, and the only way to have more income is to shorten the timeframe of the project," Lemke insists. "Your materials prices stay the same on a project. It's the time that makes it or breaks it.
"We have tight schedules," he adds.
"You don't push the slowest guy on the project – you push the fastest guy and make the rest keep up. Some of the subcontractors occasionally get a little upset because they might be behind and we push them, but when the project is over, they all smile because they come off better."
It is difficult to extract savings from expenses like materials, manpower and insurance. "So if you can shorten that time by one to three months, that's all income in your pocket," Lemke emphasizes. "If you've got six projects going, that's a lot of dollars."
Lemke develops a schedule for a project and meets with the subcontractors. "The subcontractors are made aware of it, and if everybody does what they're supposed to, everybody works together at that point and looks out for each other," Lemke states. "They know where they need to be."
Panelizing Walls
One way HDC Development keeps those time frames on construction projects short is to rely on panelized walls and factory-made trusses. Factories will produce the wall panels according to the computerized plans for the building and even cut in the windows. Then sheeting is applied to the panels and the nailing pattern is specified automatically.
"Everything is 100 percent accurate and square, so I get a better building out of it," Lemke stresses. "It does speed up the construction end. It's more expensive to do it that way, but there's an offset, because if you have a good framing contractor who has worked with panels, you get a cheaper price for labor. So if you put that together and the shortening up of the project, you can save time, and that pays for your panels. I know there's people out there who don't like panels. That's because they don't know enough about them. When I buy panels, I ask the panel company to supply the framing crew. If they have an issue with a panel, it's not my issue – it's their issue. My responsibility is to make sure the building foundation is adequate."
HDC Development works with several different sources of panels near many of its jobs. Lemke says he has worked with three or four panel producers in North Dakota and others near jobs in Kansas City, Mo., and other locations. "Shipping gets to be a little bit of a problem because you can only haul so many feet of wall on a semi," Lemke points out. "You stack them 800 to 1,100 lineal feet per load. So you've got quite a few loads that go out to a project." For example, shipping panels to Kansas City, Mo., from Minnesota is uneconomical, he says.
Trusses Also Used
Trusses also are produced according to the computerized plans for a building. The dead and live loads are entered into the program and other information, and it specifies the type of truss that is needed along with the plate that will hold the pieces together.
Panel and truss suppliers Lemke works with do not have trouble providing them when HDC's projects need them. "If they've got a start date for us, they've always been on time," he maintains. "Once in a while, the truss plant might get backed up for only a few days, not weeks."
Lemke has examined going beyond panelizing to modular construction. "It was more expensive, not less money," he says. "So right now, the best thing for me is to stay with the panels."
Flooring Systems
Many of HDC Development's projects use carpeting. "If it's going to be oil workers, they've got dirty shoes and clothing," Lemke points out. "Their carpets get soiled pretty fast. I know in some of the hotels that oil companies leased someone put a changing room in for the guys to change before going up to their rooms. So it depends. When I do work with Lutheran Social Services, they like vinyl floors – there's less maintenance and they don't have to change the carpet. It's quite a bit more expensive than carpet, but it lasts a lot longer for them."
Ceramic tile is not used much except in vestibules or public bathrooms, Lemke says. Various types of concrete flooring are laid in multiunit buildings that require fireproof floors. "The easiest is Gyp-Crete," Lemke says. "It has a fire rating and it's also sound-deadening. Gyp-Crete is the one I really like. It dries faster, doesn't powder and levels right."
Gyp-Crete floor underlayment from Maxxon Corp. is obtained by HDC Development. The companies are able to meet HDC's requirements for speed and availability. "If they aren't, I'll replace them, and I have done that with other companies," Lemke emphasizes.
HDC Development also insulates between the floors of its structures. "We don't put a little batt in there, we blow the floor full of insulation, " Lemke stresses. "One is for fire and the other is for sound. We work in many states, and we make it a rule of thumb to blow floor trusses." Fire sprinklers also are being installed in many multiunit buildings and even single-family homes.
Moving Ahead
HDC Development recently built a building that achieved LEED Bronze certification. "I had way more points – I thought I could go to a gold level," Lemke declares. But the owner only required that the building achieve a bronze certification to qualify for a tax credit, so changes to achieve LEED Gold that Lemke suggested were not authorized. Lemke was impressed with the LEED certification process.
"We build most of our buildings that way," he maintains. "At first, I researched it, and it looked like a lot of work, until I got online and started doing it," Lemke recalls. "It was quite simple. You had to have a separate inspector do the inspections and make sure you're doing everything you said you would, starting from the grading. Are you using natural drainage, putting up special fences to stop runoff erosion, your insulation practices and ventilation and plumbing fixtures – things like that. For me, it was a simple process."
HDC Development is licensed in 11 midwest, southern and western states. A specialty of the company is building assisted living facilities. "It keeps us busy," he concedes. His co-owner is Roger Holtberg, who is currently taking care of the projects in North Dakota.
For the future of the company, Lemke is training successors. "I just want to slow down a little bit," Lemke says. "My goal is to start the projects and get them going and turn them over. I used to start them and a year later still be closing them out. I'd like to have a break in between there. Roger takes care of all the field work in North Dakota, and it takes the pressure off me there. The employees have been with me quite some time. They all can handle projects. They know what I want, and they're all experienced. So I'm just pleased the way the company functions. I'm very comfortable with it."
Lemke doesn't think the construction boom in the Bakken shale areas will last indefinitely. "The banks are getting nervous about the amount of hotels being built," he maintains. "They are already afraid they're going to be overbuilt. So they're pretty cautious how they're loaning their money on them. The residences will go for some time."
Once retail and other infrastructure is built in the area, Lemke thinks apartment building will give way to single-family homes. "I think it's going to continue for a while," he says. But he would not mind personally participating a little less in HDC's projects in the future.
"I need to eliminate some of the stress, which I have done," Lemke says. "I used to run this office by myself and do the bidding. I've got a new receptionist and a new accountant. I've got a cabin in the woods isolated between two private lakes. It's quite peaceful. The fishing is fantastic. I'd like to spend more time up there. I just need to have a little more time." EMI