Heatec builds on its heater and storage tank business by offering innovative technologies and facility design services.
When customers trust a vendor, they look for ways to expand that relationship. A successful partnership soon begs the question: "What else can you do for me?"
For 45 years, Heatec has been providing the answer.
The Chattanooga, Tenn.-based company started in 1972 as a repairer and servicer of asphalt heaters but soon began designing and fabricating its own asphalt storage tanks. It evolved again in the 1990s when it developed a line of industrial heaters used in natural gas production, crude oil processing and chemical manufacturing. In the past 10 years, Heatec has even added a line of water heaters used in concrete production and food processing.
The diversity of its customers has helped Heatec weather downturns in specific markets. When oil dropped below $30 a barrel in 2016, investment across the oil and gas industry slowed because companies were wary to make large capital expenditures. Equipment manufacturers such as Heatec were among those businesses to see oil and gas market sales decline during the slowdown. However, the sales of asphalt heaters and storage tanks for the construction industry enabled the company to offset that dip and remain stable.
Sales to oil and gas customers has since rebounded. With the price of oil climbing back above $50 a barrel in the past year, Heatec has seen a resurgence in demand for its oil and gas heaters. The company has been bolstered by increased activity around oil shales and natural gas deposits. "We are seeing it swing back absolutely," Clayton says of the oil and gas market. "We are experiencing quite a bit of sales in Oklahoma and the Dakotas where there are oil bands."
Each year, Heatec produces about 125 asphalt storage tanks, 100 asphalt production heaters and 125 industrial heaters out of its facility in Chattanooga, Tenn. Those products are a mix of standard and custom designs.
In the industrial market – its chemical, food and oil and gas customers – about 70 percent of heaters sold are custom. It's the opposite for construction customers, which primarily need asphalt storage and where 80 percent of orders are for standardized tanks. "Your industrial customers have specifications and requirements to go into certain types of industries that asphalt customers do not," Clayton explains.
Everything that Heatec produces is designed in-house. When working on a custom heater or tank, the company's own engineers collaborate with the customer to define the scope and specifications and ultimately produce a reliable piece of equipment that will hold up to long-term use.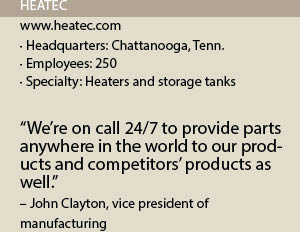 Customers trust Heatec to deliver on those requirements because of its robust lineup and drive to constantly improve its products. "I think we have a very good brand," Clayton says. "Our company was built on service and taking care of the customer."
That service extends beyond the design and manufacturing of equipment to installation and post-sale support. Heatec maintains a knowledgeable seven-person parts department that can help customers replace components and service their heaters and storage tanks. The company can even send technicians out to clients to do field retrofits on electrical components and control systems. "We're on call 24/7 to provide parts anywhere in the world to our products and competitors' products as well," Clayton boasts.
Expanding Services
Its reputation as a trusted manufacturer of quality heaters and storage tanks has created opportunities for Heatec to expand its services. The company recently entered the facilities construction business, using its industrial equipment expertise to create design drawings, size equipment and piping and even fabricate components at its facility and in the field. "We're helping customers design and build terminals, storage facilities and emulsion plants," Clayton says.
Heatec is also innovating and expanding services on the technology side. About two years ago, the company launched the RECON system, a web-based monitoring system that enables users to access information on the status of a storage tank or heater from their phone, tablet or PC. With the RECON system, facility managers can stay up to date on temperature, volume and other performance indicators in real-time, allowing them to quickly make adjustments if an issue arises. "That's one good example of taking modern technology and solving some problems for customers," Clayton says.
More than 150 customers have adopted the service since the RECON system was released. Although it's a new technology, it does not require new equipment or a significant capital investment. The RECON system can be retrofitted onto existing plants without needing to replace the heaters or storage tanks, lowering the barrier to entry and making it more appealing to customers.
Going Global
Heatec can develop new technologies such as the RECON system, add services such as facility design and update its manufacturing processes because its parent company, Astec Industries, believes in the value of investing in continuous improvement. "We're very fortunate," Clayton says. "We invest about three-quarters-of–a-million [dollars] to a million a year into our facility and the equipment we fabricate with."
This year, Heatec is adding manufacturing equipment from Europe that will enable it to fabricate equipment more quickly and with better quality. "It will help us in the production of tanks and heaters," Clayton explains.
Its relationship with Astec gives Heatec access to a global network of sister companies and salespersons that help it to grow its business and reach new customers. "We intend to continue to expand our product line and presence worldwide," Clayton says. "We continue to look ahead and design products that drive the industry."