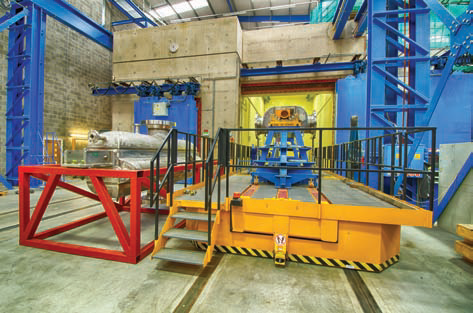 Hot stuff
It was the diffusion bonding technology originally developed at the University of Sydney as part of a post-graduate research study that led to the creation of the original Heatric company in 1985.
Five years later that company was acquired by Meggitt PLC and relocated from Australia to Poole, UK, from where it has enjoyed continuous growth and commercial success ever since.
Since it was previously featured in European Oil & Gas Magazine in October 2010, Heatric has seen demand for its products increase significantly, in parallel with expanding global demand for gas, as marketing manager Roger Foggitt explains: "The demand for gas has fed a consequential need for new gas processing platforms including a new breed of FLNG vessels in which Heatric technology is now being widely deployed. Strong demand for our Printed Circuit Heat Exchangers (PCHEs) has seen the company grow both in capacity terms – with the construction and opening of new factories and investment in current production facilities – and manpower, with headcount up from approximately 100 in 2010 to more than 400 today." The company has also opened new sales offices in Brazil, Asia and Australia in recent years.
Such rapid growth stems from the unique technology that Heatric uses to produce its PCHEs, enabling the firm to produce highly compact and efficient heat exchangers up to 85 per cent of the size, weight and footprint of traditional designs. "Our PCHEs are ideal in situations where deck space and cost is at a premium, such as on offshore platforms and in other LNG and FLNG applications," says Roger. "The high integrity created by their diffusion bonded construction means that PCHEs offer integral safety characteristics far above other heat exchangers, as well as the ability to handle extremes of pressure and temperatures up to 700 bar and 900 degrees Celsius."
There are big opportunities available to Heatric's unique technology right across the offshore LNG market. In March 2014 the company was awarded a multi-million contract with JGC Corporation to supply PCHEs for the second Petronas floating LNG facility (PFLNG 2), due for completion in 2018: "This project will deliver ten PCHE units, in seven separate designs, to perform various topside duties including cooling nitrogen gas post-compression, pre-cooling treated natural gas, cooling feed gas to the main cryogenic (liquefaction) heat exchangers and cold recovery. The largest of the exchangers will weigh about 35 tons with the complete order weighing in at 135 tons in total."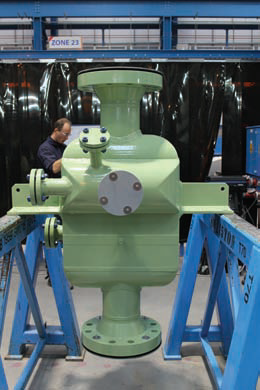 To keep meeting the expanding needs of a broad customer base – which includes global oil majors such as Shell, BP, and ExxonMobil, as well as EPCs and lease boat operators – 2013 saw the company open its second manufacturing facility in Poole. "The new 5000 m2 factory will enable us to meet current and future PCHE demand. It has effectively doubled our production floor space, allowing us to improve workflow and production efficiency throughout the operation," says Roger. "Much of the final assembly facilities are housed in this new plant, along with greatly expanded on-site testing facilities. Our brand new 560m3 concrete radiographic unit is one of only five similar units in the UK and allows us to carry out radiographic testing of our units on-site during working hours." The new radiographic unit has already proved a shrewd investment for Heatric, vastly enhancing factory throughput by reducing testing times and boosting site flexibility.
The last 25 years have seen more than 2500 Heatric exchangers enter service in onshore and offshore applications and the company's PCHE technology remains unique, but there is no sign that Heatric plans to rest on its laurels. The company has a continuous programme developing its printed circuit heat exchangers to meet the particular needs of new market segments such as renewable energy storage and waste heat recovery. And over recent years more than £2 million has been invested in developing its production facilities. "Upgraded and new equipment has included a five axis plasma cutting machine for header and sub-assembly preparation, improving the manufacturing process and boosting efficiency," says Roger. Another £1.5 million-plus has been spent at Heatric's Langley Drive site where the printed circuit plates at the heart of its exchangers are manufactured. "We have been upgrading machinery, storage and waste systems, as well as greatly improving facilities for factory and office staff, bringing working con itions in line with the most modern of factory environments."
Heatric is ISO 9001, ISO 14001 and OHSAS 18001 certified and can provide first-class, fully customised whole-lifecycle support to its customers. Technical support, operator training, field assistance during commissioning and post start-up, as well as a rapid response team should crises arise, are all available from the Poole HQ. The delivery of consistent product quality and customer-orientated services is seen as the key to Heatric's ambitions as a global leader in heat exchanger technology, says Roger: "We will continue to focus on securing our ability to deliver current and future projects and also to show just how flexible PCHE technology can be, both in terms of the physical scalability of the units and the many different heat transfer duties to which they are suited. In heat transfer applications that need a combination of compact size and high performance our PCHEs are the technology of choice. We are now concentrating on making that so by expanding and deepening our current customer base."
Heatric UK
Services: Designer and manufacturer of heat exchangers