Heerema Marine Contractors
Complete expertise
Heerema Marine Contractors (HMC) is a world leading marine contractor operating in the international offshore oil and gas industry.
The business, which is headquartered in Leiden in the Netherlands, excels at transporting, installing and removing offshore facilities such as fixed and floating structures, subsea pipelines and other infrastructure in shallow, deep and ultra-deep waters. The company has expertise across the complete supply chain and prides itself on its excellence in project management and engineering delivered by a passionate and experienced workforce.
HMC belongs to the Heerema Group, and can trace its history back to the late 1940s/early 1950s when the company was originally carrying out construction and installation work in South America. From this initial work the business has built continued experience in working with drilling and construction platforms and installations, registering many important developments in the industry. For example, in the 1960s the company was a pioneer in the use of crane vessels in the fledgling North Sea oil and gas industry, it also commissioned and successfully operated the world's first semi-submersible crane vessels (SSCVs) to increase heavy-lift capacity and operability in the North Sea.
While these developments occurred largely under the Heerema umbrella, in 1997 Heerema Marine Contractors formerly commenced operations as an individual business division, using three fully owned and operated SSCVs that had become in high demand in the North Sea in previous years. Always mindful of staying ahead of the industry, the business converted one of these vessels, the SCCV Balder, into an advanced deepwater construction vessel (DCV) in order to cope with increased market demand. Subsequently, over the last decade HMC has become a recognised expert in the deepwater field, executing many unique projects, setting a number of industry records and establishing itself as a leader in deepwater full field developments (including subsea infrastructure).
Today, HMC's services can loosely be divided into four categories – decommissioning and removal, heavy-lift, float-over and the previously mentioned deepwater work. For the latter the company has the capacity to provide a complete solution to clients, encompassing design, procurement, and installation and testing of infrastructure used in deepwater field developments. Through more than five decades the business has developed tried and tested methods of operating, using installation procedures that enable operators to install deepwater infrastructure while maintaining excellent safety standards.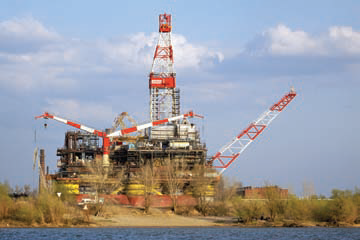 The company offers a number of key products in the deepwater field: mooring systems, export pipelines, flowlines and risers, in-line structures and subsea tie-backs and installation of floaters, and currently operates two deepwater construction vessels. At present a third vessel, the DCV Aegir, is under construction and is due to become operational in the Gulf of Mexico towards the end of 2013.
More recently, the decommissioning sector has been a fast growing industry through the global oil and gas sector, and it is one that HMC has been able to turn its experience and skill to easily. In this field the company performs turnkey platform decommissioning and removal services such as topsides removal and offloading, jacket preparatory work, pile cutting/soil plug removal/conductor removal, and jacket removal and offloading. All of these services are carried out using reverse installation methods.
HMC is currently working on the removal of platforms in the Ekofisk development in the North Sea, which is the largest contract ever awarded in HMC's history. ConocoPhillips Skandinavia contracted HMC to decommission, remove and dispose of/recycle nine platforms located in the Greater Ekofisk area between 2008 and 2014, with all work scheduled to be carried out by the SSCV Hermod, SSCV Thialf and DCV Balder vessels. Representing a challenging undertaking, the project is divided into four phases:
Phase one – platform surveys by helicopter
Phase two – platform made safe (and hook down preparations)
Phase three – topsides removal and disposal
Phase four – jacket removal and disposal
Being in the North Sea means that the project is being carried out in particularly harsh conditions. The water depth on location varies between 70 and 90 metres, and the jacket weights vary between 3000 and 9000 metric tonnes and have been removed according to the Single Piece Jacket removal methodology. Each of the nine platforms to be decommissioned has numerous topsides, varying between six and 16 per platform, with the topsides weighing between 100 and 200 metric tonnes. As with all HMC's projects, safety is paramount throughout the operation and all work is being carried out to the highest Norwegian standards. Alongside the Ekofisk project HMC has also carried out decommissioning work at NW Hutton, Mars, Froy and Brent Spar in the North Sea.
Whichever area of the industry HMC works in, its dedication to quality, safety and the highest skills and techniques available place it among the leaders in its field. Looking ahead, the business retains this position by staying aware of market developments or growing market sectors – decommissioning being a good example of this.
Alongside decommissioning, deepwater and ultra-deepwater operations are also planned to grow in line with the industry and at the end of 2012 HMC signed a worldwide alliance agreement with Technip in order to combine capabilities and develop in this market. Being recognised as a skilled and experienced partner in each of the markets it operates in stands HMC in good stead to continue developing as a successful business in the future.
Heerema Marine Contractors
Services: Marine contractor