High fliers
Founded in 1961 following the acquisition of one aircraft, Heli-Union had a vision to implement commercial air transportation services in France.
Since then it has expanded its fleet to more than 30 aircraft, with the main purpose of transporting personnel in the oil and gas industry between offshore or onshore sites and the main base of its customers. Fully owned by the French group Compagnie Nationale de Navigation (CNN), the company has three core businesses: operations, industrial services and helicopter pilot training.
As Heli-Union's helicopter operations evolved it developed significant experience and knowledge in major overhaul operations, technical and logistical assistance to other helicopter operators and also the online maintenance of helicopters. This led to the firm expanding into a second fully independent business in helicopter maintenance in 1985; based in Paris its technical centre is PART 145certified, with operations strictly regulated by the civil aviation authorities. A multitude of maintenance operations are carried out in the centre, including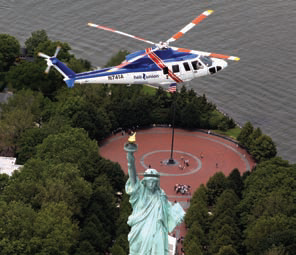 major overhaul operations on Heli-Union's helicopters.
To further enhance its foothold in helicopter services in the oil and gas industry, Heli-Unioninvested in a FNPT II-type flight simulator tooffer training in helicopter flight operationsglobally. Showing its innovation, it is the first civil company to have acquired a sophisticatedand complex navigation system. The Heli-Union Training Centre (HUTC) opened in 2002 atthe Angouleme airport in Western France, with a number of specialist courses available tomeet the needs of both experienced pilots and students. With aims to progressively reach a3000-hour yearly rate of training, Heli-Union collaborated with Eurocopter and Thales todevelop and build a new simulator for the Dauphin AS365 N3/N3+ in 2012. Owned by Heli-Union Training Center, the new equipment has a double qualification: full flight simulator (FFS) level B and level 3 flight training device. It will give operators the ability to train in ab-initio, instrument flight rules (IFR), offshore and rescue operations, flights over mountainous regions and night flight (night vision goggles).
Heli-Union boasts major contracts with firms such as ENI, ExxonMobil, Total and Petronas. Its economically viable transportation services are implemented to support exploration campaignsand development activities on offshore rigs or isolated onshore sites. As a commercialcarrier with years of experience in carrying outoperations in the Gulf of Guinea and the Angola basin (Western Africa), the Middle East, South America, and Asia, the company is fully aware of ensuring appropriate facilities are available and the relevant licences and regulations have been sought from the local civil aviation authorities and relevant ministry.
By delivering a turnkey service to its customers through lease of one or more helicopters, crew (captain, co-pilot) and itsengineering team, on top of dealing with any administrative tasks and regulatory issues, the firm can offer a complete package; the customer will only be required to take its personnel from the Heli-Union base.
Proud of the quality of service it offers, Heli-Union is keen to continue providinghigh standards in its commercial, technicaland operational, as well as administrative,plan. Its Quality – Health, Safety, Environment(Q-HSE) policy highlights safety as a keycommitment; due to the company's anticipatingand preventing approach, Heli-Union aims forexcellence in regards to the skills and trainingof expert employees who work on aircraft andequipment of advanced technology. This culture of excellence, safety and awareness is shared with its customers, with Heli-Union dedicated to the satisfaction of its clients and generating longterm relationships.
Management has committed 'to take all dispositions and provide all necessary means' for the implementation of the Safety Management System. Despite the highly competitiveenvironment Heli-Union works in, priorities of the company, such as safety, customersatisfaction and respect of regulations, will not be affected.
In 2010 the company diversified its fleet with the integration of seven new Sikorsky S-76C++ type helicopters, thus enhancing its fleet, which mainly consisted of Eurocopters before. Fitted with the most contemporary navigationsystems at the time, the S-76 C++ helicopters can transport up to 12 passengers and enhance the catalogue of helicopters Heli-Union supplies to clients. On board equipment offers superior comfort for passengers and pilots and thehelicopters also offer increased safety; fitted with systems such as EGPWS, EFIS, PA 4 Axes, Skytrac and EVXP (Health and Usage Monitoring System), the helicopter is extended with safety systems like AFDS (Automatic Float Deployment System) and external life rafts. Heli-Union hasaquired four EC 175 and two additional EC 255, which should be delivered first half of next year.
Helicopters supplied by another manufacturer into a new fleet require the establishment of operational and technical processes in all ofthe company's fields; Heli-Union was preparedfor this implementation, thus enabling the integration of this new type of helicopters.
Looking to the future, Heli-Union is anticipating an increase in business in South America and Asia. It is also expecting a higher level of work with geophysical support and drilling specialists. The company is keen to continue developing its training facility and,following a careful evaluation, it recently selected the Cabri G2 to equip HUTC. The helicopter, produced by French manufacturer Helicopteres Guimbal, was chosen by Heli-Union for its flying qualities and ability to provide future commercialhelicopter pilots with the best preparation. Itcould be operating at the training centre as early as April 2013.
Heli-Union
Services: Commercial air transportation