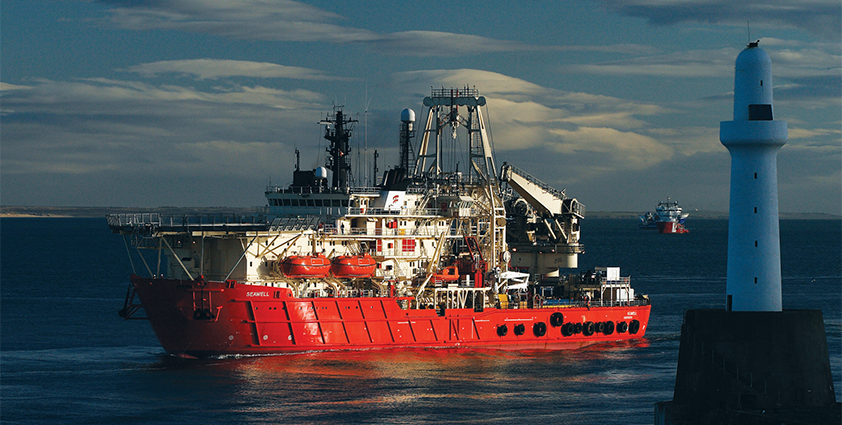 Helix Energy Solutions (Well Ops UK)
Well put together
Helix Energy Solutions Group works within the deepwater offshore energy industry, providing a dual strategy of world-class service provision to energy companies, as well as producing oil and gas from its own fields.
With many competitors operating as either a service contractor or producer, this approach means Helix maintains a unique position within the market. As a business unit of Helix, Aberdeenbased Well Ops UK provides a range of well operation and decommissioning services using specialist vessels and innovative equipment.
Last year Well Ops introduced a new well intervention vessel to the market, the Well Enhancer, which strengthened the Helix group's position as the world's largest rig-less well intervention contractor. With one light well intervention (LWI) vessel, the Seawell, already operating within the UK sector, Well Ops was unsure about there being enough demand to support another vessel. Steve Nairn, regional vice president of UK, Europe and Africa, describes the situation: "In 2009, several new vessels came into service and this meant increased competition in the diving/construction and LWI market. Coupled with the drop in oil prices and pressure from operators to cut costs, it appeared that our UK market would reduce. However, The market during 2010 has been steady and we expect to achieve over 85 per cent utilisation for the Seawell, with slightly less for the Well Enhancer. This is due to the ongoing upgrading and development of the Well Enhancer which has affected its availability for projects."
The Well Enhancer is a 132 metre long state-of-the-art vessel that offers ROV, diving and well intervention services. One of the main differences between the Well Enhancer and the Seawell is its larger bore intervention system that allows access to a greater number of subsea wells. Since it was launched into the market it has undertaken a number of projects for major companies including Nexen, Shell, Total, Fairfield, Talisman and Hess. Steve focuses on the vessel's capabilities: "The Well Enhancer was launched in September 2009 with the new in-house designed and built intervention system. A number of projects were successfully completed in diver-less mode, before the dive system was completed in July this year. Talisman was the first operator to use this combined intervention and diving capability to great success. We then further expanded upon the capabilities of the vessel by installing the rigid riser facility and associated coiled tubing (CT) system in September, which was then tested with Hess. This is the first CT system to be deployed from a mono-hull vessel and this month is entering active service with Hess. Once the intervention riser and CT system has been proven we believe that it has the potential to deliver over 100 days utilisation each year"
This CT capability is a recent development for Well Ops and offers an alternative and more effective method of carrying out intervention procedures. Operating light well intervention from a vessel requires the lowering of a subsea intervention lubricator (SIL) onto the subsea tree, which provides well control and vertical access to the site. This procedure was first carried out in 1988 by the Seawell, using wire to lower tools into the well for repair, maintenance and decommissioning activities. Steve elaborates on the main differences of the CT system: "With CT intervention, instead of wire we are pushing a continuous reeled steel tube, measuring two to three inches in diameter, into the well. This allows us to expand the number of intervention activities we can deliver, such as milling, pumping and gaining access to highly deviated walls. To enable CT we have to run a rigid riser from the subsea equipment to the surface to contain the tubing, which means additional equipment on deck and a need to compensate for vessel motion.
"We have proven the system on a test well, including our ability to run and recover the riser, carry out an emergency disconnection and reconnection, and to run tools into the well. We are now well placed for our first live well project, which involves the recovery of downhole equipment and the placement of cement plugs to decommission the well. CT enables a very accurate placement of the cement plugs and is not reliant on the condition of the existing down hole tubing."
Well Ops' other assets include the LWI and diving vessel, Seawell, which first went into service in 1987, pioneering the LWI market. The vessel has a 20-year track record of successful projects within the North Sea and its unique design and multi-service capabilities means it can significantly reduce intervention time. Seawell has entered more than 650 wells, decommissioned over 150 live and suspended wells, and 15 subsea fields. Its two-bell saturation diving system is rated to 300 metres and has a capacity for 18 divers. The Q4000, currently operating in the Gulf of Mexico, is an innovative well intervention, construction and drilling semi-submersible providing a stable platform for a variety of tasks. First constructed in 2002 and refitted with a slim-bore drilling capability in 2008, the Q4000 is specifically designed for well intervention and construction in depths of up to 3048 metes of water. With the installed intervention riser system (IRS) the Q4000 is a viable alternative to a drilling rig and is able to deal with issues such as loss of production and other emergency needs.
These vessels are supported by Well Ops' portfolio of specialist equipment specifically developed for subsea well operations, including a comprehensive range of well abandonment tools. These include the AXE wellhead cutting system, vessel deployment system (VDS) and cement injection tool (CIT), which have been designed to complement one another for use as a complete system, or individually on a wide range of intervention projects. In addition to its other intervention systems, Well Ops has also developed a subsea intervention device (SID), which can be deployed with the VDS without the need for a rig or specialist intervention vessel. The device makes both scheduled and emergency subsea well intervention works immediately practical.
With the new CT system adding to Well Ops' service capabilities, the company is in a strong position to move into new markets, as Steve highlights: "Helix Well Ops has been short listed to tender for the Statoil 'Cat B' semi-submersible on a long term contract. Semi-submersibles are invariably built for drilling and so it is not cost-effective to deploy these units into the LWI market, the only rig in the world that is purpose built for this market is our vessel, the Q4000. Although mono-hull vessels have proven very cost effective in the UK and Norwegian sectors, they can be limited in terms of service provision and operability. This, combined with the saturated market for these vessels, means many consider semi-submersibles as the long-term future of subsea well intervention. With our unrivalled experience building and operating cost-effective solutions I believe that we are at the forefront of companies to service this niche market."
He carries on to describe Well Ops' focus going forward: "Although this year has been challenging with the ongoing development of the Well Enhancer, it is a tribute to our offshore teams that we have been able to deliver each new service on schedule and meeting all safety standards. The range of services the vessel can now deliver is unequalled anywhere in the world, which puts us in a very strong position within the market. Of course the success of any system is dependent on having the right staff to operate it and across the Helix group we have a very strong and experienced personnel team, many of whom have worked within the business for over 15 years. Our success within the UK sector has exceeded our expectations for this year and as a result we have had less availability for overseas work. Looking to the future we have prospects for work in Africa during 2011, including work tendered in Libya and Angola. We also hope to see opportunities for the business within Equatorial Guinea."
Helix Energy Solutions (Well Ops UK)
Services: Well intervention and decommissioning