Merged interests
In September 2012 a single, market-orientated organisation was officially established. The creation of Hendrik Veder Group was the result of a merger between three companies; Hendrik Veder, RopeQuip and European Rope Services.
As a sole operator, Hendrik Veder entered the steel wire rope product industry in 1800. With an excellent reputation in the heavy offshore lifting industry it has been creating tailor made solutions for, amongst others, maritime services, lifting and the rigging industry ever since.
European Oil and Gas Magazine spoke with Hans Struijk, sales director within the group: "Having registered as a one company organisation, we chose to operate under two names," he explained. The group's interests in the energy market would be managed by the historically established Hendrik Veder name, and the supply to the wholesale market would be through RopeQuip. "By using two trade names we are able to keep a clear identity within the markets.
"We have an enormous production and good distribution capacity. Geographically we limit ourselves to the European market as we have a fair share in many different applications. To service these areas we have satellite sales offices in France, Germany, Poland, Scotland, and England," he continued.
Adding to its portfolio, in April 2013 the group purchased the G. van der Lee rope factory. Explaining the fundamental beliefs, Hans said: "We believe in craftsmanship, and its history. The new acquisition exists with a strong background that compliments our principles. It has a very old factory, and it's a very old company." Van der Lee was established in the 16th century and remained within the family, making it the longest family-owned business in the Netherlands. "We foresee a great future for the company within our group. It provides us with a lot of knowledge and production capacity in the field of high performance fibre ropes which can be used in our operations. It is the main, and the last, such operating facility in the Netherlands, and to our European clients it is of great importance that from a product liability and responsibility perspective we are not just a trader but also a manufacturer ourselves," he confirmed.
Reviewing the European market Hans assessed the financial goals: "We have an interest and strategy to grow our business and our footprint within the European market. Today the business has a turnover of 62 million euros and we will grow our business over the next three years to a 100 million euros turnover. We are driven to remain as one of the top three players servicing our clients."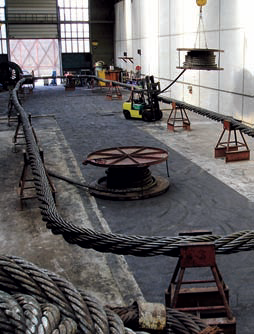 To develop in this way the company is focused on its clients. Hans addressed this vision: "We can make a difference in providing a quality of services to our customers by securing availability and a high level of craftsmanship. We believe that this has been underestimated for a long time in the industry. Today, many people forget that modern equipment must be produced, handled, and assembled by knowledgeable skilled people. We believe that by keeping control of that aspect our business will grow securely.
"Being a main player, we have a good understanding of the areas we supply. Energy is a market where we must follow our customers both in size as well as in the type of products, and the level of quality required. As our top clients are moving towards geographical areas like the arctic and extreme deepwater, which are not easily serviced, there is an increased demand for the highest level of quality of materials, and it is our goal to service them, if necessary on the locations where they operate. So we follow our customers and we need to be prepared with the highest level of equipment," he adds.
As a manufacturer for heavy industry the group faces pressures on its flexibility, and seeks continuous improvement in its product scope. "We have a natural method of developing sophisticated solutions. We look at the demand and by remaining in continuous contact with our clients we are able to supply the correct products. If we are unable to provide the solution ourselves we will source from other companies. It is that level of understanding that sees us achieve results," explained Hans.
Hendrik Veder Group was at Europort 2013 in November. This is the latest in a series of exhibitions it has attended. Hans spoke of this aspect of sales targeting: "It's our continuous strategy to present ourselves in exhibitions around Europe, and we are already planning a presence at a further nine over the next 12 Groupmonths. We do not just present ourselves as a provider of certain products or services. With our direct communication with clients we are selling a truly one-stop-shop service for the lifting and mooring industry. Our high-profile clients are looking for somebody who can supply a project and remain as a partner providing servicing, as well as assisting in initiating solutions for projects."
Shortly it will be announced that Hendrik Veder Group has established a new strategic partnership in Scandinavia, further enhancing its growing resources. Looking forward Hans commented: "You can't do everything from a distance. You must have a capacity to be closer to the customers. That means that geographically we must be looking for opportunities. As a result we have an add-on strategy. We will be growing our business in the European market by organic growth as well as purchasing businesses. We all know that turnover costs money and you must plan where you want to go, and you must be sure that you can handle the additional business."
Hendrik Veder Group
Services: Steel wire and fibre rope solutions, products and services