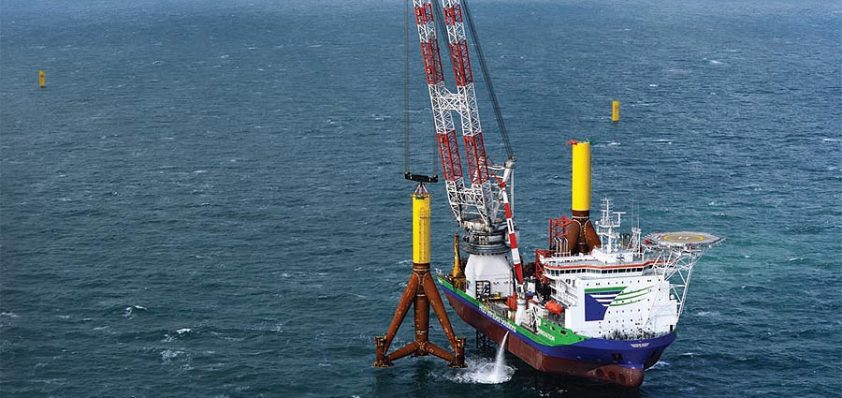 HGO Infrasea Solutions GmbH
A stable partner
The history of HGO InfraSea Solutions can be traced back to 2008 when it was founded as Beluga Hochtief, a joint venture between the Beluga Group and HOCHTIEF Solutions.
Following the insolvency of the Beluga Group during March 2011 its shares in Beluga Hochtief were acquired by GEOSEA, a subsidiary of DEME, a Belgian-based marine and environmental engineering group, which led to the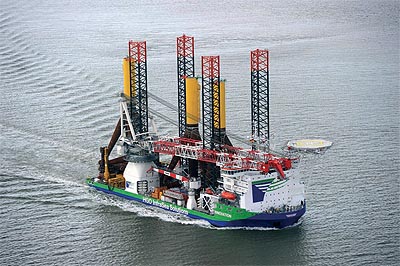 creation of HGO InfraSea Solutions as it is recognised today. Since 2011 the company has developed a leading reputation in the field of offshore wind farm installation services.
Currently HGO manages a single vessel named the INNOVATION, which is a selfpropelled, heavy-lift jack-up vessel. Although the company is relatively small in terms of manpower employing around 60-70 personnel, it packs a serious punch in terms of the market-leading services it provides. Core to the company's strength is that INNOVATION provides the largest lift capacity within the offshore industry, meaning that HGO is at the forefront in delivering world-class heavy-lifting jack-up services. As such INNOVATION has remained in operation constantly since it was delivered in mid-2012. Its first project was located at Germany's Global Tech 1 offshore wind farm in the North Sea, where it was active until January 2014. Immediately thereafter it was commissioned for service on the Westermost Rough project located near the coast of Hull, UK on behalf of GEOSEA, where it is expected to remain in operation until mid-2014.
"The INNOVATION was built with its premier market being offshore, where normally you would expect to see a gap between projects, but we have been very lucky in that the vessel has been kept busy and not had any downtime," says HGO managing director Patrick Vermeulen. "Inevitably however, there will be gaps in the occupation of the vessel and for that reason we have identified oil and gas, e.g. decommissioning as a secondary market. The timeframes for decommissioning jobs allow us to operate within the window of downtime and this is a very good complement to the primary business."
INNOVATION boasts a number of features that make it a market-leader in servicing offshore installations. For example, it is able to operate at depths reaching 50 to 55 metres depending on soil conditions on the ocean floor. In contrast to floating heavy-lift solutions, the INNOVATION is able to offer the stability and safety of a jack-up vessel, which greatly reduces the impact of adverse weather conditions, swell and movement. This then leads to an increase in available work-hours.
As well as providing a stable platform from which to conduct operations, INNOVATION is also equipped with the necessary equipment to facilitate lifting operations that far exceed other vessels and jack-up ships operating in the same market. "The crane capacity of most vessels of this type is around 800 tonnes and crane capacities between 1100 and 1200 tonnes are very rare," Patrick explains. "INNOVATION has a crane capacity of 1500 tonnes, which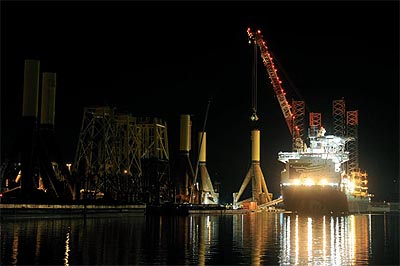 we think will suit decommissioning jobs where work is split per module. Furthermore, the crane has an outreach of 32 metres, so there is a greater distance between the jack-up and the lifted object and this is fairly unique too. Another advantage for decommissioning work is that the large deck space aboard the INNOVATION will accommodate small to mid-sized modules. In this respect, because we can lift modules and accommodate them on-ship, HGO can offer clients an integrated, one-stop solution."
Although HGO is currently limited to a single jack-up rig it can rely on the support and resources of its parent companies to further expand the services it is able to supply, this makes the company relatively unique venture for a business of its size. Furthermore, owing to the strong order book that it has managed since 2012 and in anticipation of further charters well into 2015, HGO is currently in the early stages of the decision process for a new vessel of comparative ability to INNOVATION. Elaborating on this, Patrick says: "We have a conceptual design in place already, which will actually slightly increase on INNOVATION's capacity. The design is based on in-field experience where we have discovered operational limits and we are constantly attempting to decrease the limits on what is possible."
Even though HGO has maintained a strong order book since 2012, the offshore wind market has not reached its full maturity yet, as Patrick elaborates: "The offshore sector is a volatile market, because it is a new area that needs to prove itself. We see that the business will be driven by technological improvements, including the output of the turbines and also installation times. So there are challenges that the industry needs to tackle, but as a company we are great believers in the future of offshore wind. This is not only because it is where we are active but because of the environmental benefits and its sustainable nature.
"We as a business deliver value to clients through lower installation times and higher workability, therefore even within the challenging market we have been able to provide technical improvement to reduce costs. Moving forward the company's mission will be to focus on current contracts and completing them in a safe and responsible way. We are also looking for that first decommissioning job and that is something we would like to see happen by the second half of this year. It is a major objective."
HGO Infrasea Solutions GmbH
Services: Heavy-lift jack-up support