Historically skilled at navigating change, LIBERTY Pipes (Hartlepool) is now preparing for global energy transition
A division of LIBERTY Steel, LIBERTY Pipes (Hartlepool) is a manufacturer of carbon steel pipes suitable for the operations of the energy, oil, and gas industry. With over 50 years of industry experience and expertise, LIBERTY Pipes (Hartlepool) has a strong presence in the global market, producing miles of pipe for various leading energy companies from its base in Hartlepool in the Northeast of England.
Operating alongside the emerging global energy transition, LIBERTY Pipes (Hartlepool) is working hard to ensure its products not only meet the requirements of today's energy sector, but also the future demands of an industry set to adopt renewable sources.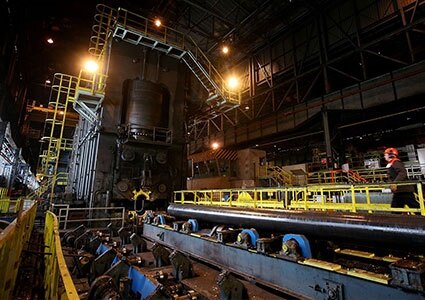 Martin Connelly, Technical Director at LIBERTY Pipes (Hartlepool), joins us to discuss the company's latest developments, current projects, and plans for a renewable future. Occupying a unique position at the heart of the UK, European and global industry forums, Martin sheds light on the importance of collaboration to achieve optimal results in the forthcoming energy transition.
Comprehensive capabilities
LIBERTY Steel itself is a well-known, global steel and mining business with over 200 locations around the globe. With a view to expanding, its owner, Sanjeev Gupta, set out to grow the company by acquiring a series of available global assets. LIBERTY Pipes (Hartlepool), as it is now known, was acquired by the group in August 2017, but its site in Hartlepool has a much longer history.
Hartlepool's 42-inch pipe mill is home to the world's strongest 13-meter 'O' press, enabling operators to achieve excellent dimensional control and extending its owners' manufacturing capabilities. "I've been based at Hartlepool for my entire 30-year manufacturing career, although I've worked in various positions, under different ownership structures over the years," Martin begins.
"We've been making pipe at the mill in Hartlepool since 1967. In 2017, our previous owner at the time invested significantly in new facilities, which is when our rebirth happened, and the site has gone from strength-to-strength ever since. We were sold to LIBERTY Steel when the steel industry was changing, because we were no longer a core asset to our previous owner's operational strategy.
"However, LIBERTY Steel saw us as a premium asset that they wanted to grow," Martin continues. "Despite market demand volatility associated with the oil price, we managed to maintain the Hartlepool pipe mill's strong position in the marketplace with our new ownership."
While the company's ownership has changed, the capability and knowledge surrounding high quality pipe has remained. "Change of ownership does not necessarily mean change of focus," Martin states. "Any business still has to place the customer as the leading light, and LIBERTY Steel genuinely appreciates this concept.
"For example, one of the biggest investments of the last 15 years, an upgrade to our non-destructive testing equipment, was well underway when we became available for sale," he recalls. "Our previous owner could have cancelled the order, and LIBERTY Steel could have insisted it was cancelled, but instead, both maintained the commitment. They recognized the investment as an essential factor to bolster the reputation of our company and it's a great example of how to prioritize, even in the event of change."
Turning to the company's production capabilities, Martin explains: "Our approach is providing a solution, whether we manufacture the pipe ourselves or collaborate with other commercial entities to deliver combined scopes. We're capable of manufacturing pipes with a diameter of 16-to-42 inches, a thickness of 9.5-to-50.8 millimeters, and all typical grades up to X80 strength levels. Our feedstock material and welds also boast the highest fracture resistance, which has come to be expected by the industry.
Green energy transition
"Over the last few years, our focus has increasingly become dominated by the green energy transition. We've done a significant amount of development and evaluation work into the two most pressing categories associated with the transition: carbon dioxide and hydrogen. Much of our research around carbon dioxide is focused on the differences between carbon dioxide and natural gas
in the event of fractures.
"Whereas with hydrogen, we're not so much considering if it will be one of the fuels of the future, but when," he continues. "There's a lot of political alignment that needs to happen first. Both carbon dioxide and hydrogen require subtly different materials, which we've successfully developed and tested. We've confirmed the requirements and we're working with operators in the industry moving forward to continually improve our testing and evaluation techniques."
Furthermore, LIBERTY Pipes (Hartlepool) continues to support adding value to clients' needs. To give an example, Martin adds: "We're currently working with Subsea7, a well-known offshore installation contractor with a European focus, to produce carrier pipes," he reveals. "Specifically, we're manufacturing custom nine meter sections of pipe in our smaller mill, which will then be welded together in our added value bay to make 27 meter long spools. These spools are then welded together onshore by our client and towed out and submerged in the North Sea, where they are eventually connected to subsea infrastructure.
Innovative processes
"Joining the pipes together onshore is a cost-effective production method, as it doesn't require the additional complexities and costs associated with offshore construction. It really is a unique and innovative process on which we have a very close association with one particular customer."
As an active individual with decades of industry experience, Martin is passionate about knowledge sharing, especially with discussions about renewables ongoing. "Unless we're all talking together and exchanging information, we're not going to achieve the optimal solution," he states. "I'm a strong believer in collaboration, and wherever there's collaboration, there's discussion.
"There is certainly a lot to discuss: design, manufacturing, testing, standards, and materials. Everybody who has a part to play should engage in industry forums. Personally, I'm a member of the Task Group on Line Pipe within the American Petroleum Institute, and a UK line pipe expert to the British Standards Institute (BSI) and International Organization for Standardization (ISO), as well as being active in research by delivering several papers across various conferences.
"Instead of taking entrenched positions, we all need to be willing to compromise and be open to finding the correct solution. It's an essential way of sharing knowledge and resources to create a renewable 'backbone' and achieve the best outcomes as the energy transition picks up worldwide. In fact, I think collaboration is quite possibly the most important thing to ensure success in the forthcoming energy transition."
Specialist knowledge
With the entire industry figuring out the most suitable options for global energy transition, LIBERTY Pipes (Hartlepool) has line pipe materials and specialist knowledge in place. Martin adds: "We're working to ensure we're ready for all options, but our participation in that debate is essential.
"On the other hand, one of the challenges of the near future is balancing the energy independence associated with oil and gas with the sustainability motive of renewables, considering the finite amount of available steel. As steel intensive sectors, the industry must carefully consider its use and balance out the demand in supply chains; we are going to need offshore wind and H2/CO2 line pipe together.
"I think we'll be extremely busy as the industry adopts renewable energy sources and prepares for a global transition," Martin concludes. "I see us being in a position where our mill capacity will be fully utilized, and competition for that capacity will be intense, leading to careful selection of projects to
take on. The mill will be full of a combination of work, and I hope we'll soon see the first hydrogen pipelines being manufactured and installed."