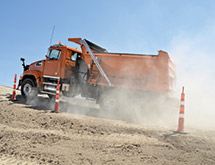 Hitachi Construction Truck Manufacturing
Based in Guelph, Ontario, Hitachi Construction Truck Manufacturing is known for providing vehicles that can serve the construction and mining industries in even the most difficult conditions. By designing features in its trucks that stand out from the competition – such as axle designs and frames – Hitachi Construction Truck Manufacturing can serve clients around the world.
Hitachi's trucks are designed to haul in a wide array of conditions including everything from surface stripping and rock quarrying to construction projects and mining. The most common applications include gold and copper mining, rock quarries and coal mining. However, the mining applications include bauxite, iron ore, gypsum, potash, fly ash and limestone. The trucks can also be used on road, airport and dam building projects, as well as in rental contracts with general contractors engaged in mining or construction projects.
Extensive Line
As of 2015, Hitachi's truck line includes the EH3500AC-3, EH4000AC-3, EH5000AC-3, EH1100-5 and EH1700-3. The EH3500AC-3, EH4000AC-3 and EH5000AC-3 are produced in Japan. Hitachi's legacy in the America's can be traced to the 1931 establishment of Euclid Road Machinery Co. in Ohio. Euclid developed the world's first off-highway truck in 1933. After many years of evolution, Hitachi eventually purchased 100 percent of Euclid's stock and all of its intellectual property in 2001.
Mainly making vehicles for its Hitachi Construction Machinery Ltd. parent company, Hitachi Construction Truck Manufacturing has kept up with production volume based on market demand while expanding its product variation. In the last few years, it has expanded its Guelph facility in and now has more than 375,000 square feet of manufacturing space. This allows the company to manufacture a wide variety of different products while keeping up with Hitachi's goal of providing about 30 percent of the world's mining truck market.
Standing Out
Hitachi's rigid-frame trucks are developed to provide hauling solutions that can get the job done. The company's trucks stand out due to designs that focus on everything from safety and reliability to efficiency and serviceability. Some of the features that Hitachi points to as differentiators include front trailing arm suspensions and helium and neocon-filled suspension struts.
Its AC drive systems consist of entirely Hitachi components, and the company was the industry's first to offer fully hydraulic braking. Its truck product line uses completely fabricated frames with virtually no casting components. It can support its trucks thanks to its position as part of a large global organization. Even the orange color of the trucks makes them stand out, and they are perfectly capable of working alongside Hitachi's excavators.
In addition to its manufacturing facility in Ontario, the company also has a parts depot in Plainfield, Ind. Located about 12 miles southwest of Indianapolis International Airport, the facility stands at 100,000 square feet. In addition, its footprint in North America includes the Central Ohio Test Site (COTS). At the COTS location, Hitachi created and maintains haul roads of different grades, surfaces and turning ranges. This allows it to test its EH1100 and EH1700 models, replicating the working conditions that are commonplace at construction, mining and quarry projects across the globe.
In the years ahead, Hitachi Construction Truck Manufacturing will likely continue to do all it can to support its own operations as well as Hitachi's global goals. The company will be able to take advantage of its vast resources and experience while seeking further expansion and investment opportunities as it seeks to maximize the efficiency of its manufacturing operations while supporting customers around the world in need of trucks that can excel in the mining, quarry and construction sectors.