Limitless potential
For many years, Zurich-based company Hitachi Zosen Inova (HZI) has acted as an engineering, procurement and construction (EPC) contractor and project developer, delivering turnkey plant and system solutions for thermal and biological Energy from Waste (EfW) recovery. Committed to research and development, and the use of environmentally-sound technology, HZI has built a reputation for its flexible, adaptable approach to ambitious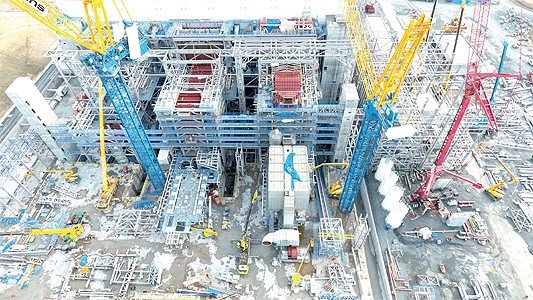 energy developments and in 2017, the company announced one of its boldest projects yet – the construction of Europe's largest-ever EfW plant.
Located in Istanbul, the new facility will be Turkey's first EfW plant for municipal solid waste and aims to process one million tonnes per annum, generating around 70 megawatts of electricity. As a global leader in the EfW field, HZI hopes the significant comcontribution the plant will make to Istanbul's regional energy mix will, in turn, help to advance the case of EfW as a viable, sustainable future power source.
Carsten Kaiser, Senior Sales Manager at HZI, explains that a deal for the facility's construction was years in the making. "Our first discussions with the client, Istanbul Metropolitan Municipality, started as early as 2013," he says. "A competitive tender process followed in 2016 and, while the technology provider was an international company, the construction rights were taken by local Turkish firms. Finally, in September 2017, together with our Turkish construction partner Maykol, HZI was awarded the turnkey contract, including operation and maintenance of the facility for at least one year. The tender evaluation was based on techno-economical parameters, which considered the investment and operational costs, and also the overall efficiency of the facility."
Three years later and construction on the Istanbul plant is nearing completion. Operating in line with Covid-19 restrictions and strict local regulations, work on the facility has entered its final stages. The plant is expected to be fully operational by 2021, when its three incineration lines will start to process around 15 per cent of Istanbul's solid waste.
"Currently we are preparing for cold commissioning," Thomas Gross, Senior Project Director of HZI's Istanbul venture reveals, "and we will soon be starting operation and maintenance training. Pressure tests in lines One and Two were completed last month, and line Three will be tested at the end of May. Over the next one or two months, the plant's fundamental construction work will be completed. The majority of materials have already been delivered to the site and all construction contracts remain in place."
Working closely with local partners, the plant's construction has helped to add significant economic value to the wider Istanbul metropolitan region. Over 50 per cent of supervisors and engineers were recruited from the area, and the civil works team consists entirely of local people. An international multi-disciplinary team has been assembled to operate in specialised areas such as steam turbines and refractory.
A foremost expert
Georgette Banham, a member of HZI's EfW Business Unit, has been responsible for co-ordinating HR aspects of the Istanbul project. Speaking to Energy, Oil & Gas, Georgette suggests that the development is already benefitting the local economy.
"There is immense economic value to the region and local businesses in various formats," she reports. "For example, during the peak of construction, there were 1500 operatives on site. This generates revenue for local businesses who are looking after our people and, of course, it creates more local jobs. For the operation of the plant, we are currently recruiting shift personnel and general office staff, which will create long-term employment opportunities."
Though construction on the Istanbul plant continues vastly unabated, the process has not been entirely devoid of impediments. Workers onsite have found weather conditions difficult at times, and in particular, wind has presented a permanent challenge.
"With all the cranes and site installation, weather issues are not something that can be totally eliminated, but we have optimised so that we are making best use of our construction methods," Thomas declares. "Organising a construction site of such size, especially in a pandemic, has certainly given us a lot to think about, but our utmost concern is for the health and safety of all our workers and colleagues, and their families. As a result, we have put in place Safe Site Operating procedures, which ensure adherence to government regulations."
Not only is the Istanbul plant remarkable in size, but with a capacity of one million tonnes per year, it will boast the largest throughput in Europe. Specialising in the thermal and biological treatment of residual waste, HZI is one of the world's foremost experts in the generation of energy based on waste as fuel. The company leads the way in areas of technology such as combustion, steam and power, anaerobic digestion, and flue gas treatment, and the new plant will utilise some of the industry's most advanced EfW procedures.
"An Energy from Waste facility works like a waste power plant, but instead of coal or other fossil fuels, these installations use waste as a fuel," Carsten states. "Grate combustion is the best-proven and most environmentally friendly thermal waste treatment technology. As part of the process, waste is advanced for the purpose of incineration by backwards and forwards movement of the grate blocks. Every line of the Istanbul plant will be equipped with HZI's combustion technology, of which the reciprocating grate is a vital part.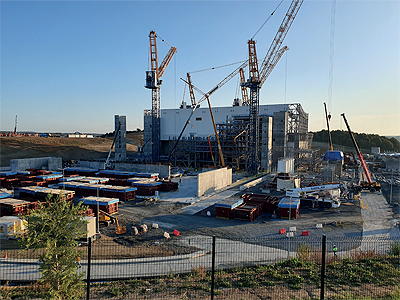 "Additionally, each line will include a high-tech multistep flue gas treatment system that removes particles and neutralises the flue gas so that emissions meet the strictest international emission regulations."
Throughout the Istanbul facility's long development period, the Turkish government has remained strongly supportive of the project. At present, 84 per cent of Istanbul's waste goes to landfill, but by diverting this waste to EfW, the new plant will be able to treat up to 25 per cent of the total waste created on the European side of the city, while feeding 70 megawatts of energy back into the local grid. This green energy, together with energy from renewable sources such as wind and solar power, can play a key role in a country's sustainable energy mix. With this in mind, it is unsurprising that worldwide interest in Energy for Waste is growing.
New project
"There is significant potential for further EfW plants in Turkey to help with the country's sustainable waste management activities and further interest has already been expressed," HZI's Senior Sales Manager Carsten Kaiser notes. "EfW is an important part of a circular economy. It is a completion of recycling, not an alternative. The non-recyclable waste that is transferred to EfW facilities is pre-treated, meaning recycling has already been done before waste is fed into the plant. In the combustion process, the plant will generate energy to be fed into the national grid. Additionally, EfW technology allows operators to remove and recover material, such as precious metals, from the bottom ash."
With the realisation of the Istanbul project, HZI has been pleased to help another region devote itself to a sustainable waste management system that will see the area contribute to worldwide decarbonisation and the reduction of other harmful emissions. The company is not ready to stop there though, as in late April, HZI won another major contract for the construction of a new Energy from Waste plant in the south of England. It will be HZI's 13th project in the UK.
Developed as part of a joint venture with energy group SSE Thermal and Copenhagen Infrastructure III K/S, the plant will process up to 440,000 tonnes of commercial waste per year from the Greater London area, generating around 46 megawatts of electricity to be fed back into the national grid. Located on the Slough Trading Estate, comwhere parts of a former plant have recently been decommissioned and demolished, the new facility will also export 23 tonnes of processed steam per hour to a nearby food factory. Enabling works on the site will be completed by the end of 2020 and the first construction work is scheduled for 2021. HZI expects the plant to be fully operational by 2024.
Clean and safe
Having built a reputation as a reliable partner for a wide and varied range of projects, HZI continues to establish long-standing industry relationships, which are often converted into opportunities. The Slough project will mark the third occasion that HZI has collaborated with SSE Thermal, a prospect that excites SSE's Managing Director Stephen Wheeler.
"We are delighted to, once again, be working with HZI as we look to deliver another industry-leading Energy from Waste project," he said as the deal was announced. "When completed, Slough Multifuel will play a key role in the UK's sustainable waste management, diverting thousands of tonnes of waste away from landfill and instead, converting it into a valuable source of energy."
Over the coming years, the team at HZI are expecting to see a greater focus in Europe on the role of EfW in a circular economy with material recovery from bottom ash, as well as carbon capture from EfW plants for further industrial use. As the modern world finds itself approaching an environmental crossroads, HZI is confident that Energy from Waste can play a major role in the global push to use sustainable energy sources, while reducing the negative impact we have on our natural environment.
"Energy from Waste is a clean and safe solution for residual waste," Carsten proclaims. "HZI offers a complete range of waste to energy solutions, such as dry anaerobic digestion (Kompogas), biogas conversion to biomethane, power-to-gas (PtG), and other specific processes including carbon capture solutions, which help to reduce CO2 footprints and produce CO2 for industrial and commercial use.
"Whilst the circular economy endeavours to reduce its quantity, there will always be waste which cannot be recycled. This is where we will operate today and in the future."
Hitachi Zosen Inova
Services: Energy from Waste