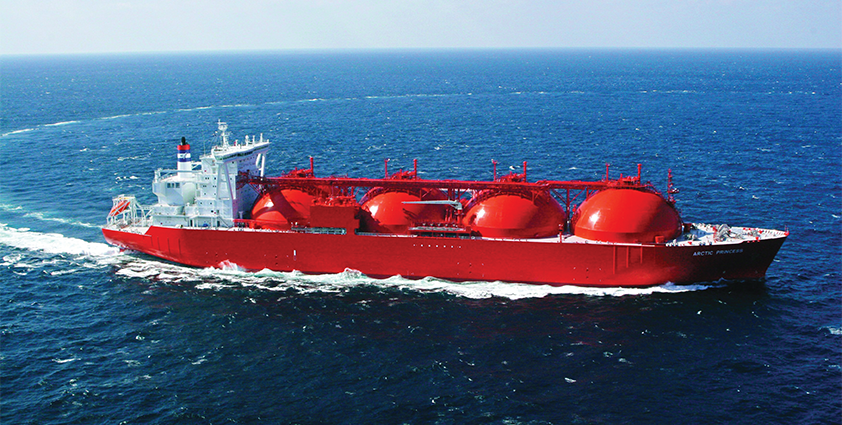 Sea of opportunity
Established in 1927 as part of the Höegh family shipping business, it wasn't until 2006 that Höegh LNG split apart from these activities as an independent company in its own right.
Focusing its business model on the provision of global liquefied natural gas (LNG) services Höegh LNG's ambition is to become one of the world's leading providers of floating LNG services. In more recent years the business has progressed most significantly within the emerging regasification industry.
"This is a new sector within the LNG chain, and we're very proud to be one of the early pioneers of this," begins CEO and president of Höegh LNG, Sveinung J Støhle. "As a smaller player in the market, in order to distinguish ourselves from the competition we are focusing on areas where we can make a difference and add value to our customers' activities."
The company began its foray into the LNG market through the more traditional transportation sector. With almost 40 years of experience dating back to the delivery of Norman Lady in 1973, Höegh LNG is still an active player in this area through its fleet of seven LNG carriers. These are all currently chartered out on long-term contracts with many leading energy companies.
At present, Höegh LNG owns and operates two shuttle and regasification vessels (SRVs), with three new floating storage and regasification units (FSRUs) on order for delivery in 2013 and 2014. Whilst fully capable of operating as standard LNG carriers, the SRVs are each fitted with an LNG regasification system enabling them to act as floating LNG import terminals by regasifying and discharging natural gas under high pressure. This creates the opportunity to not only deliver natural gas through a designated Deep Water Port (DWP), but also into markets which do not have onshore infrastructure at their disposal.
markets. We have also secured a tender for the second FSRU on a ten year contract in a similar role in the Klaipeda Port in Lithuania," enthuses Sveinung. Having identified over 30 potential FSRU projects in the pipeline across the world at this point alone, Höegh LNG is keen to continue to add further units to its fleet over the next few years.
Whilst the LNG industry has been in operation since 1964, albeit at a relatively low level in comparison to oil and coal, the young nature of regasification may present certain issues in terms of securing financing, infrastructure and expertise. It is in this respect that Sveinung believes Höegh LNG's approach offers real benefits: "By utilising offshore regasification terminals companies are able to import LNG without having to secure land or the money to develop onshore infrastructure," he notes. "Floating regasification solutions are far more cost and time effective, and in the event of market developments can be relocated with ease. We see that a lot of fast growing economies, such as within Asia, are struggling to secure enough energy to support their growth and are increasingly turning to natural gas as an ideal solution, which in turn creates potential for the business."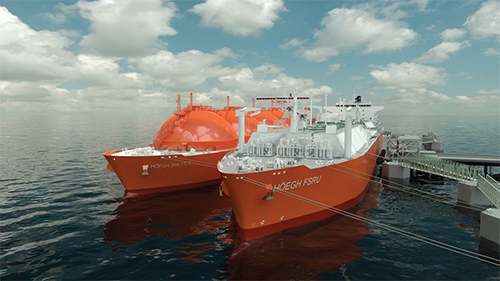 Looking at the other links within the supply chain, Höegh LNG also sees scope for the LNG market to grow in other directions, namely into floating production storage and offloading of LNG (FLNG). As such, the company has invested more than 300,000 engineering man-hours into the development of its own solution for a range of different operating conditions. "Today we are at the stage where we have agreements with a number of companies to carry out technical designs for the project, which is clearly far more complex and on a larger scale than the FSRUs. Naturally there is some way yet to go with commercial agreements, balancing with partners and other aspects before we can place an order, but we feel there is strong potential for this sector in the future," comments Sveinung. This will position Höegh LNG as a fully integrated floating LNG service provider across the whole chain, from production to transportation and then regasification for distribution.
Elsewhere, Höegh LNG took a major step forward in its future strategy in 2011 following its move to become a publically listed company in the Oslo stock exchange. Elaborating on how this will benefit the business in its next move, Sveinung concludes: "This is a very capital intensive business, and so having access to private capital and outside investors will give us a new pool of equity to draw upon. Our main focus remains on regasification and we intend to continue to add one or two more units each year with the aim of having a fleet of six to eight vessels of this type in operation by 2015. We are also maintaining our activities in standard LNG transportation as well. Having bought a ship last year, we also have the opportunity to buy another this year, and if growth in this area remains as it is today we will definitely pursue more opportunities to acquire these types of carriers in the next few years."
Höegh LNG
Services: Floating LNG and regasification