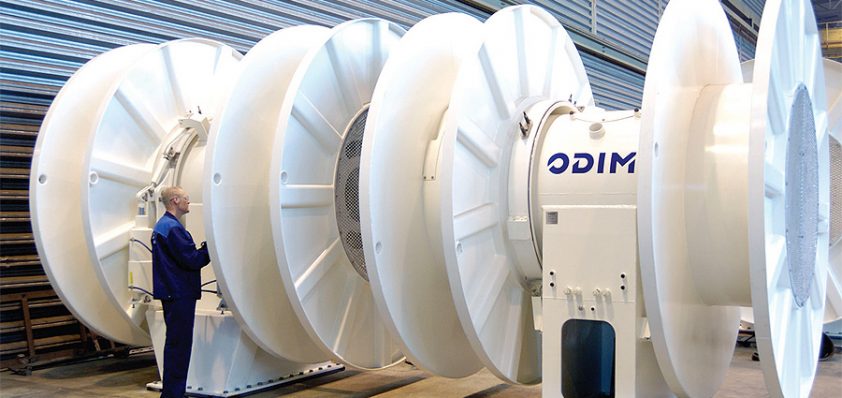 Building success
With more than 60 years worth of engineering experience, Hollming Works, a subsidiary of Hollming Ltd, is a leading provider of heavy machine building services to customers across the globe.
Hollming Ltd. was established in Finland in 1945, and initially focused on shipbuilding. In particular, it specialised in the development of high-tech vessels for the Finnish Defence Forces. Hollming Works group has been established since 2002, and has four workshops showcasing its expertise in four primary market areas: wood processing, mining, energy production and offshore. It operates out of four production facilities, all of which are located in its native country.
Hollming Works is involved in every stage of the manufacturing process of its machinery, from planning through to assembly, to assure final products of the highest quality. To aid the efficiency of this process, each of the company's production units has specific areas of expertise. The Parkano Works facility is focused on the development of medium and heavy-duty components for new industries, and ready-tooperate systems for the mining sector. Meanwhile, the Pori unit produces pressure vessel structures, mining equipment, offshore structures and winches. At Kankaanpaa largescale welded steel structures and mechanicalengineering components are developed, in particular for shipbuilding and propulsion units. Finally, the unit at Loviisa is responsible for wind power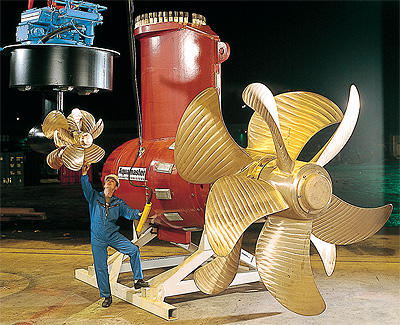 structures, particularly 3 MW nacelle assemblies, together with medium and heavyduty mechanical engineering assemblies, installation and testing activities, and highquality welded structures.
Hollming Works has been successful in developing a close, co-operative relationship between these facilities, allowing the company to offer the best possible service to its customers, and to handle increasingly large orders from its network of clients. Furthermore, the company's growth in this period has allowed it to make significant investment in its machinery. Equipment in its facilities has undergone a period of modernisation; indeed, two new automatic lathes were recently installed at Pori. IT systems within the company's facilities have also been improved since 2004, and are of critical value to the entire production and administrative process.
The company strives continuously to further develop its technologies. In the offshore industry this is, in fact, an absolute necessity, owing to the requirement of oil companies to go ever further out to sea to find oil. Hollming Works specialises in mechanical welding, CNC-machining and cold forming, and faces an unprecedented regulatory demand on the strength and quality of its machinery and vessels. The company has over 750 expert workers at its disposal, who collectively enjoy a global reputation as leaders in their field. As a consequence Hollming Works today is able to manufacture propulsion equipment and winches several sizes bigger than ever before. The company's customer base has, in turn, grown sharply, as many of its competitors have proved unable to meet the new demands.
In Autumn 2007 Hollming began the production of new type winches for two Norwegian manufacturers and an additional Finnish client. The company's new business dealings have been so substantial that, in two of its facilities, full employment is guaranteed until at least 2010. This builds on Hollming Works' experience of manufacturing winches, which equals more than 20 years.
Hollming Works is also proud of the emphasis that it places on developing technologies that are beneficial to the environment. Its assembly of wind power aggregates and generators began a couple of years ago, and the company has significant expertise in the testing of its machinery within power plants. This process can often take several days, but guarantees that the operation of the new instalments will be safe and reliable. As in the offshore industry, the energy sector places many special requirements upon Hollming Works, and the company has worked on the design and layout of its production lines, and the cleanliness of the air on its premises, to ensure that quality guidelines are always met. It is also noteworthy that Hollming Works has, in this sector, focused on recruiting a young and innovative staff that supports its desire for constant innovation.
In each of the sectors that it serves, Hollming Works strives to ensure a close and mutually beneficial relationship with its customers. It does so in the belief that close relations of this kind can prove highly profitable, and will be of lasting benefit, both to the company and its customers. As such, product development isundertaken in close consultation with clients, who are, in turn, able to benefit from the vast expertise and high-quality workmanship of its teams. Each stage in the manufacturing process is undertaken to suit the needs and requirements of each individual customer, along with all subsequent servicing and maintenance tasks. It is a long-term objective of Hollming Works to increase the success not only of its own clients, but also of the customers of its clients. Such an attitude to client relations should, in the coming years, continue to enhance Hollming Works' reputation as a worldwide leader in heavy machine building services.
Hollming Works
Services: Heavy machine building services