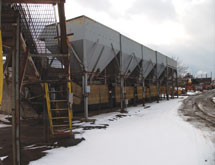 Pat Conarro believes that Holloway Pipe is well positioned to support oil, gas, and water pipeline restoration. Combining high-performance polyurea or polyaspartic coatings and by using trenchless technology, the Holloway Pipe restoration process is more cost-effective than other restoration methods.
"There are multiple opportunities in the pipe relining industry," Conarro explains. "America's infrastructure is faltering. The projected cost to restore the millions of miles of pipeline is well over a trillion dollars." While the cost to repair is alarming, there are significant deferral consequences:
Shutdowns create inconvenience and disruptions in communities and businesses;
Excessive costs for emergency repairs and/or regulatory violations due to ground contamination; and
Business productivity suffers with the loss of oil and gas, environmental impacts, and redirection of manpower to natural resource recovery and replenishment.
Holloway Pipe has developed a new robotic process, driving significant cost savings and a safer alternative. Industries such as energy, mining, hydroelectric and water, and wastewater infrastructures will recognize a return on investment much sooner than with the current relining methodologies.
Holloway Pipe partners with OakRidge Coatings, a chemical and equipment company in Wisconsin. OakRidge introduced the polyureas and polyasparitic coating systems. Holloway developed a patented, automated technology to properly dispense these high-performance coatings.
This particular technology not only differentiates Holloway Pipe from other pipelining methods but also enables access to inaccessible areas, which are characteristic of high mountain ranges and dense forests. Holloway Pipe is certified and affiliated with EnviroTite Services and IS Networld.
Solutions in the Field
"Pipe coating has been around for 20 to 30 years," Conarro explains. "However, coating in an inaccessible environment where there is sediment and heavy films without having to excavate large sections of pipe has not been attempted."
Ninety-five percent of Holloway's work is done in the field, which at times can be set in very rough and remote terrain. For instance, last summer the company managed a pipe rehabilitation project for a hydroelectric company with 140-year-old equipment in the middle of a forest on the cliff of a mountain. Via four-wheelers, the Holloway team was able to get to the site, repel down to the pipe and put the automated coating equipment in place.
Video monitoring equipment developed by Verizon™ allows the team to monitor the coating process using an iPad™ as the equipment sprays a continuous sheet of polyurea, essentially creating a pipe within a pipe. Conarro explains that the coating creates a secondary containment and because it is done in a single sheet, there is no union or failure points – two traits that he says are especially beneficial to the oil and gas industry.
"The oil and gas industry are inducing hydraulic fracturing, using high pressure steam and chemicals to release product," Conarro says. "We can provide secondary containment while the wells are being drilled. During the installation of the reamer, we are able to coat and create a monolithic seamless seal at the well. The coatings cure within 22 seconds and are flexible enough to be bonded around the well casing. We reduce or eliminate the concerns that the EPA has brought down on the oil and gas industry."
Holloway's service offerings have already provided a number of solutions to the oil and gas industry. In Warren, Pennsylvania, pipe exteriors have been coated to protect from groundwater and other elements causing corrosion. Other solutions include spraying union points and creating secondary containment systems at wellheads to capture any oil that spills from the top of the well.
"The benefit of our high-performance materials reduces friction, improves flow and adds structural stability for a long-term solution," Conarro says. "The benefit of our automation allows us to develop applications specific to each client's pipe problems, budget and performance requirements."
Covering the Spectrum
No matter the industry, product carried through the pipe, or location, Holloway Pipe is able to provide solutions that meet each client's specific needs. Partnering with OakRidge Coatings, the polyurea compound will match the strength requirements. The automation technology ensures that the coating thickness will meet precise specifications – a valuable solution for the company across many sectors.
"We thought we were just into pipe coating for the hydroelectric industry and the next thing we realized, our service offering is applicable in many different areas," Conarro explains. "We are a company focused on automation, quality and safety." EMI