Honeywell Process Solutions
Perfect performance
Honeywell Process Solutions (HPS) is a strong component of Honeywell's Automation and Control Solutions Group. The company improves business performance for customers with automation and control solutions, equipment and services that enhance safety, reliability and efficiency – all of which are of vast importance to the oil and gas sector.
When it comes to oil and gas, HPS has experience in every aspect – from the reservoir to the refinery, from the oil patch to deepwater, offshore and onshore facilities, pipelines and terminals. The division has the technology, expertise and global resources needed to execute oil and gas projects of every size and complexity, from concept to first oil, to the revenue streams that keep businesses
growing. With over 30 years experience serving the process and hybrid industries, HPS has installed more than 28,000 systems in over 7500 sites since 1974, representing a $17 billion installed base – one of the largest in the automation industry.
June 2009 was a very exciting month for HPS, as it saw the appointment of a new vice president and general manager for Honeywell Process Solutions in Europe, the Middle East and Africa (EMEA) and the announcement of a significant acquisition. Edwin van den Maagdenberg was made vice president andgeneral manager in early June, and barely two weeks after his appointment, Honeywell announced a definitive agreement to acquire the RMG Group, a Kassel, Germany-based global leader in natural gas measuring and control products, services and integrated solutions valued at approximately $400 million. RMG will be integrated into the Honeywell Process Solutions division.
"Global demand for gas, specifically clean energy sources like natural gas, is growing and RMG is an established solution provider in the industry," said Norm Gilsdorf, president, Honeywell Process Solutions. "RMG's technology complements our industrial platform and will ultimately enable us to provide our existing customers, as well as new customers, with broader solutions that span the entire gas supply chain."
The acquisition will build Honeywell's presence in the areas of natural gas transportation, storage, distribution and industrial consumption. Honeywell has already been providing the latest technology to the gas processing industry for more than 30 years. Its integrated solutions can help ensure optimum operation for any type of gas processing facility, from sulphur recovery units to extraction complexes.
In addition to gas processing, HPS offers integrated automation solutions for the entire LNG supply chain. For export and import terminals, Honeywell solutions enable tight controls for super-cooling and vaporisation of the gas. For LNG carriers that must comply with stringent marine industry safety and reliability requirements, HPS provides certified capability to move valuable cargo long distances without loss or incident. The LNG shipboard systems are backed by Honeywell's global marine support resources, which include availability of spares, training, emergency support, and remote technical support anytime, anywhere in the world. In fact, when it comes to the oil and gas industry, HPS has both the experience and the solutions for both onshore and offshore oil and gas production applications, combined with global implementation, service and support resources. Typical results from its best-in-class, advanced applications include:
Two to six per cent increases in crude production
Increased constraint handling
Reductions in unscheduled production 66downtime
Increased process stability
Increased safety and security
Decrease in Greenfield project costs with Honeywell's Integrated Main Automation Contractor (I-MAC) approach
In addition to the above, HPS's solutions span gas and liquid pipeline solutions as well as the various types of distribution terminals. Honeywell's acquisition of Enraf increased its portfolio of pipeline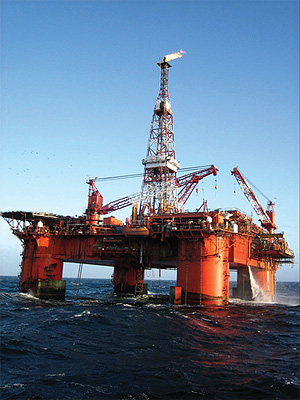 and terminal solutions with product receipt, storage, blending and loading solutions for tank terminals including marine liquids management for safe cargo transportation for tankers and barges. Moving out into the field we can see that HPS offers yet another extensive choice of solutions – including process instrumentation, fire and gas detectors, corrosion detection and prevention tools, and wireless devices. This includes the new line of microwave radar level products and OneWireless, Honeywell's universal industrial wireless mesh network solution that helps improve plant safety, reliability and efficiency. OneWireless is a scalable wireless infrastructure that supports wireless-enabled devices in strategic locations throughout a facility – it is readily compatible with the emerging ISA100.11a standard, which can simultaneously support multiple protocols for increased scalability.
Since its foundation, HPS has always been an automation technology pioneer, and it continues to innovate. HPS acknowledges that ensuring the right information is available to the right person at the right time is essential for business success. Therefore it offers applications that tightly integrate with business software to deliver robust business analysis and execution throughout the entire enterprise. An example of this dedication to technology leadership is its latest release – the Experion Process Knowledge System (PKS). Experion makes sense of everything – unifying assets, processes, and people to improve business agility. This proven, open, yet completely secure technology is built to scale, and helps manage everything from optimised yield to reduced maintenance costs by up to 30 per cent. It's built upon a standard, distributed control architecture utilising technology from the Abnormal Situation Management (ASM) Consortium and integrates enterprise-wide physical plant and computer systems security features.
The Experion PKS system is a great example of how HPS offers clients solutions that are targeted to solve their problems. Opportunities abound in today's oil and gas industry, but only if the right management solutions are in place to optimise business performance. This is where HPS comes into its own – helping customers to make better decisions, improve business performance, and improve peace of mind.
Honeywell Process Solutions
Services: Automation and control solutions, equipment and services