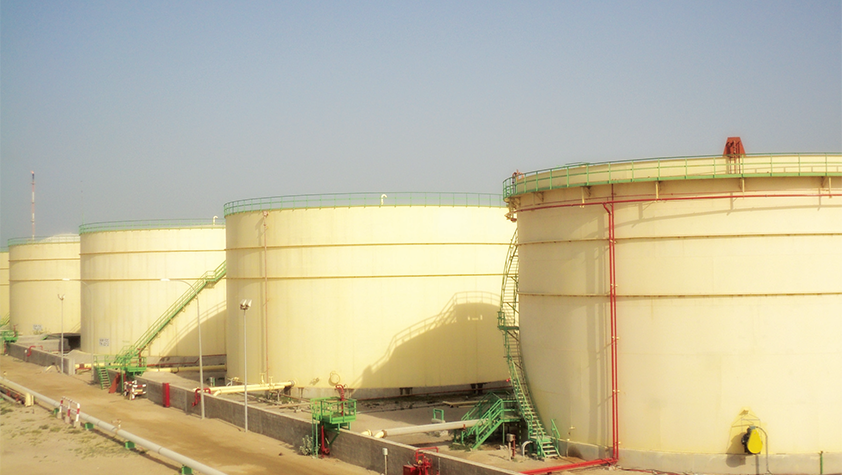 Meeting market needs
Horizon Energy has been in the bulk cargo trading and bunker business for over six years and has become the first choice a ssupplier of petroleum products to state-owned oil companies based in the Far East, Indian subcontinent,Arabian Gulf, East Africa, Red Sea and the entire Middle East.
The portfolio of Horizon Energy Co LLC includes the buying and selling of a full range of petroleum products as well as crude oil. It also has a strong reputation for delivering high quality oil due to its expertise in blending and it is considered in the market as the lowest cost provider of fuel oil grades.
Horizon Energy has its own fleet of vessels for the transportation of oil, which provides a cost benefit and allows the company to respond quickly to market opportunities. The onshore storage terminals in Hamriyah Free Zone and Jebel Ali Free Zone have a total capacity in excess of 350k CBM, and allow Horizon Energy Co LLC to receive a full range of petroleum products from ships and to store it in onshore storage tanks. This allows for quick access to inventory once an order is placed and for local distribution through road truck transport or by back loading of ships.
In addition, Horizon Energy Co LLC hasa 270,000MT VLCC floating storage facility offshore at Fujairah, which is used for bothcargo trading and bunkering activities. Due toits infrastructure, the company incurs loweroperational costs for discharging, blending and back loading the final cargoes to the delivering vessels and provides a faster and more reliable service to customers.
There are several petroleum productsavailable from Horizon Energy, including:
Fuel oil
Gas oil
Gasoline
Naphtha
Jet fuel
Kerosene
Crude oil
Bitumen
Base oil
The company also has substantialinfrastructure and blending expertise resultingin competitive advantages, so it can supplyits customers at a lower cost. Being located inFujairah, Horizon Energy Co LLC operateson one of the busiest shipping routes in theworld, which provides further competitiveadvantages. Horizon Energy Co LLC has avery respected reputation for providing high grade blended oil and can tailor specific blends for its customers. It's blending capability also constitutes a high barrier to entry for competitors.
Horizon Energy Co LLC is one of the largest bunkering companies in the Arab Gulf and Gulf of Oman region. Over the last five years it has established a 25 per cent share of the marine market in the region. Horizon Energy Co LLC, owns and operates over 25 vessels ranging from 1000 DWT up to 300,0000 MT, as well as over four barges, seven tug boats/service boats/speed boats of 700 to 3000 HP for its bunkering operations and two oil terminals and jetty. It is an independent entity that arranges the chartering of both own vessels and other owners vessels.
The whole fleet is maintained under strict standards and with ISM certificates. The company is also equipped with a fully-fledged workshop for maintenance and repairs of its vessels in Sharjah port. This enables it to cater to the requirement of the cargo, as well as bunkering operations.
Horizon Energy Co LLC supplies the bunker requirements for shipping in the Arabian Gulf and the Gulf of Oman, but is also available in in other regions to support the growing crude market. The supply of all kinds of crude oil and refined oil occurs through the company's worldwide network.
The management team at Horizon Energy has a very strong vision of how the company should develop and evolve, and is constantly working to position the UAE as an oil hub of the region. It is keen for Horizon Energy to contribute to the national growth of the UAE by way of establishing international business links, as well as establishing it as a respectable oil trading company in the area whereby the oil trading arm can be supported. In addition, the company aims to be a major operator of onshore storage and terminal facilities by which it can create a presence in the upcoming commodity market of the UAE.
To achieve these ambitions, Horizon Energy has created several business strategies. Among these is a desire to develop total solutions for ship operators globally and locally, and part of this is the creation of a 'One Stop Centre' concept for its clients. This concept means Horizon Energy would provide customers with other complementary services including marine services, fresh water supply and ship chandling, surveying facilities, channeling, crew changes and support and other value added services. This approach proves the willingness of Horizon Energy to diversify its products and services, in order for the company to continue to meet the changing needs of the global market.
Overall, Horizon Energy is always working to achieve and sustain full customer satisfaction in the industry. As a result it is continuously improving its responsiveness to customers, as well as being a good corporate citizen. Through this aspect of its operations, Horizon Energy maintains a close awareness of its social responsibilities, in terms of staffing, environmental protection, corporate ethics and transparency.
Since the company was established, the Horizon Energy Group has expanded widely through internal growth. It has developed into a mature oil trader by developing its trading wing, and today it can be proud of the achievements it has made and look set to continue to make into the future.
Horizon Energy
Services: Oil trading and bunkering